New healthy gluten-free snacks released
New healthy gluten-free snacks are available in limited-edition festive gingerbread flavour!
Healthy gluten-free snacks can be hard to find, especially in such appetising flavours. Yet, Nibbles limited-edition gingerbread snack seems to fit the bill!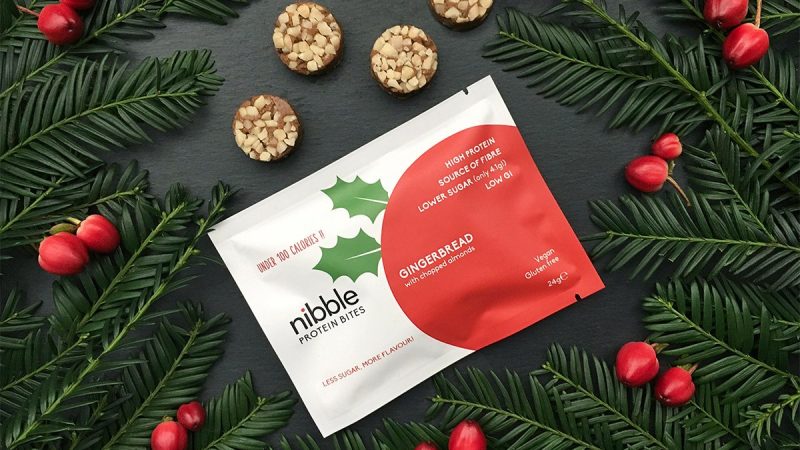 "Based on a traditional Swedish recipe, these lower sugar, protein-packed gingerbread bites are topped with chopped almonds and made with a blend of ground ginger, cinnamon, nutmeg, and cloves."
The gingerbread flavour has just been launched and is only available during the festive season. It has 21% plant protein and under 100 calories per pack. What's more, the brand claim that in each of their packs "on average, just 1g of sugar (or less) per whole piece".
Other flavours (RRP £2.39) include mocha with cocoa nibs, sour cherry with a hint of orange, choc chip cookie with 72% dark chocolate and lemon with coconut, which won at the Nourish 2019 Awards.
Gluten-free and vegan brownies (RRP £1.49) are also available in flavours such as chocolate walnut, mint chocolate and chocolate orange. The chocolate orange brownie with 72% dark chocolate chips won the silver award for 'Best Snack Bar' in the Free From Food Awards 2019.
The protein bites and brownie bites can be found in Ocado, Sainsbury's, Whole Foods, Amazon.
Plus, Nibbles are offering 20% off all website orders until the end of November. Use voucher code: INSTANOV20 on nibbleprotein.com!
Follow us on Facebook, Twitter and Instagram for all the latest recipes, news and features from Gluten-Free Heaven.
Comments
Tags:
News
,
Products