Our Summer Sale is on!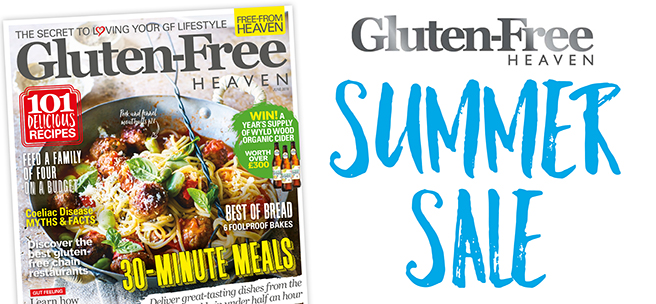 Try 3 issues of Gluten-Free Heaven for just £3 (UK) in our sizzling summer sale. You'll save 80% off the cover price! A trial subscription is a great way to try out a subscription without the commitment – you can continue to subscribe paying by Direct Debit (UK) or Continuous Credit Card (overseas) or cancel if a subscription is not for you. If you continue subscribing you will enjoy the magazine being delivered direct to your door every month with delivery included in the price. Brilliant!
Your summer sale offer:
3 issues for just £3 / €8 / $10 / A$15 / £8 (RoW)*
Save 25% after the trial (by quarterly Direct Debit)*
Never miss an issue

FREE UK delivery direct to your door
Click here to try Gluten-Free Heaven

  
Offer ends 31 August 2018                                                         
Offer code: SSWEB18
*Savings are available to UK Direct Debit and overseas Continuous Credit Card orders only. After your first 3 trial issues, your subscription will continue at the listed price every 3 issues thereafter, saving 25% off the shop price (15% for Australia). Payments will be every 3 months. Your subscription will start with the next available issue.  If you wish to cancel your subscription, you may do so at any time. We publish 12 issues of Gluten-Free Heaven per year.
Tags:
News