Papa John's Pizza launches a gluten-free pizza crust made with ancient grains
Papa John's International is making good on it's commitment to providing customers in the USA with quality menu options and "clean" ingredients by introducing another new new pizza launch – a gluten-free crust made with ancient grains.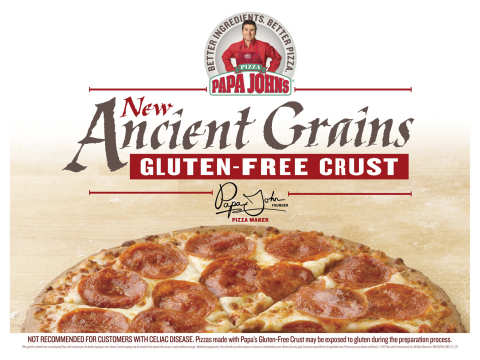 Papa John's Gluten-Free Crust is made with Ancient Grains, specifically sorghum, teff, amaranth and quinoa, and is currently being tested in Papa John's locations across Los Angeles, Phoenix, St. Louis, Houston and Nashville. The Papa John's R&D team spent more than a year to develop the product with the goal of offering pizza fans a better tasting Gluten-Free pizza crust.
"This is something we've heard from our customers for some time, but we were never satisfied with the flavour profile of the gluten-free crusts options we tasted—that is until now," said Sean Muldoon, Chief Ingredient Officer at Papa John's. "At Papa John's, we listen to our customers, and not only do they want to know where their food comes from but they are also concerned about what goes into their food. Or in this case, what is not included in their food: gluten."
Papa John's goal was to create a crust with some added benefits that stood out from the competition including a heartier flavour. Ancient Grains add a more robust texture and flavour to the Gluten-Free crust. In addition to the taste, the Ancient Grains are naturally gluten-free and higher in protein and fibre than other grains.
From an operations standpoint, Papa John's employs procedures to prevent contact with gluten, and while the Ancient Grains gluten-free crust is prepared in a separate, gluten-free facility before being shipped to stores, it is possible that a pizza with gluten-free crust could be exposed to gluten during the in-store, pizza-making process. Therefore, the brand does not recommend its Gluten-Free Crust made with Ancient Grains for customers with Coeliac Disease or serious gluten intolerances.
Unfortunately Papa John's gluten-free pizza bases are only available in the USA for now, but if you want to see them in the UK send them a Tweet or Facebook message to let them know!
Source: Business Wire. 
Tags:
Gluten-Free Pizza
,
News