Pret A Manger plan to introduce veggie fridges in more stores
Following on from the success of the launch of their new Veggie Pret stores, Pret A Manager are now looking to expand their vegetarian and vegan offerings in stores across the country by introducing dedicated veggie fridges. The bold green fridges will be accompanied by monthly veggie and vegan Chef's Specials and a new campaign which aims to encourage more meat eaters to try their veggie options.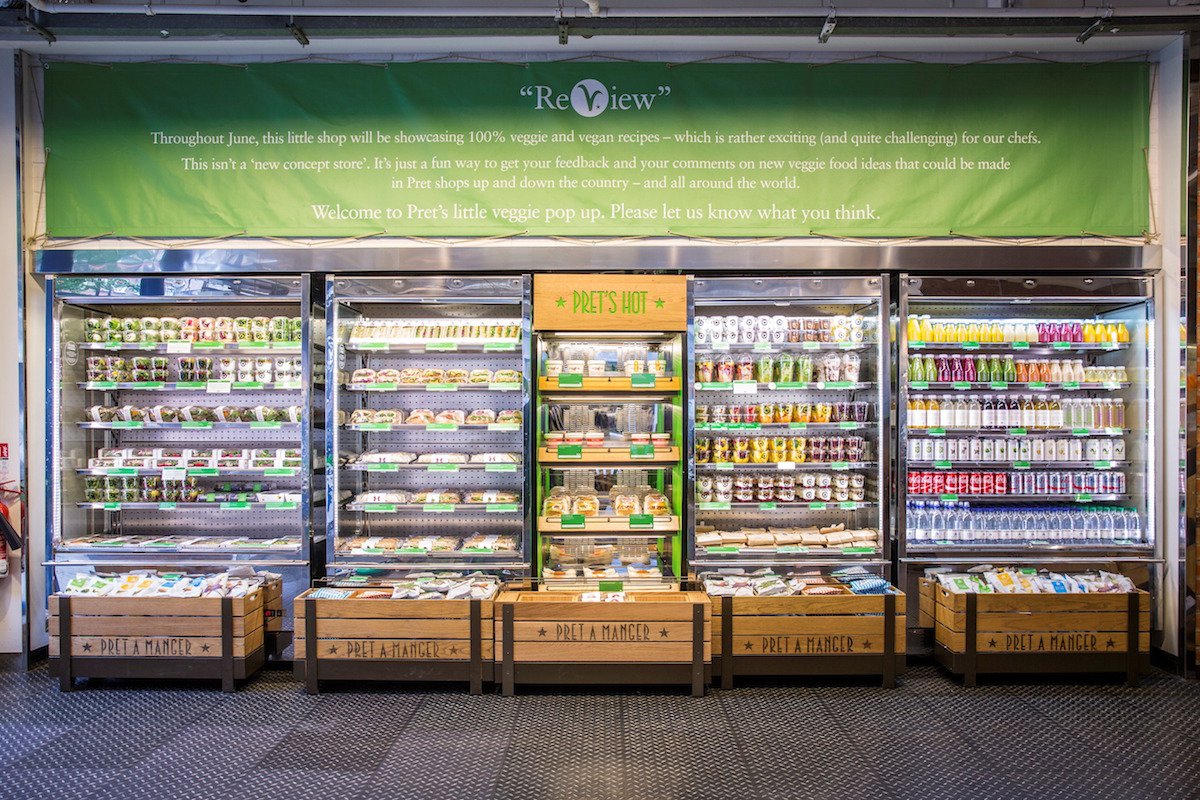 Writing in his blog, Pret CEO Clive Schlee says: "Two years ago I invited you to vote on how Pret should respond to the growing interest in meat-free food.
"Should we open a vegetarian-only Pret, put a veggie fridge into every shop, or do nothing at all? Fridges narrowly won the vote but we couldn't resist the bigger challenge for our chefs, so we opened a Veggie Pret pop up instead.
"According to the poll (which quizzed 10,000 people) 44 per cent of respondents wanted the brand to open a veggie-only store, 52 per cent wanted a veggie fridge in every shop and just four per cent said the store was 'fine as it was' when it came to its meat-free offering.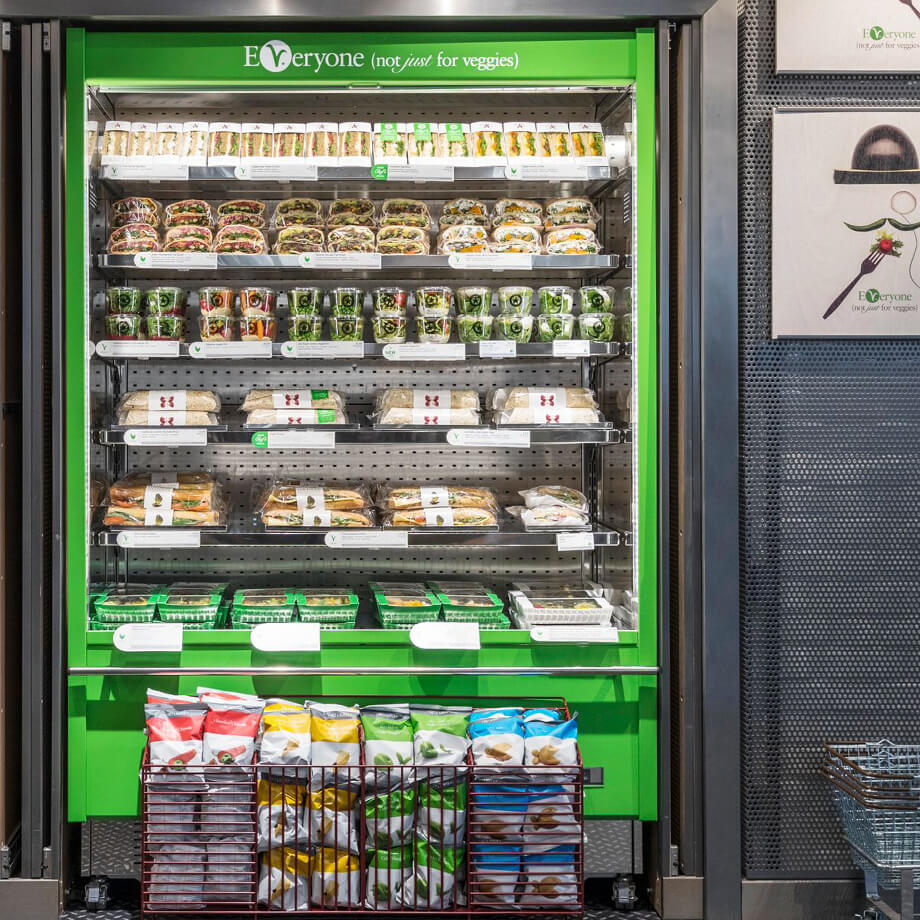 Schlee added: "Since then we've opened two permanent Veggie Pret shops in London and taken our 'Not Just For Veggies' menu and campaign to Pret shops across the UK, US, Hong Kong and France.
"We've learned that vegetarian food has to be delicious to win over meat-eaters. Our chefs have focused on creating new recipes that are full of flavour, colour and texture.
"It seems to be working – quite surprisingly, over half of the customers in our Veggie Pret shops are meat-eaters; and new ranges such as our Veggie Boxes, packed with ingredients like turmeric cauliflower and sweet potato falafels, are out-selling meaty options.
"Our chefs have expanded Pret's veggie and vegan offering to such an extent that we can now honour the outcome of the original vote: we will be installing veggie-only fridges in shops up and down the country for one month. If you like them, we'll keep them in place for the summer.
"The green fridges will feature monthly veggie and vegan Chef's Specials and Pret A Manger will run a new campaign which aims to encourage more meat eaters to try its veggie options."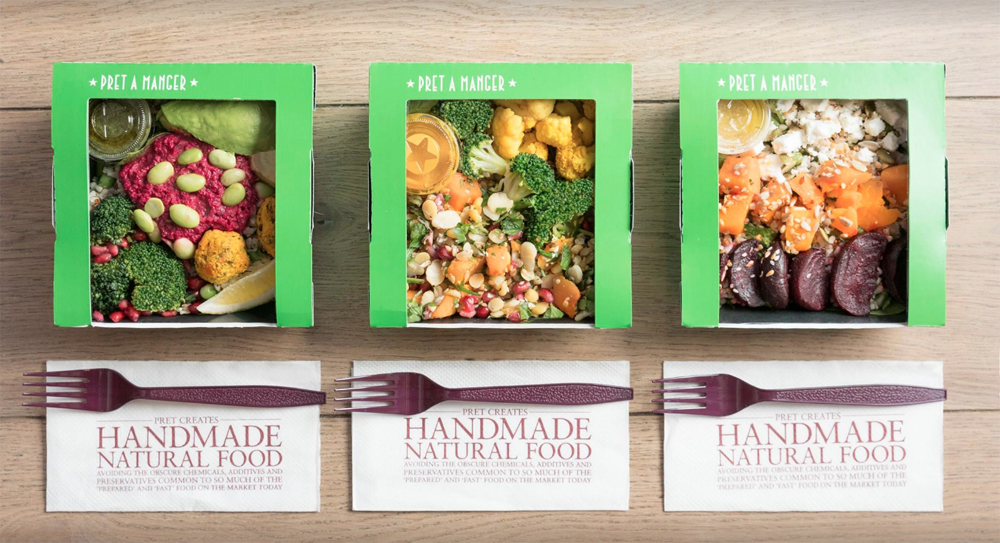 Schlee said: "This approach does carry some risk and we are treading carefully. I'm curious if our veggie menu will appeal more or less to customers when highlighted in a single fridge.
"Will it attract or deter our regular meat-eaters? We'll be monitoring your feedback and the sales very closely. Who knows… Perhaps it will help us find the best location for our next Veggie Pret?
"We could hold all the focus groups we like but there's really only one way to find out… let the next veggie trial begin!"
New additions to the menu
Alongside Pret's existing veggie and vegan sandwiches, baguettes, wraps, salads, pots and desserts, they will be introducing a Veggie Pret favourite to all UK shops this summer. What's more, all monthly Chef's Specials throughout the summer will be veggie or vegan, starting with the two current recipes, available now until 3rdJuly:
Dairy-Free Vegan Chocolate Chia Pot (£2.25): A rich and creamy pot combining soaked chia seeds, dairy-free coconut yoghurt and a dark chocolate sauce topped with fresh blueberries and pomegranate.
Veggie Nicoise Salad Wrap, £3.25, veggie: A veggie twist on the classic nicoise salad, this wrap includes a layer of chunky white beans mixed with lemon juice and garlic, sliced egg, roasted tomatoes, Kalamata olives, whole-leaf basil, red pepper and a handful of mixed salad leaves.
Coronation Egg Mayo Sandwich, £2.99, veggie : Inspired by a customer request for a veggie version of a classic coronation chicken, this sandwich combines free-range egg mayo, coronation sauce and a dollop of mango chutney, and is finished with crunchy red onions and peppery watercress.
As always, customers are encouraged to provide feedback on the recipes and veggie fridges (good or bad!) in their shop or via Twitter, Facebook or Instagram.
Tags:
News