Quaker Oats launches gluten-free Oat So Simple and Rolled Oats range
Quaker Oats, the nation's favourite porridge brand, is adding two gluten free variants to its range. Developed to meet increasing consumer demand for 'free from' products, Quaker has introduced a gluten free offering to appeal to those who follow a gluten free lifestyle.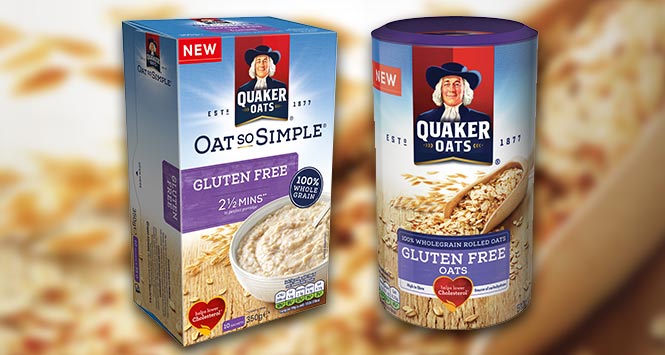 The new gluten-free offerings will be available from the 26th September in two formats: aa 510g canister if Traditional Rolled Oats (rsp: £2.49) and a 350g box of 10 Oat So Simple sachets (rsp: £2.99).
"Leading a gluten-free lifestyle is important and necessary for some people, and so Quaker has created options to meet consumer demand" said PepsiCo's marketing director, Jeremy Gibson.
Although oats are naturally gluten-free, they may come into contact with grains containing the protein during farming, storage or transportation. Quaker has found a way around this problem, as Jeremy Gibson explained: "We have introduced a breakthrough process, believed to be unique to the industry, to sort and clean the oats, ensuring they cannot be contaminated with gluten."
We have no word yet on whether these new gluten-free products will be produced in a dedicated facility to minimise the possibility of cross-contamination, however Quaker say their oats meet the PFD standards for gluten-free (20 parts per million) thanks to their milling process.
The launch follows the introduction earlier this month of a new breakfast range (available exclusively in Tesco), comprised of fruit puree and natural yoghurt (rsp: £1.39/200g). The new on-the-go offering comes in three flavours: Red Fruits, Apple & Cinnamon, and Blueberry.
Tags:
News
,
Products