The rest of Europe has had Schär's range of gluten-free products for decades, and now it's available in stores in the UK and Ireland, too. Schär's gluten-free favourites include wholesome loaves, Bontà d'Italia pizzas, ciabatta rolls and biscuits, plus a number of new savoury and sweet products.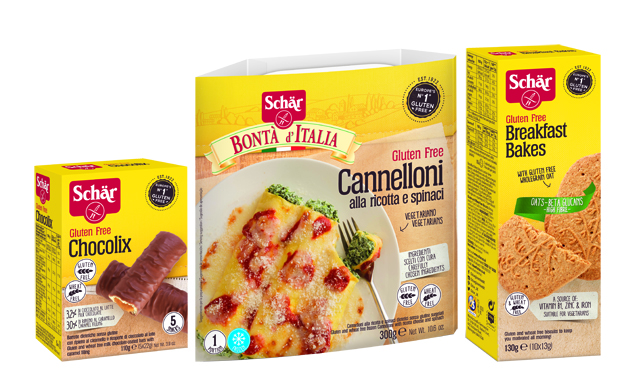 The eight new delicious gluten-free products being launched in the UK are: Breakfast Bakes (RRP £1.49 for a pack of 10, Chocolix (RRP £2.19 for a pack of 5), Cream Cracker (RRP £1.79), Panini Rolls (RRP £2.19 for 2 rolls), Caserecce con Pesto (RRP £2.99), Cannelloni with Spinach (RRP £2.99) and Bonta Margherita Lactose Free (RRP £2.99).
The Caserecce Con Pesto consists of long, smooth twists of gluten-free pasta, complemented by a silky pesto sauce for a traditional Italian treat. The Cannelloni with Spinach (RRP £2.99) is perfect for a warming, creamy supper, and the Bonta d'Italia Margherita pizza (RRP £2.99) is now lactose-free.
You can be gluten-free on the go with the Schär snack lines, like Breakfast Bakes, made with gluten-free oats. The tasty bars are a source of vitamin B1, zinc and iron, and also contain beta-glucans, which can help to maintain normal blood cholesterol levels. The melt-in-the-mouth Chocolix, a crunchy gluten-free biscuit filled with caramel and smothered in chocolate, is sure to make you snack happy.
Commercial Director of Dr Schär UK, Bradley Grimshaw, told us, "From staple bread lines to convenient ready meals and sweet treats, our decades of experience in research and development ensure we can cater for all aspects of the gluten-free diet."
Schär products are available from leading supermarkets across the UK including Tesco, Sainsbury's, Asda, Morrisons and Waitrose. For more details visit www.schar.co.uk