A new vegan foodie sensation of 'Tofish & Chips' is a huge hit at Simpsons fish and chips in Stroud.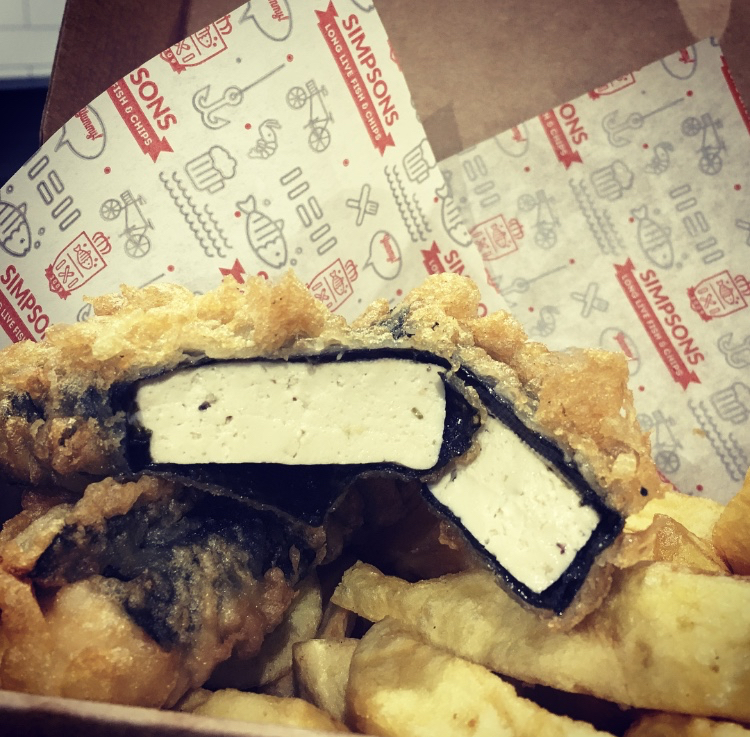 A fish 'n' chip shop in Stroud has created a vegan-friendly version of the popular British takeaway in celebration of World Vegan Month. The 'Tofish & Chips' is made from slices of tofu wrapped in nori seaweed and then dipped in vegan-friendly batter and deep fried in groundnut oil.
The Tofish slices cost £1.50 each or from £6 for 'Tofish & Chips'.
The vegan 'Tofish & Chips' has proved to be a hit with customers keen to get a bite of the battered tofu and chips dish. In fact, they chippy sold more than 50 portions in the first half hour of opening!
Owner and development chef at Simpsons, Bonny Ritchie, said: "We're thrilled this has been so well received by our customers. 'Tofish & Chips' has been flying out of the door since we opened this lunchtime. As part of the support for World Vegan Month we're delighted to have been working with PETA which has approved the dish as vegan friendly."
Dawn Carr, PETA director of Corporate Projects, said: "From the most upmarket restaurants to the local chippie, finding delicious vegan foods has never been easier. We hope this trial is a huge success for Simpsons and that vegan fish and chips finds a permanent plaice on the menu."