Tesco launch huge new vegan range, 'Wicked Kitchen', with 20 made-to-go meals
Tesco has partnered with pioneering chef, Derek Sarno, to create 'Wicked Kitchen' – a new range of irresistible meals that celebrate everything that's 'wicked' and tasty about plants. Prepared exclusively for Tesco, the new range will launch on 8 January in 600 stores nationwide.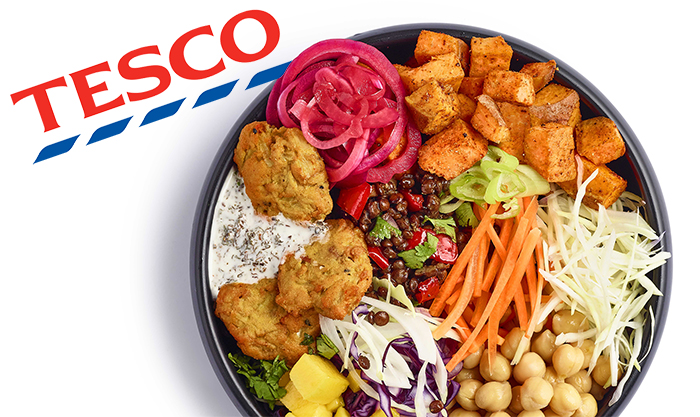 From crispy carrot pastrami to wicked-meaty barbecued 'shrooms, the vibrant wraps, meals and salads have all the zing, punch and crunch helping you on your way to eat more veg. The exclusive range includes 11 ready meals and nine food to go options, perfect for lunch or dinner. Those who cannot tolerate gluten will also be pleased to hear that four meals from the range will be gluten-free.
As a third of the UK population now identifies themselves as "flexitarian", the number of those cutting back on animal products and following a plant-based diet is set to increase by 10% this year. Recognising this growing trend, Tesco and Derek want to bring the plant-based market from niche to mainstream with delicious ready meals, salads and sandwiches that leads with flavour, crushes hunger and tantalizes the taste buds.
Sandwiches & Wraps
Carrot Pastrami-Spiced Wrap, 270g, £TBC
Beetroot tortilla wrap power-packed with crisp, punchy carrot and a vibrant vegetable mix.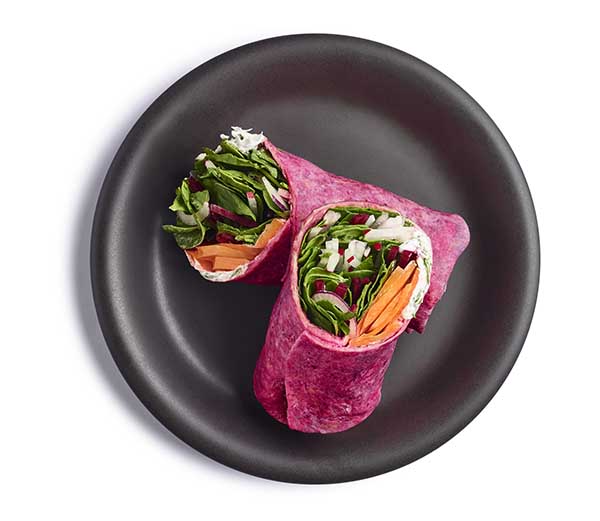 Sweet Potato Pakora Wrap, 270g, £TBC
Sweet potato pakora, fire-roasted red pepper, crispy carrot and creamy Sriracha vegan mayonnaise in a tortilla wrap.
Smashin' Pumpkin Falafel Sandwich, 249g, £TBC
Not your ordinary pumpkin falafel – dressed with punchy vegan harissa mayonnaise, crunchy vegetables and roasted red pepper hummus on tomato bread.
Salads
Rainbow Curry Bowl (GF), 245g, £4
Wicked colourful curried pulses with fiery sweet potato, onion bhajis, fragrant mango and a cool minty dressing. This one's gluten-free.
Moroccan-Inspired Bowl, 179g, £4
Turmeric bulgur wheat salad, spiced beetroot, tangy pickled red cabbage and roasted red pepper hummus.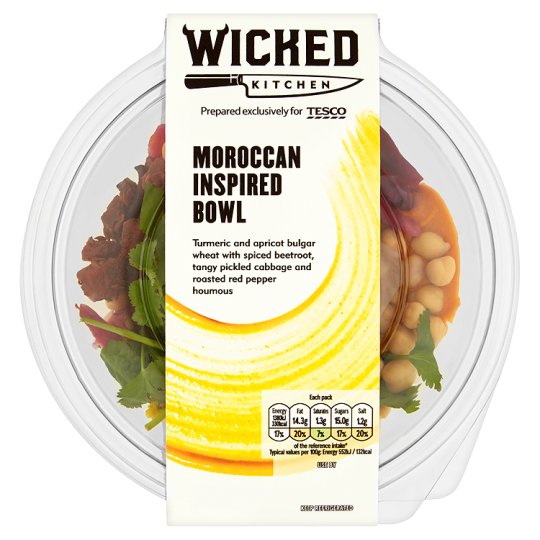 Ready Meals
Wicked Teriyaki Noodles, 296g, £4
Teriyaki-style noodles with press-roasted cluster mushrooms, sweet 'n' savoury glaze, Asian-style vegetables and tangy lime to finish.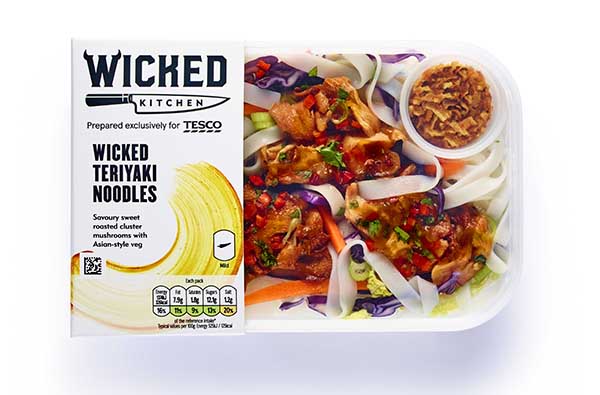 Naked Burrito, 400g, £4
Pulled king Eryngii mushrooms roasted in a blend of Mexican inspired spices and jalapeños. This delicious dish is gluten-free.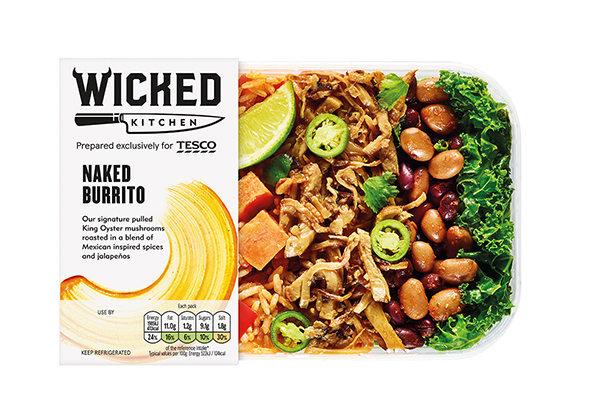 Nana's Mushroom Bolognese, 400g, £4
Slow-braised meaty eryngii mushrooms and vegetable linguine in a legendary secret sauce from Derek's grandmother's recipe.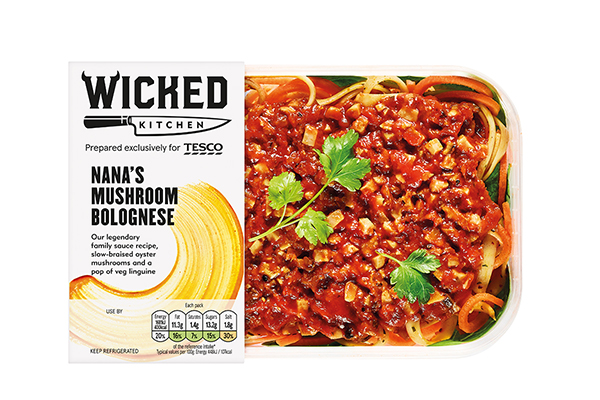 Wicked Kitchen Cauli, Bhaji and Coconut Rice, 320g, £4
Cooked coconut rice and chickpeas with spiced cauliflower, curry sauce, onion bhajis, spinach and pickled onion. Crunchy masala marinated cauliflower and chickpeas on a bed of coconut rice. This one's gluten-free.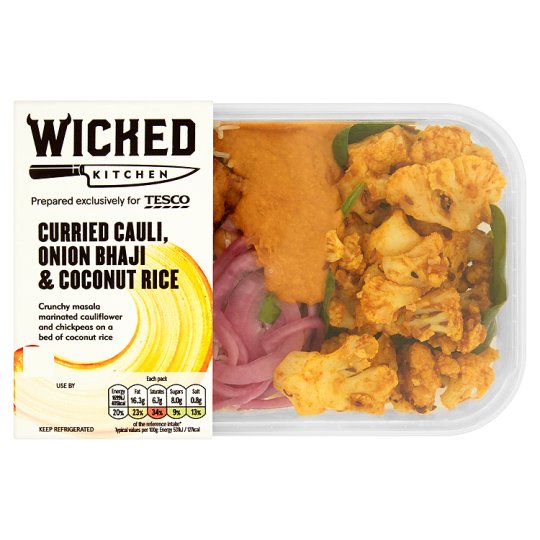 Wicked Kitchen Gunpowder Potato Chana Masala, 400g, £4
Chickpeas in a masala sauce, spiced saffron rice, roasted spiced potatoes topped with spring greens, fried onions and coriander. Gluten-free.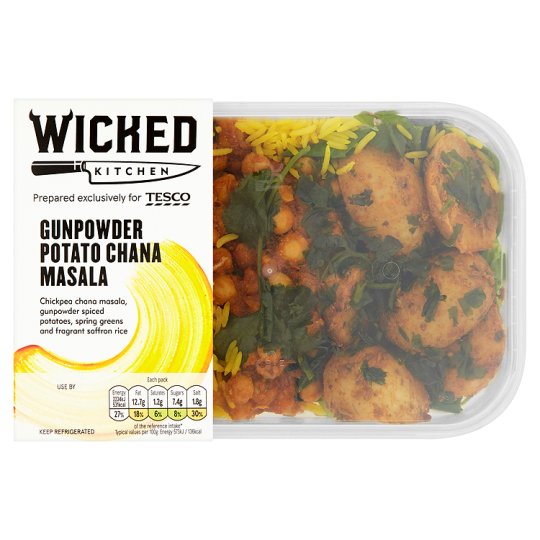 Pizza
Caponata Sourdough Pizza, 280g, £4
Wood-fired sourdough, aubergine and caper caponata and a pop of zingy salsa verde.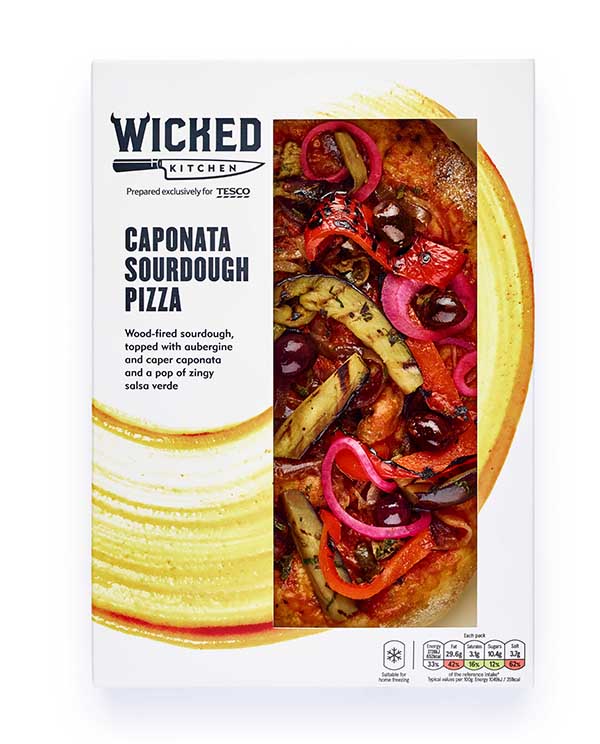 Tags:
News
,
Products