Tesco launch a new range of lactose free products
Creamy pasta sauces, cheesy pizzas and delicious homemade desserts are firmly back on the menu with Tesco's new lactose free range of cheeses, yogurts and breakfast pots. Available in store now, the brand new range has been designed for those on a lactose free diet but who still want to be able to enjoy their favourite dairy products.
Covering a wide range of kitchen staples, the new lactose free products can be enjoyed on their own, as an ingredient or as an accompaniment to dishes.
CHEESES
Serve up a selection of delicious soft cheeses that taste so good you won't realise they're lactose free. Create delicious cheesy sauces, or slice over pasta and pizzas for a tasty treat that the whole family will enjoy.
Lactose Free Mozzarella, drained weight 125g, £1.50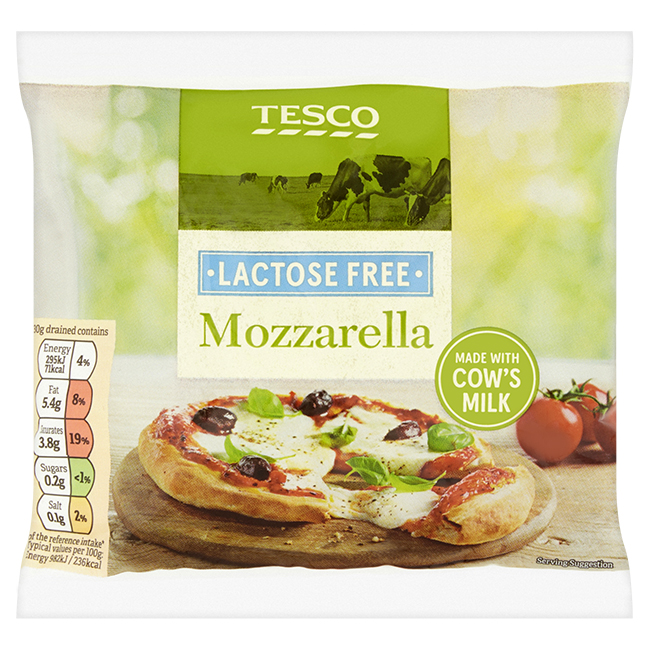 Nothing beats pizza night and this new Lactose Free Mozzarella allows you to get that authentic Italian taste without the lactose. Slice up chunks of mozzarella and lay generously over a crisp pizza base or layer with tomato and basil for a yummy Caprese Salad.
Lactose Free Mascarpone, 250g, £1.75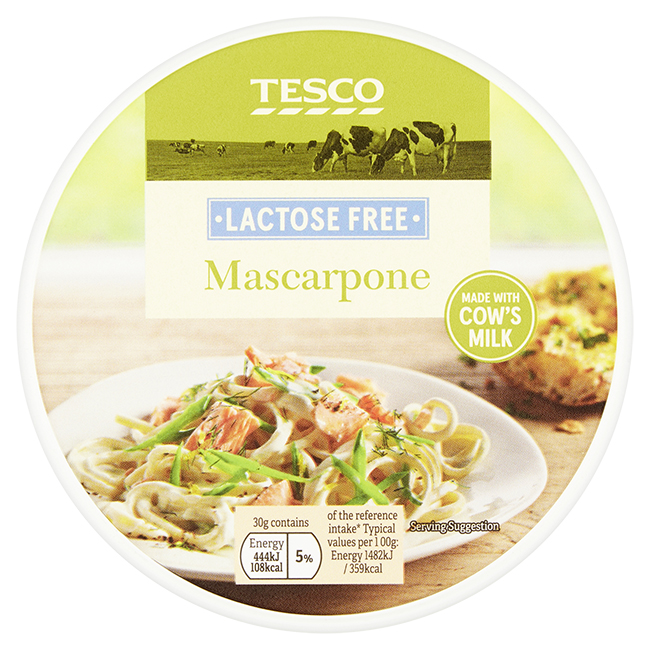 Wow your friends with an impressive cheesecake, or a rich tiramisu with this creamy mascarpone cheese pot. Soft and indulgent, this tasty cheese will help you create a variety of showstopping desserts. You can also stir it into pasta sauces, for rich and creamy dishes that are sure to impress your dinner guests.
Lactose Free Blue Cheese, 170g, £2.45
Love blue cheese, but don't dare to indulge? Now you can add a punch of flavour to salads, burgers and dips with Tesco's new Lactose Free Blue Cheese. This strong and tangy cheese is great for slicing over oatcake biscuits as an after dinner treat, or crumbling into milk and butter to create a delicious blue cheese sauce – perfect with a succulent sirloin steak.
CREAMS AND YOGURTS
You'll be spoilt for choice with Tesco's tasty range of lactose free yogurts. Spoon over granola, and mixed berries for a fruity mid-morning snack, pop in a lunchbox for school lunches or spoon over spicy curries and chillies.
Lactose Free Crème Fraiche, 200g, £1.20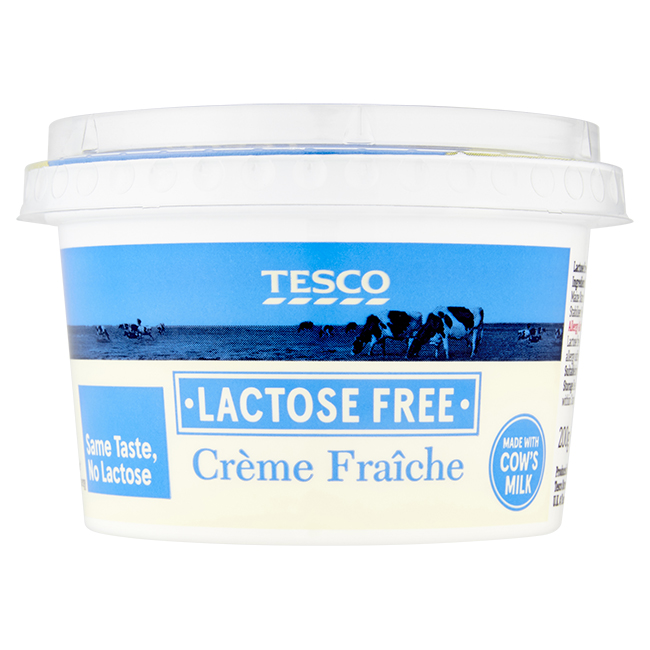 Sharp and rich, this Lactose Free Crème Fraiche tastes delicious in both sweet and savoury dishes. Serve with summer berries and American style pancakes for a yummy weekend brunch, or mix together with bacon and mushrooms for a creamy carbonara sauce. 
Lactose Free Greek Style Natural Yogurt, 400g, £1.40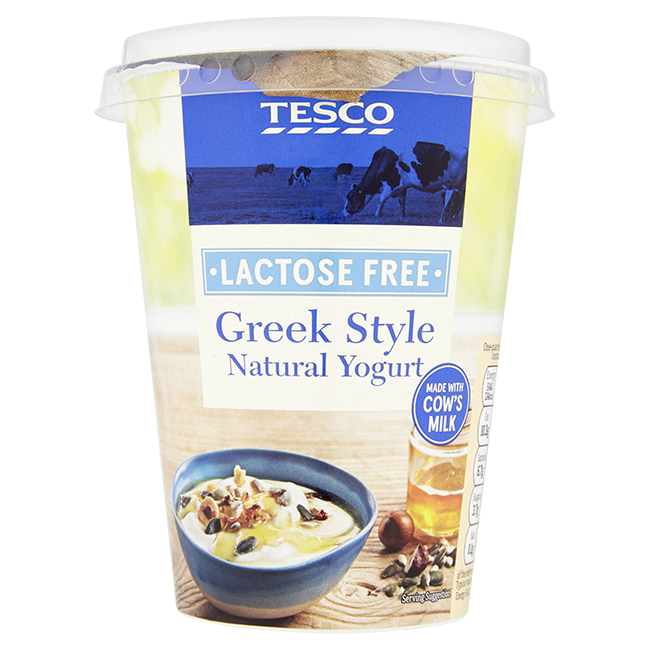 Smooth, thick and creamy, this delicious Greek style yogurt is the perfect staple, great for breakfasts, desserts or cooking. Spoon over granola and honey for a nutritious breakfast that will kick start your morning the right way, stir into curries to create a creamy mild sauce, or mix with garlic tomato and spices to create a delicious marinade that the whole family will enjoy.
Lactose Free Low Fat Yogurt available in five flavours, 150g, £0.69 each

These creamy yogurts are a great tasty snack or mouth-watering dessert. Each delicious pot is packed with fruit and full of flavour. Available in Strawberry, Raspberry, Peach, Apricot and Cherry. 
BREAKFAST POTS
These tasty yogurt pots are a great way to kick-start your day. Complete with a handy spoon, they're also perfect for snacking on the move.
Lactose Free Natural Yogurt with Coconut and Chia Granola, 148g £1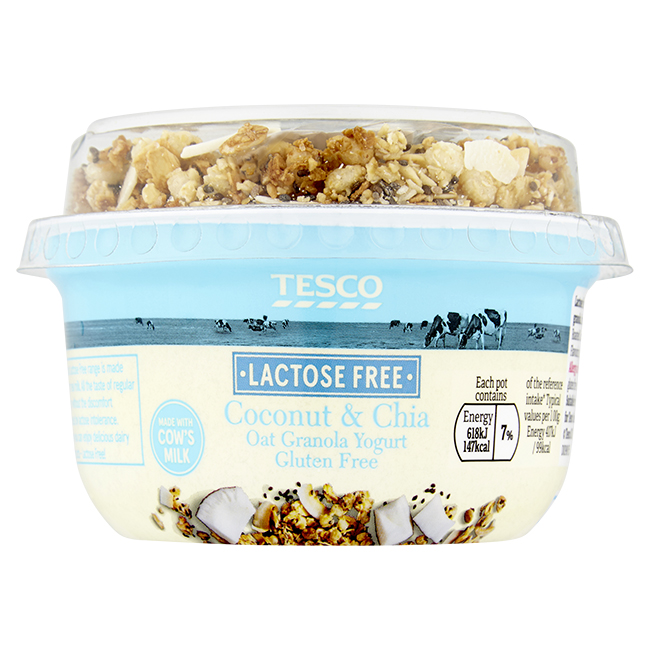 Breakfast on-the-go is now easier and tastier than ever. The delicious Lactose Free Natural Yogurt is partnered with a gluten free granola, crunchy coconut and chia seeds. Gluten and lactose free, the snack pot is the perfect grab-and-go breakfast option guaranteed to boost the start of your day. 
Lactose Free Natural Yogurt with Red Berry Granola, 148g, £1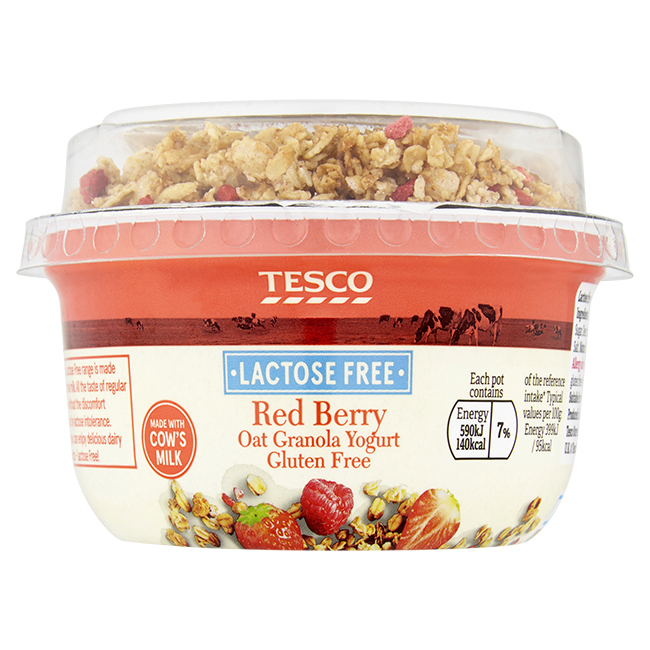 With sweet raspberries, juicy strawberry pieces, and a sprinkling of gluten free granola, this tasty pot is the perfect option for a delicious breakfast or mid-morning snack. 
Tags:
News
,
Products