Warburtons have launched three new gluten-free wraps in Asda stores across the country.
A beetroot wrap, a high-protein wrap with 'super seeds' and a round white wrap are the newest additions to the Warburtons Gluten Free range, now comprised of 17 gluten, wheat and milk free products.
Two of the new round wraps will replace Warburtons Gluten Free square wraps, which have been on sale since 2013 and were the first gluten-free wraps in the UK. In response to requests by many customers for circular wraps rather than square ones, Warburtons spent time perfecting a 'softer and thinner' wrap selection.
Chris Hook, Business Director of Free From at Warburtons, said: "It's been five years since we launched gluten-free wraps to the UK market and, during that time, we've listened to what customers have had to say about our products and that's why we're pleased to be able to add even more variety to our range."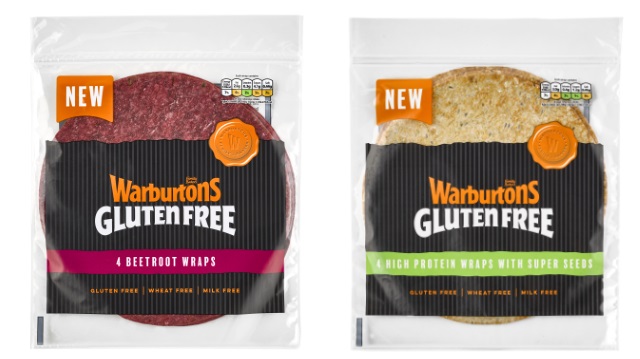 The products, previously under the name Newburn Bakehouse, can now be found under Warburtons Gluten Free. The brand has recently renamed several of their products for improved clarity and changed the packaging to a bolder style.
Hook said: "Consumers are demanding a much higher quality of gluten-free products than ever before and so our bakers have been hard at work to make sure these wraps deliver on look, texture and taste. We believe all our customers deserve delicious bakery items and our new wraps guarantee just that."
Price
The wraps are available in packs of four, with a lower recommended retail price than the original product: white wraps have a recommended retail price (RRP) of £2.50, while the beetroot and protein wraps will be £2.79. This represents a cheaper price point than previous Warburtons gluten-free wraps, which were all priced at £2.99.