Well&Truly add more delicious gluten-free products to their ever-expanding range with their Crunchy Cheese Sticks, which are a tasty lower fat, all natural alternative to traditional cheesey crisps.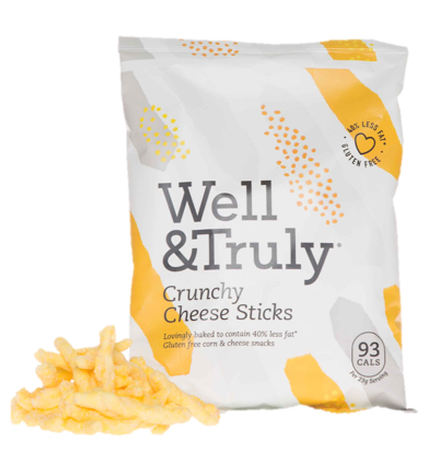 The name says it all, really when it comes to these cheese treats. The Crunchy Cheese Sticks are only 93 calories per serving but they've still got 100% of the great taste you expect from Well&Truly.
Their cheesy corn sticks are a deliciously lower fat, all natural choice to traditional cheesey crisps, and they're made from made from corn flour, corn oil, linseed oil, cheese powder, natural flavourings and a pinch of salt – that's it.
Ingredients
Corn Flour, Corn Oil, Linseed Oil, Natural Cheese Powder (8%), Acid (Citric Acid), Salt, Natural Flavourings (Milk)
Allergens
Contains Milk. May contain traces of Soya & Mustard.
Well&Truly's Crunchy Cheese Sticks will be available to purchase in Tesco from next week. Prices TBC.
For more information, visit www.wellandtruly.co.uk. Or get in touch with them onFacebook, Instagram or Twitter!