Woman goes into anaphylactic shock after Tesco blunder means regular ice-cream was added to dairy-free box
A mum-of-two claims she nearly died when she ate an ice-cream with her children – because Tesco had put a regular cone in a dairy-free box sparking a severe allergic reaction.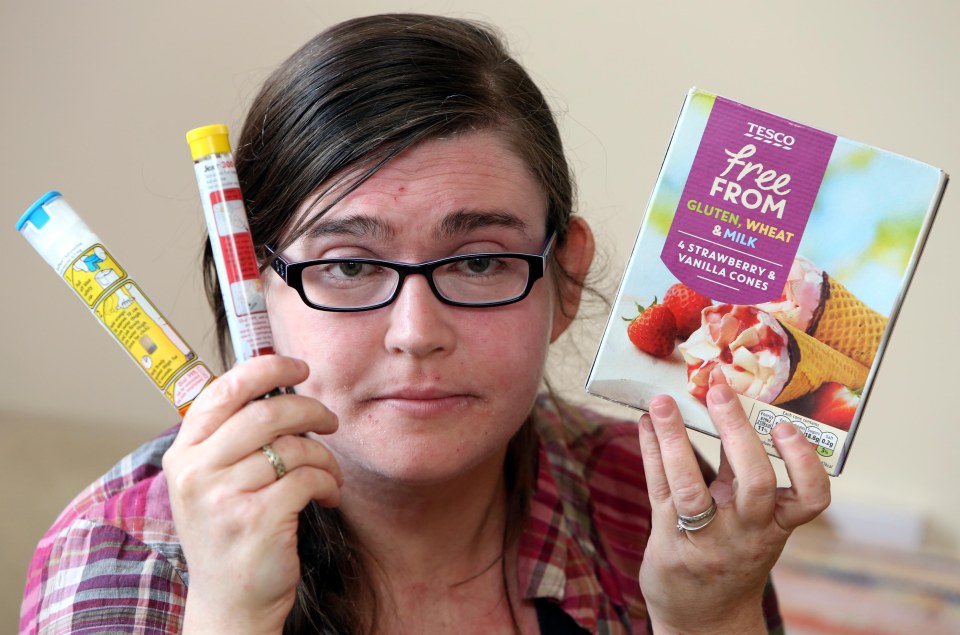 Rebecca Jones was enjoying the nice weather with her children when she and two-year-old Bronwen had a Tesco "Free From" ice cream at their home near Redcar, North Yorkshire.
However within minutes of finishing it, Rebecca's throat began closing up through anaphylactic shock and ambulance and fire crews had to rush to save her life in front of her terrified children.
The 29-year-old believes that had she given Bronwen the ice cream instead she would now be dead as the tot's allergies are even more severe than Rebecca's and she blisters even touching dairy products.
Rebecca later realised the cone she ate had a different colour top on the packaging to the other – and wants to speak out about her terrifying ordeal as others could also be at risk.
Rebecca said: "My husband Ian had just nipped out to the shops so it was just me and the two children.
"The first thing I noticed was that my lips started swelling and then my throat started closing up. It feels like lots of needles sticking into your throat, it's a horrible feeling.
"I stayed calm and told Bethan, who is six, to look after her younger sister while I then called 111. I didn't think it was an emergency at first but while I was on the phone my throat began closing up and they called an ambulance and a fire engine.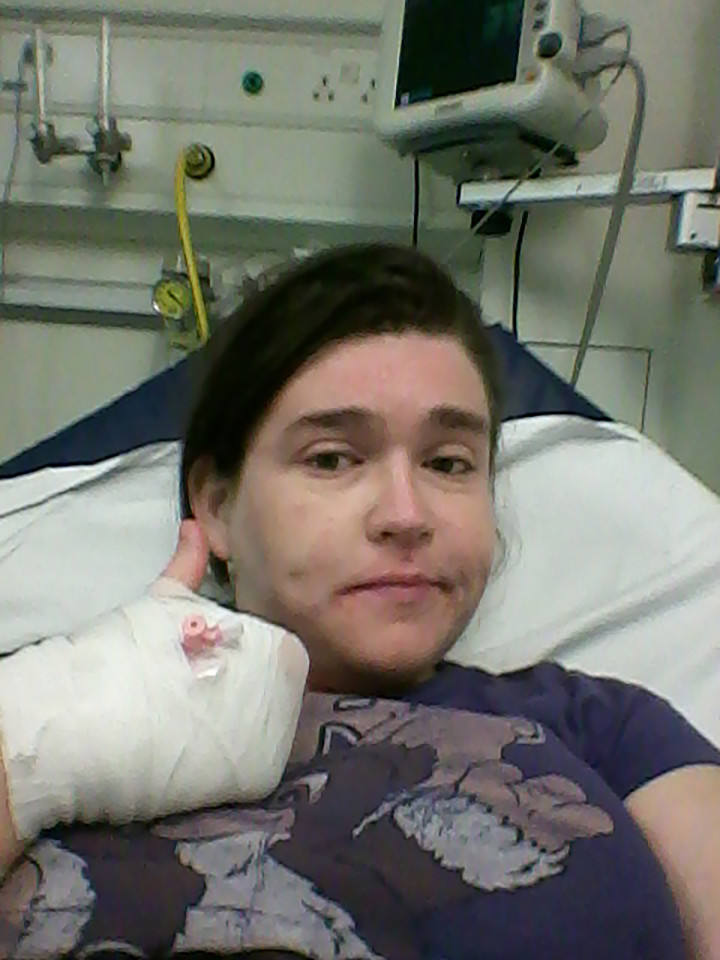 "It was really, really scary. It was a terrifying experience. One of the side effects of anaphylactic shock is a sense of impending doom and that is exactly what I got.
"I thought 'this is it, I'm going to die' and I could do nothing about it, I just had to wait and hope the EpiPen kicks in and the emergency services arrive in time.
"Once there paramedics arrived about 20 minutes later, they fitted a cannula and began helping me with my breathing.
"Bethan walked past and saw me and she looked haunted by what she had seen as I couldn't even sit up at this point. It must have been awful for her – it must have looked to her like I was going to die.
"Thankfully it has made Bethan realise just how important her EpiPen is and I don't have to remind her to carry it now. She's always got it with her and has seen first hand what can happen."
Rebecca, Bethan and Bronwen both suffer from multiple severe allergies, including to nuts, eggs and numerous types of meat and even fish, but Rebecca's and Bronwen's are the most severe.
After buying the ice creams from Tesco's Redcar store like usual two weeks ago, they had been in Rebecca's freezer since.
She noticed that the two creams she got out had different coloured cardboard tops to them, one white and the other pink. Otherwise, she claims they looked the same.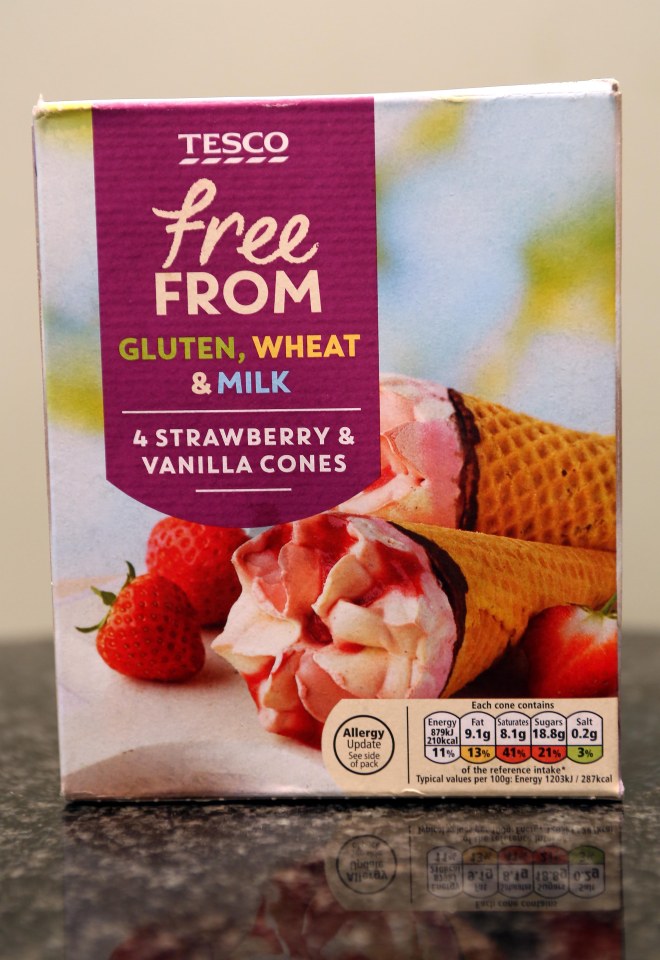 Thinking it was merely a change of packaging, Rebecca ate the one with the different coloured label and handed the other to Bronwen, who suffers from such severe eczema across most of her body she often has to wear gloves.
Rebecca, who is married to teacher Ian, 34, said: "I noticed it was a different colour but didn't really think much of it.
"I presumed it must just be a changeover on the type of packaging but instinctively gave Bronwen the packaging I recognised, just in case they had changed the ingredients at all too. It tasted exactly the same so I didn't notice anything odd when eating it but thinking back now, the ice cream was perhaps a little whiter than the dairy free ones are.
"I never dreamed that it would contain dairy. Bronwen's allergy is even more severe than mine. She blisters upon even touching a dairy product. If she had eaten it, it would have killed her quickly. It's a scary thought and as awful as the experience was I feel lucky at the outcome.
"There is no way that the mix-up occurred on our end as we have such severe allergies we ensure our food is stored in safe zones that I have to keep free from anything with allergens in."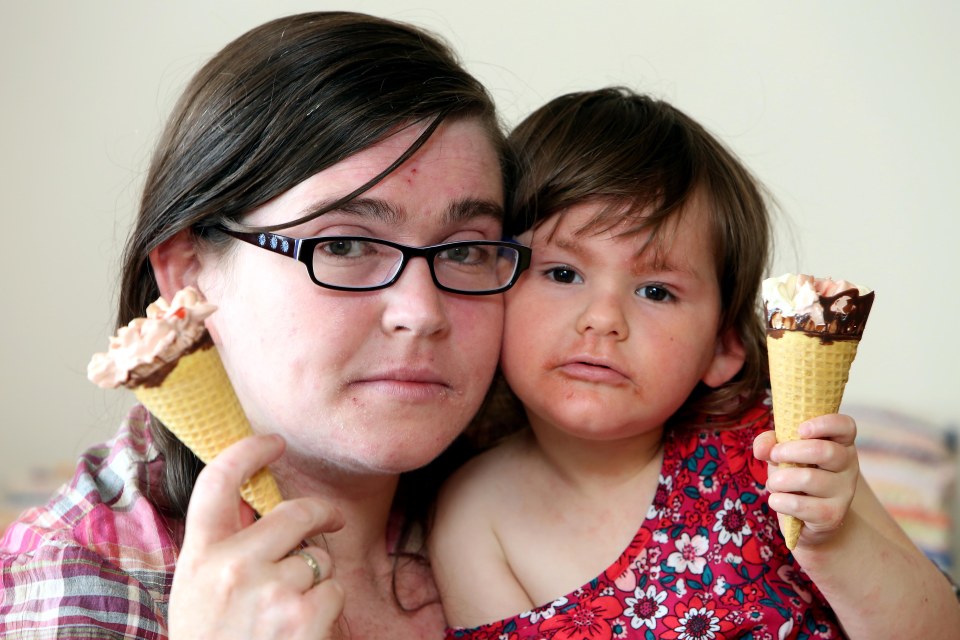 Rebecca complained to Tesco, who she praised for treating the incident seriously but wanted to speak out so others with severe dairy allergies were on the lookout.
Rebecca said: "It just cannot happen to anyone else. I am praying it's a one-off but I think people need to be aware. If I had not had my EpiPen and antihistamines with me, I would have died."
Tesco said: "The safety of our customers is our highest priority and we have robust measures in place to make sure our products do not include any unlabelled allergens.
"We are investigating to determine whether this isolated incident was caused by our product and we will update Mrs Jones with our findings."
Rebecca reported the incident to the Food Standards Agency, who were approached for comment by The Sun but failed to respond.
This story first appeared on The Sun. Images copyright to Mercury Press. 
Tags:
News