Cornbread
Cornbread recipe by Jane Mason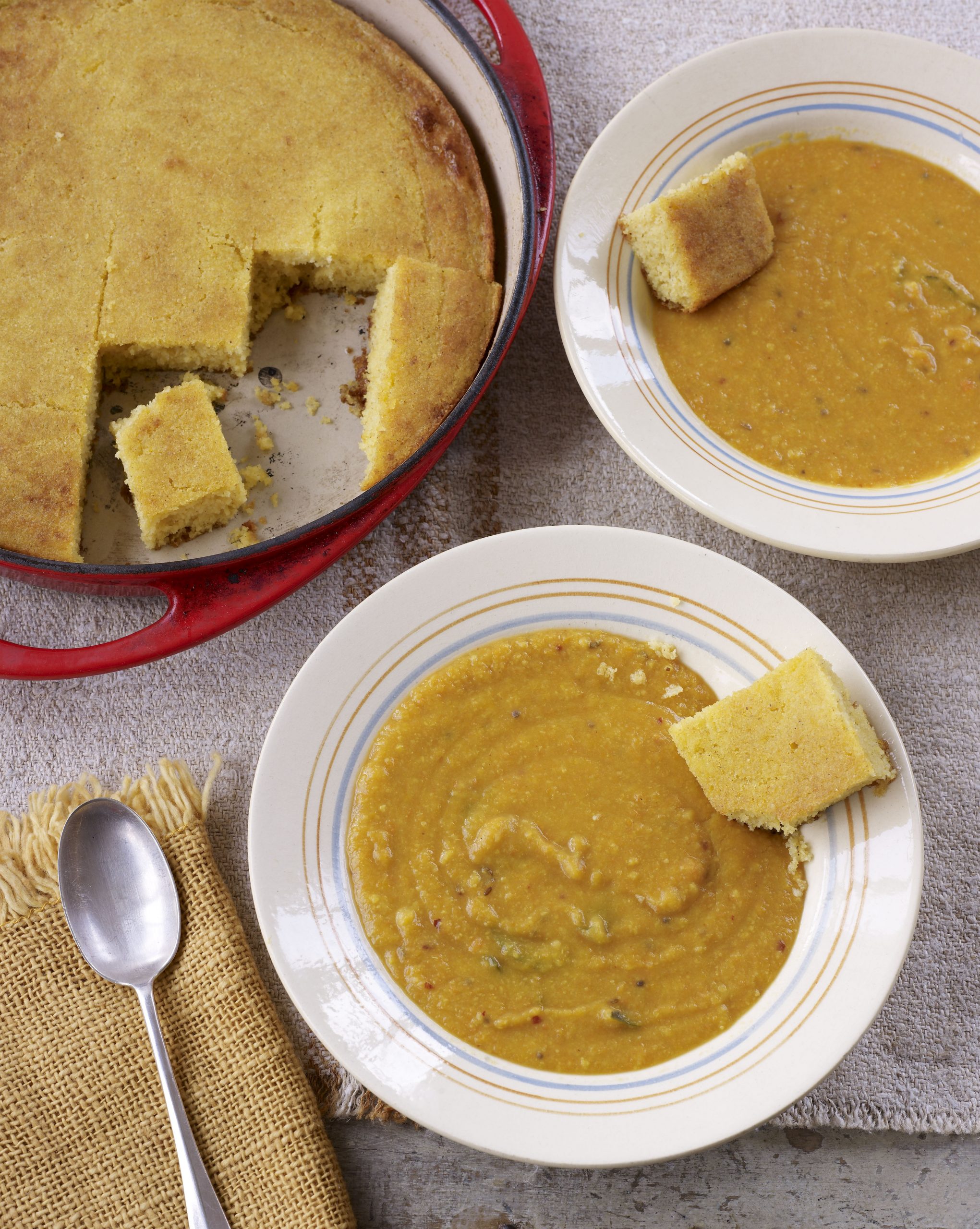 Although typically eaten as a savoury accompaniment to a meal, you can pour maple syrup or put maple sugar on top of cornbread to make it sweet. Alternatively, you can add sugar or honey to the mixture to turn it into a bit of a cake. 
Although no longer a staple bread, many north Americans eat cornbread in one of its many forms, regularly. This recipe for cornbread is not sweet and, although it calls for the bread to be baked, it is traditionally cooked on the stovetop or over a fire. 
Maize is one of indigenous grains in the Americas. Indigenous people ground corn and mixed it with milk or water and fat into a thick batter which was then cooked over a fire. The addition of butter, baking powder, bicarbonate of soda/baking soda, salt and eggs makes it a little richer and more familiar than the original would have been.
Serves 8 | Prep 25 mins |
Cook 12-15 mins | Calories 368 (per serving)
Ingredients
300 g/2¼ cups coarse cornmeal 
480 ml/2 cups full-fat sour milk, buttermilk or 50% plain yoghurt and 50% full-fat milk (you can sour milk with lemon juice if you do not have sour milk, yoghurt, or buttermilk, but if you do, add 1 teaspoon cream of tartar otherwise the bread will not rise very much) 
180 g/¾ cup animal fat, eg. lard, dripping, bacon far, goose fat or a combination (butter will burn) 
1 teaspoon baking powder 
1 teaspoon bicarbonate of soda/baking soda 
3 g/-¼ teaspoon salt 
2 eggs 
ovenproof, flameproof frying pan or dish, at least 25 cm/10 inches in diameter
Method
1 Preheat the oven to 220°C/Gas Mark 7 and move
an oven shelf up to the upper-middle position. You
will need to get your frying pan in there as high
as possible.
2 Put the cornmeal in an ovenproof frying pan or dish,
at least 25cm (10in) in diameter over a medium heat
and dry fry, stirring constantly until you begin to
smell it. Be careful not to burn it.
3 Pour the roasted cornmeal into a large bowl, add the
sour milk and mix well. Set aside.
4 Put the frying pan back over the heat, add the fat and
heat until it is smoking.
5 Turn off the burner and pour all except about 2 tbsp
of the melted fat into the bowl with the cornmeal.
Retain the remaining fat in the pan. Add the rest of
the ingredients to the cornmeal mixture in the bowl
and whisk with a balloon whisk to combine.
6 Pour the mixture back into the pan and bake on the
upper-middle shelf of the oven for 12-15 minutes
until the top is golden and cracked and it has come
away from the sides.
7 Remove from the oven and allow to cool in the pan
for 5 minutes, then turn out onto a wire rack to cool
before slicing.
TIP This is stupendously good with a cooked
breakfast, a hearty soup, or to soak up gravy
with a gamey stew or sauce.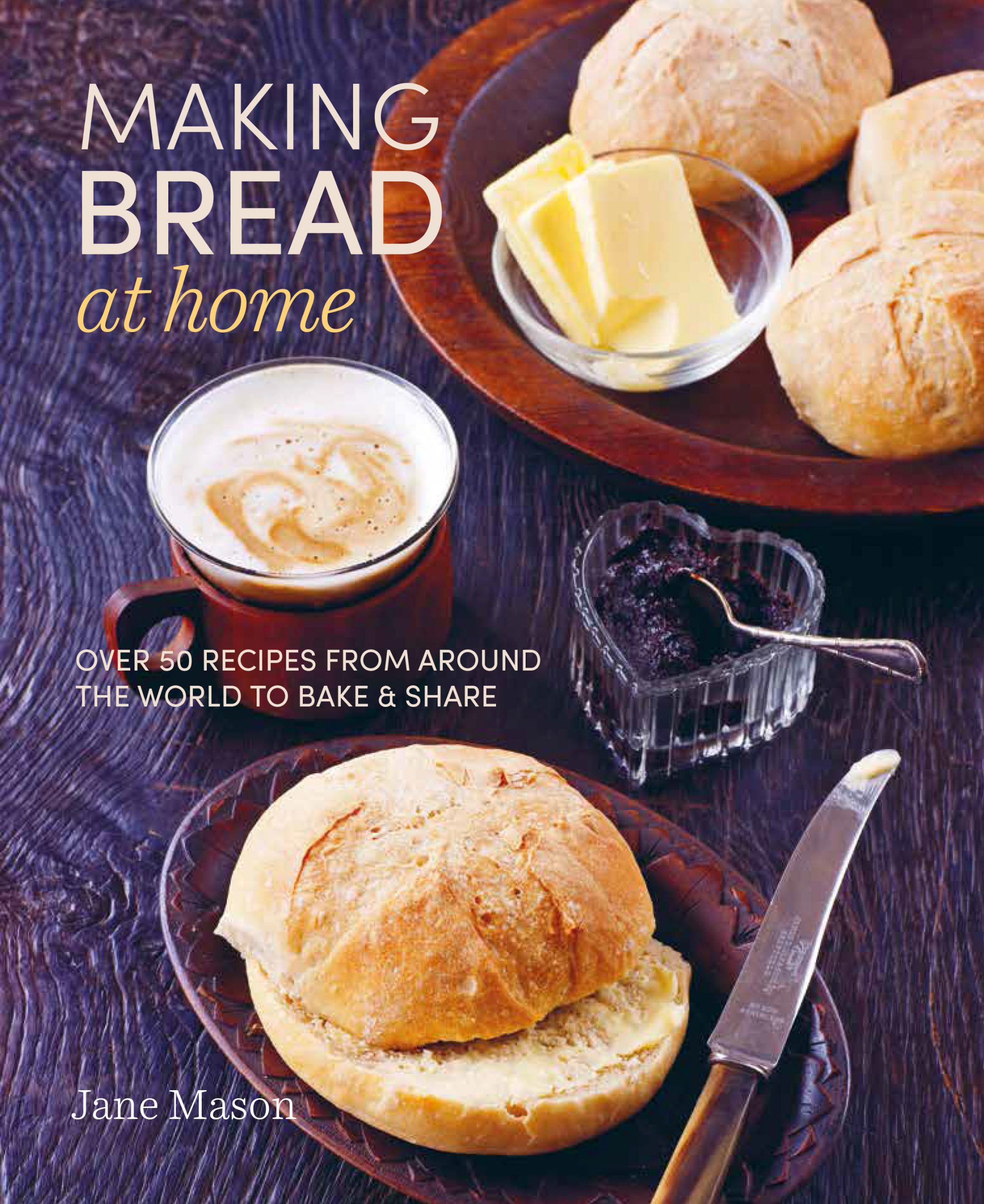 Making Bread at Home by Jane Mason, photography by Peter Cassidy, published by Ryland Peters & Small (£16.99)
Comments
Tags:
Bread
,
Gluten-Free Recipes