Four sumptuous sides for the Christmas table…
Here are four classic sides from Maldon Sea Salt you need on the Christmas table: Roast potatoes, roasted carrots, honey-roasted parsnips and Brussels sprouts…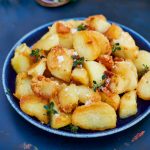 Roast Potatoes
Essential with any roast dinner
Ingredients
1

kg

Maris Piper potatoes

100

g

duck or goose fat

or 100ml/3½fl oz olive oil 

2

tsp

gluten-free flour

Maldon salt

to serve
Instructions
Put a roasting tin in the oven (one big enough to take the potatoes in a single layer) and heat oven to 200C/fan 180C/gas 6.

Peel the 1kg potatoes and cut each into 4 even-sized pieces if they are medium size, 2-3 if smaller (5cm pieces). Drop the potatoes into a large pan and pour in enough water to barely cover them.

Add salt, then wait for the water to boil. As soon as the water reaches a full rolling boil, lower the heat, put your timer on and simmer the potatoes uncovered, reasonably vigorously, for 2 mins.

Meanwhile, put 100g duck or goose fat or 100ml olive oil into the hot roasting tin and heat it in the oven for a few mins, so it's really hot.

Drain the potatoes in a colander then shake the colander back and forth a few times to fluff up the outsides. Sprinkle with 2 tsp flour and give another shake or two so they are evenly and thinly coated.

Carefully put the potatoes into the hot fat – they will sizzle as they go in – then turn and roll them around so they are coated all over. Spread them in a single layer making sure they have plenty of room.

Roast the potatoes for 15 mins, then take them out of the oven and turn them over.

Roast for another 15 mins and turn them over again. Put them back in the oven for another 10-20 mins, or however long it takes to get them really golden and crisp. The colouring will be uneven, which is what you want.

Scatter with Maldon salt and serve straight away.
Honey-Roasted Parsnips
Sweet and succulent parsnips
Ingredients
500

g

parsnips

1

tbsp

gluten-free flour

1

tbsp

honey

2

tbsp

sunflower oil

2

tbsp

butter

Maldon Sea Salt
Instructions
Top and tail 500g parsnips, cutting any larger ones in half lengthways, then put in a large saucepan, cover with salted water, bring to the boil and cook for 5 mins.

Drain in a colander and let them steam-dry for a few mins.

Heat oven to 190C/170C fan/ gas 5.

Sprinkle 1 tbsp flour and 1 tbsp honey over the parsnips and toss to coat.

Put the parsnips in a roasting tin with 2 tbsp sunflower oil, 2 tbsp butter and seasoning.

Roast for 40 mins, turning halfway, until golden.

Add a pinch of Maldon Salt to serve.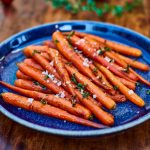 Roasted Carrots
Delicious, sweet and essential
Ingredients
500

g

carrots

2

tbsp

olive oil

3

tbsp

clear honey

1

tbsp

fresh lemon juice

3-4

sprigs

of fresh thyme

Maldon salt and freshly ground black pepper
Instructions
Preheat the oven to 200C/ 180C Fan/Gas 6. Trim the carrots and peel, if you prefer. Cut any particularly large carrots in half lengthways.

Place on a large baking tray and pour over the olive oil. Season with salt and pepper, toss well and roast for 15–25 minutes, or until almost tender and lightly browned. (The time will depend on how thick the carrots are.) Whisk the honey and lemon juice together.

Take the tin out of the oven and drizzle over the honey and lemon mixture. Pick the thyme leaves off the sprigs and scatter over. Toss lightly and return to the oven for a further 8–10 minutes, or until the carrots are tender and glossy.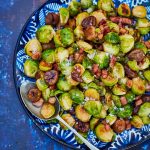 Brussel Sprouts
No Christmas table would be complete without Brussels Sprouts
Ingredients
1

kg

Brussels sprouts

trimmed

6

rashers

smoked streaky bacon

cut into bite-sized pieces 

200

g

vacuum-packed chestnuts

50

g

butter

Maldon Salt
Instructions
Bring a large pan of salted water to the boil, then tip in 1kg trimmed Brussels sprouts. Once back to the boil, cook for 5 mins. Drain, run under the cold tap until cold, then drain again.

Heat a large frying pan, add 6 rashers smoked streaky bacon, cut into bite-sized pieces, and gently fry for 10 mins until crisp and golden.

Tip out of the pan, leaving the fat behind, then add 200g chestnuts and fry over a high heat for about 5 mins until tinged. Tip out of the pan.

Add the Brussels sprouts to the pan with a splash of water, then cover and finish cooking over a medium heat for about 5 mins, stirring now and again, until just tender.

Uncover, turn up the heat, then add most of the 50g butter and sauté the sprouts for 2 mins more.

Tip in the bacon and chestnuts, season generously with Maldon salt and pepper, then serve with the last knob of butter on top.
Comments
Tags:
Christmas
,
Christmas Recipes
,
Gluten-Free Lunch
,
Recipes