Gluten-free chocolate O's cake
Impress your guests with this spectacular chocolate cake from Schär. A delicious cake people won't even know is gluten free!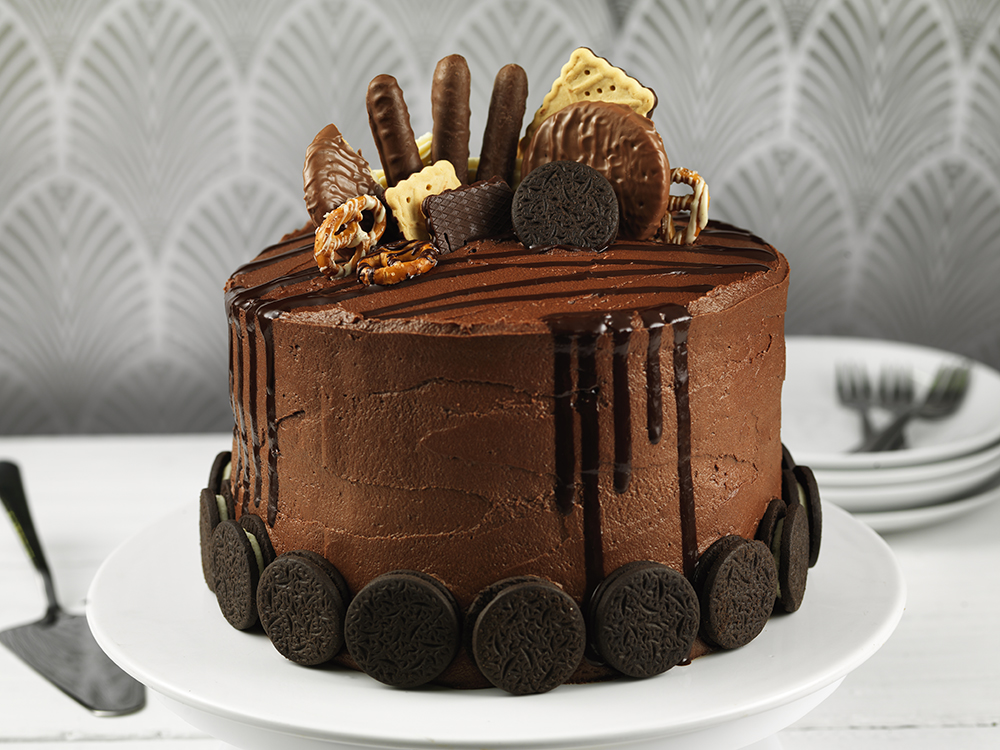 Gluten-free chocolate O's cake
Servings: 8 | Preparation time: 10 minutes | Cooking time: 30 minutes
Ingredients
For the sponge:
90g cocoa powder
6tsp gluten free baking powder
300g butter at room temperature
330g caster sugar
6 large eggs, beaten
4½ tbsp milk
2½ tsp vanilla extra
For the filling:
500g butter at room temperature
1.2kg icing sugar
1 tsp vanilla extract
4 tbsp milk
150g dark chocolate
75g cocoa powder
For the decorations:
Method
Pre-heat the oven to 170°/150°C Fan/Gas Mark 3.
Place the butter and caster sugar into a mixing bowl and beat well for 1-2 minutes using an electric mixer, until the mixture is light and pale.
Add the remaining sponge ingredients and mix for a further 2 minutes.
Place into two round 20cm cake tins that have been greased and base-lined with baking parchment.
Bake in the pre-heated oven for 30 minutes, or until the cakes spring back when lightly touched.
Leave in the tins for 10 minutes before turning out onto a cooling rack.
To make the buttercream and decorate: Beat together the butter, icing sugar, vanilla extract and milk until soft. Place 2 generous tablespoons of mixture in one bowl and 4 into another (the smaller amount for the cake topping and the rest for the cake filling).
Crumble 4 Chocolate O's into the buttercream, to make the filling. Spread evenly between the sponge layers.
Melt the chocolate in a small bowl over a pan of hot water or carefully melt in a microwave.
Pour the chocolate into the remaining buttercream and mix well. Add more milk if necessary to achieve a soft consistency. Spread this over the top and sides of the cake.
Decorate the top of the cake with your choice of Schär biscuits.
16-17 Chocolate O's are required to decorate the base of the cake.
Chocolate
,
Gluten-Free
,
Gluten-Free Cake
,
Gluten-Free Dessert
,
Gluten-Free Recipes
,
Recipes