Gluten Free Christmas Pudding
It wouldn't be Christmas without the pudding! Try this recipe for the perfect gluten free Christmas pudding
A gluten free Christmas pudding recipe from Genius. Packed full with dried fruit and festive spices this Christmas Pudding is made with gluten-free flour and gluten-free breadcrumbs.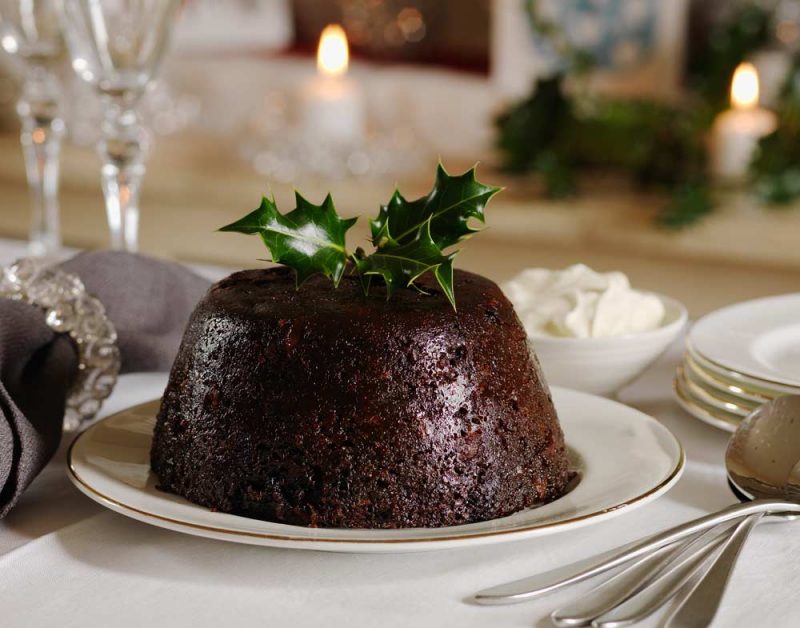 Serves 6. 1-hour prep, 8 hours cooking.
Ingredients
250g/9oz Raisins
225g/8oz Sultanas
450g/1lb Currants
85g/3oz mixed peel
Finely grated zest of 1 orange and the juice of 2 oranges
Finely grated zest and juice of one lemon
1 tsp Mixed spice
½ tsp Ground cinnamon
½ tsp Grated nutmeg
150ml/5floz Cold Earl Grey tea
6 tbsp Brandy or rum
1 Large cooking apple, peeled, cored and grated
85g/3oz Blanched almonds, roughly chopped
340g/12oz dark soft brown sugar
2tbsp black treacle
225g/8oz Well chilled or frozen unsalted butter, grated
225g/8oz Genius brown bread whizzed into fine breadcrumbs
55g/2oz Rice flour
55g/2oz Cornflour
2 tsp Baking powder (gluten-free)
1 tsp Salt
5 Eggs, beaten
Method
In a large mixing bowl mix all the dried fruit, mixed peel, orange and lemon zest and spices together and soak overnight in the orange and lemon juice, cold tea and brandy or rum.
Mix in the grated apple, chopped almonds, brown sugar and black treacle.
In another bowl, mix the butter, breadcrumbs, rice flour, cornflour, baking powder and salt together, then gradually beat in the eggs until the mixture is smooth. Stir into the soaked fruit mixture.
Spoon the mixture into two 1litre pudding basins, greased with butter to two-thirds full, cover with greased greaseproof paper and foil, secured around the edge of the bowl with string. Steam for 8 hours checking occasionally to top up with more water if necessary.
Remove the pudding basins from the pan and leave to cool. To store, cover the puddings with fresh greaseproof paper, foil then cling film and place somewhere cool and dry.
On Christmas Day, steam the puddings for a further six hours before serving.
Follow us on Facebook, Twitter and Instagram for all the latest recipes, news and features from Gluten-Free Heaven.
Comments
Tags:
Christmas
,
Gluten-Free Baking
,
Gluten-Free Christmas
,
Gluten-Free Dessert
,
Gluten-Free Recipes