Gluten-Free Christmas Wreath
A gluten-free Christmas wreath made from Rocky Road
Using Schär's new Delishios, this Gluten-Free Christmas Wreath is a centre-piece to remember!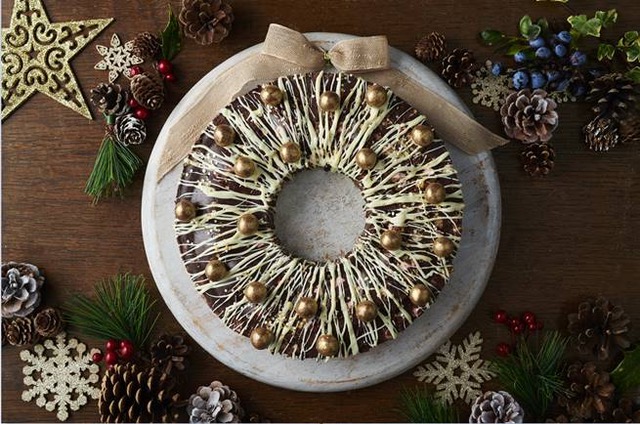 Ingredients:
For rocky road:
180g dark chocolate
50g butter
3 tbsp golden syrup
3 x 37g packets Schär Gluten Free Delishios, halved
60g Schär Gluten Free Pretzels
50g marshmallows
For decoration:
50g white chocolate for decoration
1 packet of Schär Delishios
Gold edible glitter/lustre
Method:
1. Grease and line a bundt tin (you can use a normal cake tin if you don't have a bundt tin).
2. Melt the chocolate and butter in a bowl over a pan of boiling water. Set aside to cool for 10 minutes.
3. Add the golden syrup to the chocolate and butter mix.
4. Mix in the Delishios, Pretzels and marshmallows. Stir well to ensure all the ingredients are coated in the chocolate.
5. Spoon the mixture into the bundt tin and press down firmly. Refrigerate for two hours before decorating. (Tip: If using a cake tin, place a mug in the middle of the tin and add the mixture around this to achieve the wreath shape.)
6. Remove from the tin once you are ready to decorate.
To decorate:
1. Melt the white chocolate and use a spoon to drizzle onto the rocky road.
2. Empty one packet of Schär Delishios into a plastic bag with a small amount of the gold lustre dust. Make sure the bag is tied, then shake until all the Delishios are covered.
3. Affix the Delishios to the top of the rocky road wreath using a blob of white chocolate.
4. Serve and enjoy!
Follow us on Facebook, Twitter and Instagram for all the latest recipes, news and features from Gluten-Free Heaven.
Tags:
Christmas
,
Gluten-Free
,
Gluten-Free Baking
,
Gluten-Free Christmas
,
Gluten-Free Dessert
,
Gluten-Free Recipes