Gluten-free crispy coconut prawns
Gluten-free crispy coconut prawns recipe by Charlotte Davies
For a snack or as part of the main dish, these gluten-free crispy coconut prawns will go down nicely. Serve with some stir-fry veg and rice for a nice dinner.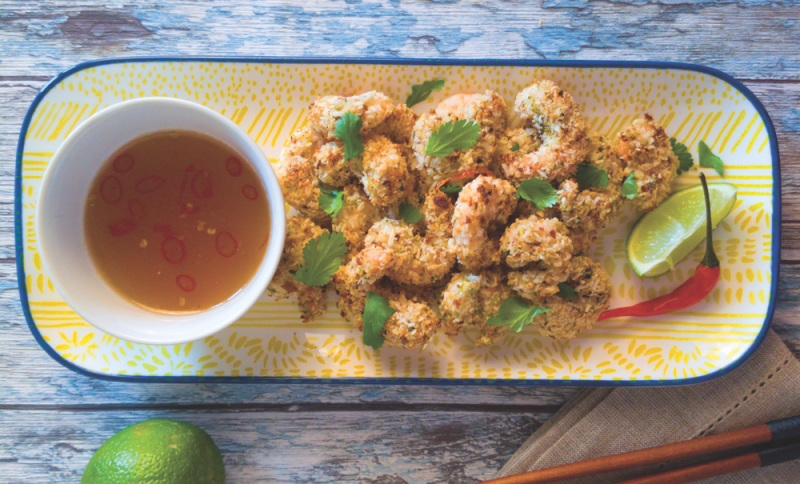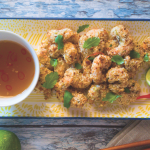 Gluten-free crispy coconut prawns
Ingredients
For the prawns
100

ml

almond milk

4

tbsp

lime juice

150

g

raw king prawns

60

g

gluten-free plain flour

1

tsp

salt

1

tsp

ground black pepper

30

g

desiccated coconut

30

g

gluten-free breadcrumbs

a generous pinch of chilli flakes

2

grated zest of 2 limes

2

tbsp

coriander, chopped
For the sweet chilli sauce (makes 150ml)
1

tsp

cornflour, mixed with

4

tsp

water

1

thin red chilli, finely chopped

85

ml

apple cider vinegar

2

tsp

gluten-free fish sauce

1/2

tsp

garlic puree

1

tsp

ginger puree

a pinch of salt

120

g

unrefined golden caster sugar
To serve
lime wedges and fresh coriander
Instructions
Mix the almond milk with the lime juice and set aside for 10 minutes – this will make a lime buttermilk. Preheat the grill to a medium-high. Line a grill tray with non-stick foil or baking parchment.

In a second bowl, mix the plain flour with the salt and pepper. In a third bowl, mix the coconut, breadcrumbs, chilli flakes, lime zest and coriander.

When the lime buttermilk is ready, take a prawn and dip it into the milk, then dip it in the seasoned flour, shaking off the excess, before dipping it back in the buttermilk. Lastly, dip the prawn in the coconut-breadcrumb mixture, making sure it's coated all over. Shake off the excess and place on the grill tray. Repeat the process until you have breaded all the prawns.

Cook the prawns under the grill for 5-10 minutes, turning halfway through. Ensure they are thoroughly cooked and have turned pink. The coconut should be lightly toasted, forming a crispy crumb.

To make the sweet chilli sauce, mix the cornflour with the water until it forms a loose paste. Place the other sauce ingredients in a small saucepan and bring to a boil on a medium heat, whisking to dissolve the sugar. Once boiling, stir in the cornflour paste. Continue to boil for 2½ minutes, then remove from the heat and allow to cool. Serve with the crispy prawns, lime wedges and more coriander.
Nutrition Facts
Gluten-free crispy coconut prawns
Amount Per Serving
Calories 661
Calories from Fat 220
% Daily Value*
Fat 24.4g38%
Protein 25.4g51%
* Percent Daily Values are based on a 2000 calorie diet.
As featured in the July 2019 issue of Gluten-Free Heaven magazine
Follow us on Facebook, Twitter and Instagram for all the latest recipes, news and features from Gluten-Free Heaven.
Tags:
Dairy-Free
,
Dairy-Free Lunch
,
Dairy-Free Recipes
,
Egg-Free
,
Fish
,
Gluten-Free Lunch
,
Gluten-Free Recipes
,
Gluten-Free Snacks
,
Meat