Gluten-free mince pies
Get in the Christmas spirit with these traditional gluten-free mince pies recipe.
Try this gluten-free mince pies recipe…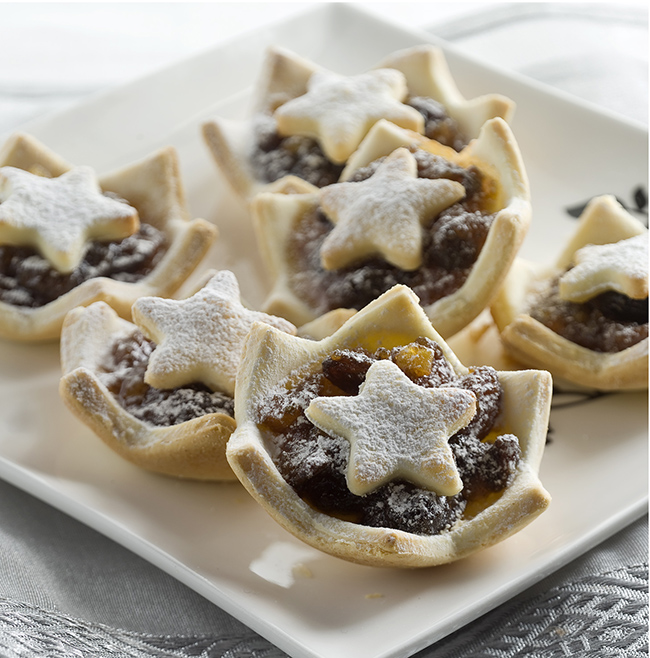 Gluten-free mince pies
Preparation time: 30 minutes | Cooking time: 15-20 minutes
Ingredients
15g caster sugar
100g butter
2 medium eggs
1-2 tbsp cold water
411g minced meat
1/2 Bramley apple
Zest of one lemon
50ml orange juice
Method
Add the Schär Mix It! Universal and the caster sugar to a bowl, cut the butter into cubes and rub into the mix. Make a well in the centre; add one of the eggs and water, and stir together to combine.
Bring the pastry together to form a ball and chill in the fridge for 20 minutes.
Pre-heat the oven to 180°C/160°C fan/Gas Mark 4.
While the pastry chills, add the mincemeat, grated apple, zest of the lemon and the orange juice into a bowl and mix.
Once pastry has chilled, transfer to a work surface sprinkled with a little Schär Mix It! Universal and knead the pastry for 1-2 minutes or until pliable.
Roll out the pastry to your desired thickness and use a round cookie cutter to make the pastry cases. Place half of the pastry cut outs in a muffin tin.
Fill each pastry case with the mincemeat mix and top with another pastry cut out, either round or cut out to your desired shape.
Brush with beaten egg and place in the oven for 15-20 minutes until the mince pies are golden brown.
Dust with icing sugar before serving.
Christmas
,
Gluten-Free
,
Gluten-Free Christmas
,
Gluten-Free Dessert
,
Gluten-Free Recipes
,
Pastry
,
Pie
,
Recipes