Gluten-Free Spaghetti Bolognese
This traditional, hearty gluten-free spaghetti bolognese is a real crowd-pleaser!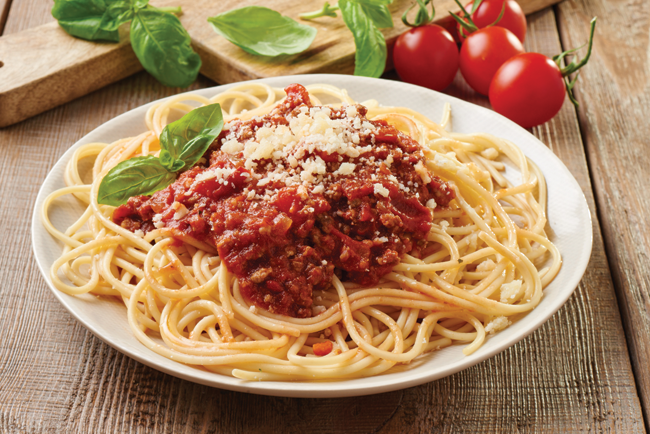 Gluten-Free Spaghetti Bolognese
By Knorr (www.knorr.co.uk)
Serves 4 | Prep 20 mins | Cook 35 mins | Calories 459 (per serving)
Ingredients
1 Knorr Beef Stock Pot
1 garlic clove, peeled, mashed
2 onions, peeled, finely chopped
100g (3½oz) carrots, peeled
100g (3½oz) leeks, very finely chopped
100g celery, chopped
400g (14oz) beef mince
2 tbsp olive oil
freshly ground black pepper
2 tbsp tomato purée
400g (14oz) tinned chopped tomatoes
parsley and basil, chopped
400g (14oz) gluten-free spaghetti
Method
Heat the olive oil in a large pan, cook the onions, garlic, leeks and carrots, then sauté over medium heat for about 10 minutes.
Add the celery and cook for 5 more minutes. Raise the heat to high and add the mince. Sauté, stirring frequently, for about 10 minutes until the meat browns.
Add the stock pot (undissolved), tomato purée, tomatoes, parsley and basil, then cook over a medium heat for 10 minutes, or until the sauce thickens. Pour over freshly cooked gluten-free spaghetti.
Tags:
Dairy-Free Dinner
,
Gluten-Free Dinner
,
Gluten-Free Recipes
,
Recipes