Try something different with this delicious play on a classic staple! The perfect combination of jackfruit and chipotles makes for an impressive dish that everyone will love.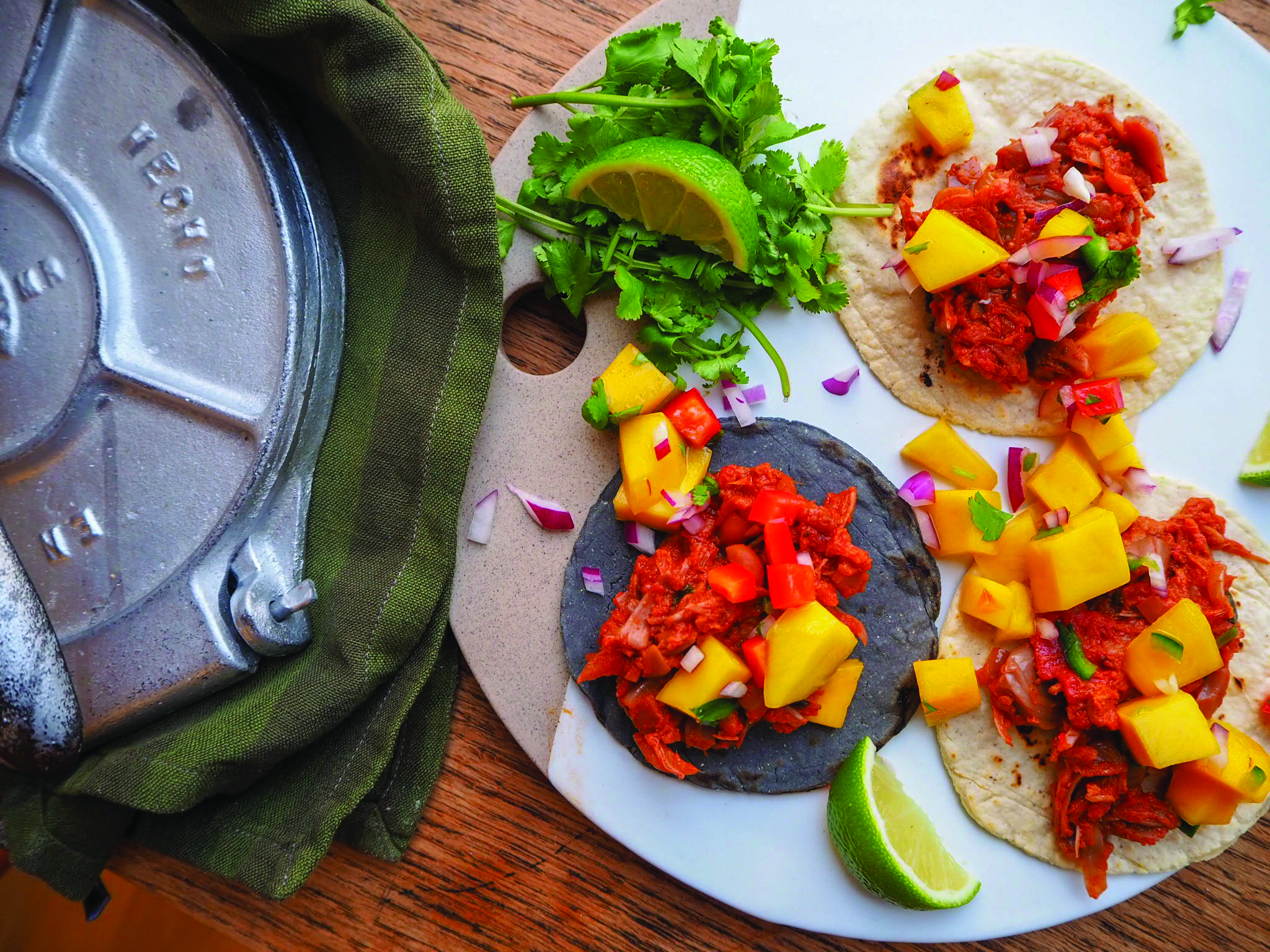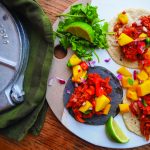 Jackfruit tinga tortillas
Combining sweet and spicy flavours, this Mexican dish is a perfect mixture of flavours. Great for breakfast, lunch or dinner.
Cook Time
1
hour
15
minutes
Total Time
1
hour
50
minutes
Ingredients
For the Tortillas
150g

(5½oz)

masa harina

1

pinch

salt

100ml

(3½fl oz)

cold water

1

tbsp

olive oil

3

tsp

food grade charcoal

(for grey tortillas)
For the Jackfruit Tinga
1

tbsp

coconut oil

1

small onion

peeled, diced

2

tins

jackfruit

2-3

chipotles in adobo or 1 tbsp chipotle paste

4

garlic cloves

peeled

2

tins

tomatoes or tomatillos

1

tsp

paprika

1

tsp

sugar

1

tbsp

tomato puree

a handful of coriander

salt and freshly ground pepper

to taste
Instructions
For the Tortillas
Mix the masa harina and salt in a bowl. Add the water and olive oil and mix until a smooth dough is achieved. (If it's too sticky add a little more masa harina, or, if it's too dry, add a drop more water.) Cover with a tea towel in the bowl and leave to rest for 30 minutes.

Divide the dough into 24 balls.

Using a tortilla press is the easiest way to get perfect tortillas, but alternatively you can flatten the balls of dough with your hands, or roll them between two layers of clingfilm. Flatten to approximately 3mm (1/8in) thick.

To cook the tortillas, use a dry pan turned up to a hot heat.

Cook the tortillas for approximately 1 minute on each side, or until lightly coloured. To get the puffiest tortillas, I find dripping the balls in water (shake to dry), before pressing works best.
For the Jackfruit Tinga
Heat the coconut oil in a pan over a medium heat.

Add the onions and saute until golden, 6-8 minutes. Shred the jackfruit, either using two forks or your hands.

Lower the heat slightly, then add the jackfruit to the saucepand, stirring to coat.

Once the jackfruit begins to soften, remove from heat and set aside.

Combine the chipotles, garlic, paprika, tomato puree and sugar in a blender or food processor and blend until smooth.

Pour the sauce over the jackfruit and onions, stirring to coat.

Cook on a low heat, covered, for 45 minutes, stirring occasionally so the jackfruit absorbs the sauce and flavour. Add the coriander and cook for a further 30 minutes.

Season with a large pinch of salt and a grind of pepper. I serve mine with a heap of mango salsa and guacamole.
Recipe Notes
TIP: The flavours develop over time, so make the day before, or make extra so you can enjoy breakfast tacos in the morning. The jackfruit tinga works exceptionally well with scrambled eggs and avocado.
Nutrition Facts
Jackfruit tinga tortillas
Amount Per Serving
Calories 242
Calories from Fat 59
% Daily Value*
Fat 6.6g10%
Protein 5.2g10%
* Percent Daily Values are based on a 2000 calorie diet.