Polenta Mince Pies with a Pecan Streusel
For mince pies with a difference try this recipe with a crumbly, textured pastry and a delicious nutty layer.
Get ready for Christmas, and try these gluten-free polenta mince pies…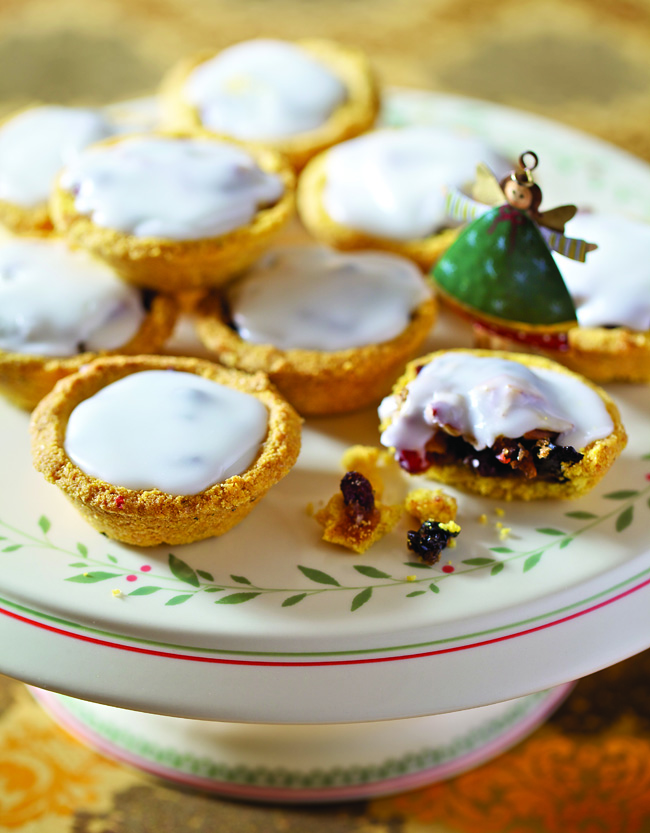 Polenta Mince Pies
Ingredients
For the pastry
200

g

good quality polenta flour

100

g

butter, cut into small cubes

25

g

caster sugar

2

tbsp

water

gf flour for dusting
For the filling
275

g

mincemeat

50

g

pecan nuts, roughly chopped

1

tbsp

soft brown sugar
For the icing
200

g

icing sugar, sifted

4

tbsp

warm water
Instructions
Preheat the oven to 180°C/160°C fan/gas mark 4 then grease a 12 hole bun tin.

Place the polenta in a large bowl then rub in the butter using your fingertips (this is not quite as easy as with wheat flour so may take a little longer) until it resembles breadcrumbs. Stir in the sugar then bring together with 2 tbsp cold water firstly using a round-ended knife and then pressing together firmly with your hands.

As the pastry is quite delicate, cut it into four so you can work in small pieces rather than one large piece. Dust your work surface with gluten-free flour then roll out one piece of pastry to about 4-5mm in thickness. Cut out circles with an 8cm cutter. Gently ease the circles into the greased tin, if the pastry cracks just press it back together. Roll and cut the remaining three pieces of pastry as before then press any leftover pieces together, re-roll and cut until all the pastry is used up.

Fill the pastry cases with mincemeat so they are about ¾ full. Mix together the pecans and brown sugar and scatter over the top of the mincemeat. Bake for 15 mins until golden and bubbling. Leave in the tin for a few mins then very gently remove from the tin while still warm and leave to cool on a cooling rack.

For the icing, mix the icing sugar with 4tbsp of warm water to create a thick pouring consistency. Gradually add a little more water if the icing is too thick. Pour the icing over the top of the mince pies so the filling is completely covered.
Follow us on Facebook, Twitter and Instagram for all the latest recipes, news and features from Gluten-Free Heaven.
Comments
Tags:
Christmas
,
Gluten-Free
,
Gluten-Free Baking
,
Gluten-Free Christmas
,
Gluten-Free Dessert
,
Gluten-Free Recipes
,
Pie