Overconsumption is harming our planet, which is why Elephant Box's mission is to provide you with products that are useful, beautiful, durable and reliable – giving you a reason to buy better and to buy less.
Everything they make at Elephant Box will last you a lifetime, and you can feel good, safe in the knowledge that you've chosen to reduce your waste. They also do great recipes, like this delicious Winter Slaw: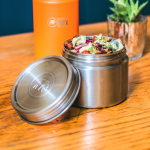 Winter Slaw
Delicious winter slaw perfect with any meal
Ingredients
a

handful

red cabbage

a

handful

grated carrot 

or substitute for grated beetroot

1/2

bulb

fennel

a

handful

hazelnuts

parsley
For the dressing
2

tsp

Dijon mustard

4

tsp

pomegranate molasses

or 1.5 tsp sugar

5

tsp

balsamic vinegar

salt and freshly ground black pepper

100

ml

olive oil

1/2

orange

juice (optional)
Instructions
Finely shred the red cabbage (as much as you need, a handful is enough for 2).

Grate some carrot - again just a handful is probably enough. You could substitute grated beetroot here if needed.

Very finely shred half a fennel bulb - a mandolin is useful here. 

Toast a handful of hazelnuts. Do this by putting them in a dry pan over a medium heat and waiting until they begin to smell toasty and delicious. Keep them moving around in the pan. Don't take your eye off them - it's so easy to forget and burn them! Then chop them up a bit.

Chop some parsley. Mix it all together.
For the dressing
Mix the mustard, molasses/sugar, salt & pepper & vinegar together. Then slowly whisk in the oil. Adjust seasoning to taste.

Add as much dressing as you want to the salad - you'll probably have some left over.

Squeeze half an orange over the whole thing if you like for extra zing.