How to find gluten-free food that kids will love
The Gluten-Free Gathering's Kim McGowan shows that being a coeliac, or being gluten intolerant as a youngster, doesn't have to mean missing out on all the fun things kids enjoy…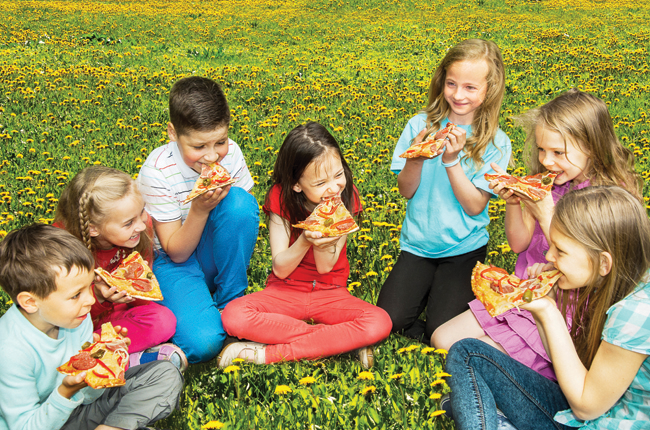 Living with Coeliac Disease or a gluten intolerance is a tough enough journey as an adult, but to see your children be diagnosed with a restricted diet, of any kind, is heartbreaking. Thankfully, kids are so incredibly resilient. Plus things are improving for gluten-free kids. Slowly it is dawning on the free-from food world that kids need good gluten-free products and services, but there is still a huge opportunity to be seized. Below is a guide to help anyone with kids who live gluten-free, including some insight from gluten-free children and parents themselves.
Food Products
A constantly expanding range of kids-style products is now available in gluten-free alternatives from many of the supermarkets and some independent companies like Feel Free for Gluten Free and Kirsty's. Many of the fish fingers, fried chicken, chicken nuggets, ready-to-cook pizzas and pastas are now good enough quality to be able to serve undetected to the whole family or friends when they come over for tea. Ocado has an incredible range including 82 gluten-free pastas and noodles, including kids shapes such as mini letters and Hello Kitty shapes, in addition to many smaller brands with novel products. Try Fria frozen cinnamon rolls and puff pastry, Sweetpea Pantry pancake mix, or one of the 26 sweet or savoury baking mixes they stock as a fun activity to do together.
Breakfast is often a hard area to adapt to gluten-free alternatives, with bread not yet comparable to your standard white supermarket loaf. There is a growing, improving range from small companies making excellent products. The Artisan Gluten Free Bakery and Beyond Bread (in London), the Wheat Free Bakery and Sussex Bread Company (available online) are examples of excellent breads worth trying. Pure, uncontaminated oats, granolas and muesli (if tolerated) are widely available, as are some non oat-based porridges for those who are sensitive, like the M&S rice-based one, Nutribix – a sorghum based Weetabix that makes a good and relatively healthy alternative, or for a real treat, Tesco has a kids cereal selection pack, and Hale and Hearty produce a couple of sweet cereals aimed at children.
Instant, portable food options are essential when travelling with kids and Ilumi products, available online and at Asda, are always gluten-free and are cooked in the pouches to make handy store cupboard meals. Perkier's porridge pots and Kabuto's posh pot noodles are perfect for dire catering moments, as you just need hot water to make the meal.
Convenience is often lost with the removal of gluten from life, but this is slowly changing. Companies like the frozen ready meal specialist COOK not only have gluten-free options, but also a couple of gluten-free kids meals. Over at Ocado, Miniscoff kids meals for one to eight-year-olds have a small range of naturally gluten-free frozen meals made with simple real ingredients too.
Eating Out
Research, prepare and get in touch in advance. The key to eating out, even as a coeliac adult, is being organised. Using sites like Trip Advisor, gluten-free blogs and dedicated Facebook groups all help you to get a feel for other people's experiences.
Adriana of GlutenFree4Kids.com says be specific about menu items. "We got caught out recently because when I asked a restaurant 'can you do gluten-free' they said yes! When we got there the menu was completely inappropriate for kids and we had a very, very expensive meal which none of us enjoyed."
Kids with food restrictions, and adults too for that matter, just want to feel normal. Thankfully the chains are catering increasingly well for gluten-free consumers. A safe place for kids to eat with their friends without feeling odd, the following come personally recommended by children and include TGI Fridays, Zizzi, Nandos, Carluccios and Ask Italian.
Other places that take gluten-free seriously and are inclusive of childrens meals include the allergen aware London chain Leon, where the whole menu is labeled and kids boxes are mini versions of adult meals. Plus the cakes are all gluten-free. London's gluten-free burger champions Honest Burgers – one of the original artisans – has separate toasters in all venues and all burger ingredients are gluten-free. Served in a good gluten-free bun, the all so important chips are safe to eat and never fried with anything that could cross contaminate.
Other Useful Resources
The Allergy & Free From Show – This annual consumer show, which now takes place in London, Liverpool and Glasgow, is a must for worry free sampling, discovering new products, stocking up with deals and hearing from experts. "My daughter loves it because she feels like she can eat everything and enjoys tasting lots of free samples. I print off the exhibitors list and we go through it together marking things we want to try" says Alison, mum to Nina, a coeliac since she was five.
The Gluten Free Cookbook for Kids – Cookery teacher Adriana wrote one of the original books for coping with family meals after coeliac diagnosis, and this and her website remain a brilliant resource for new or long-term coeliac families. Excellent, reliable and straightforward recipes recreate family favourites that are inclusive of gluten-free children. For even more expertise, Adriana also runs fantastic gluten-free classes across the country where children are welcome.
Coeliac UK – Through the charity's member2member programme, you can apply to speak to another parent of a coeliac child for like-minded support. They also have a dedicated guide for children to help explain it to little ones, and even a gluten-free playdough recipe.
Free From Food Awards – This annual awards covering every conceivable type of free-from foods has a category dedicated to children's products, judged by kids with allergies, intolerances and coeliac disease. And boy, are they honest? Check out the published shortlist and winners for products they rate and inspiration for new products. A surprising amount of savoury foods including Georgia's Choice chicken grills, Quinola Kids Tex Mex pouch, and Softsage cheese doughballs. Discover more at www.freefromfoodawards.co.uk.
Free From Eating Out Awards – From the organisers of the Free From Food Awards, this new awards celebrates the places to eat out. Often the most stressful and risky endeavor, these awards highlight the restaurants, caterers, cafes and institutions that cater with flair and expertise for restricted diets. Seek out these establishments across the country, for people who understand the seriousness of eating out without allergens. Try two-time winner Oscar and Bently's in Kent, The Alford Arms in Hertfordshire, or the Filmore and Union Yorkshire chain to name just a few. Find out more at www.freefromeatingoutawards.co.uk. 
Online – If age appropriate, help your child to find their own community of free-from children online. Many gluten-free social media champions are teens and young adults sharing their gluten-free lifestyles. The support of seeing people in your situation is immeasurable, and applies equally to parents.
Seriously Good Gluten Free Cooking for Kids – Catering from weaning babies through to teens, Phil Vickery's book also features recipes for gluten-free children to cook themselves. Based on his own flour mixes, it includes naturally free-from meals as well as the classics like fairy cakes, crumbles and birthday cakes.
Gluten-Free Birthday Cakes – Missing out on the traditional celebration cakes is not always the case. Of course you can make and decorate your own, but M&S now do a celebration cake to order which is a gluten-free fruit cake. For bespoke options, try Free From Bakehouse in London, The Heavenly Cake Company deliver their celebration cakes nationwide, or award-winning free-from baker Marnie Searchwell can create all manner of gluten-free cakes to be delivered too.
Top Tips from Parents
If you are reading this, you are probably already dealing with the challenges of living gluten-free for yourself, or for someone else. But below are a few novel tips from parents of coeliac children.
Alison put stickers on food in the house that was safe for her daughter to eat. She was then involved in meal plans, snack choices etc.
Discuss all aspects of gluten-free possibilities with the catering in school. Even seven years ago, Alison found they were open to making simple changes for her daughter like using cornflour instead of wheat flour, less keen on cooking special pasta, but had potatoes or rice available every day.
Teach them to read and really understand the labels. Adriana's daughter checks everything and she's been doing this since she learned how to read. It's really important for kids to be in control and to be able to tell others what is safe for them to eat.
Always carry food your children like with you. Especially at airports, train stations and at odd times of day.
Helping to educate others is always a challenge in school where there are so many priorities. Make it easy for them. "We made a poster with Nina's photo, name and a simple clear list or information. It was placed where the staff could see it, not the pupils, which allowed for temporary staff to be informed all the time" says Alison,
also a coeliac.
For more information, visit www.glutenfreegathering.co.uk
Tags:
Features
,
Gluten-Free
,
Gluten-Free Diet
,
Kids