Gluten-Free Guide to Bath
Gluten Free Gathering founder Kim McGowan takes a look at some of the top places to eat in this gluten-free guide to Bath…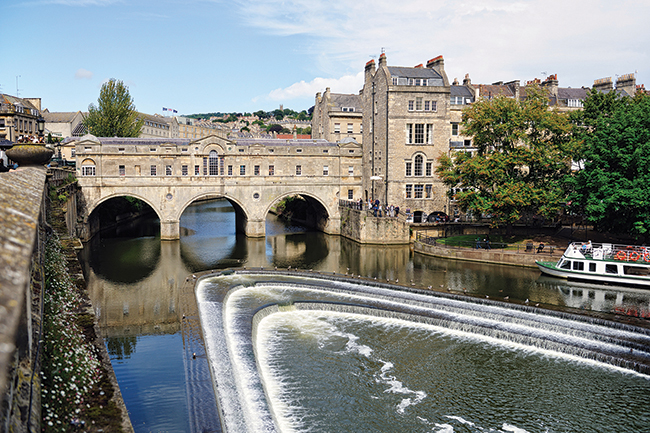 Trying to find somewhere nice and safe to eat in a top 20 UK tourist destination like the Roman City of Bath can be tricky when it needs to be gluten-free. Heaving with chains, albeit reliable with gluten-free options, they lack any real local flavour. But fear not. For in this gluten-free guide to Bath I have dug beneath touristy 'English' food to discover the city's longstanding, vibrant independent food scene, which caters to free-from consumers with flair.
Many of Bath's small, local restaurants and cafes are staunch supporters of using the bounty of West Country produce on their doorsteps. Drink the widest range of cider, sample unique cured meats from the region, and delve into the range of local cheeses including Cheddar and Bath Soft Cheese; all naturally gluten-free. Add to this the established network of speciality food shops to make up picnics or cook with at home, you will feast like a totally gluten-free Roman.
As with all eating out recommendations, do take the normal gluten avoiding precautions, as menus and ingredients in restaurants are frequently changed. Give as much notice as possible, book a table if you can as you often get better service in my experience. Use social media to connect with smaller establishments and help build your trust in them. Above all, don't take risks. Ask questions if you are not confident about the gluten-free nature of your meal.
The Scallop Shell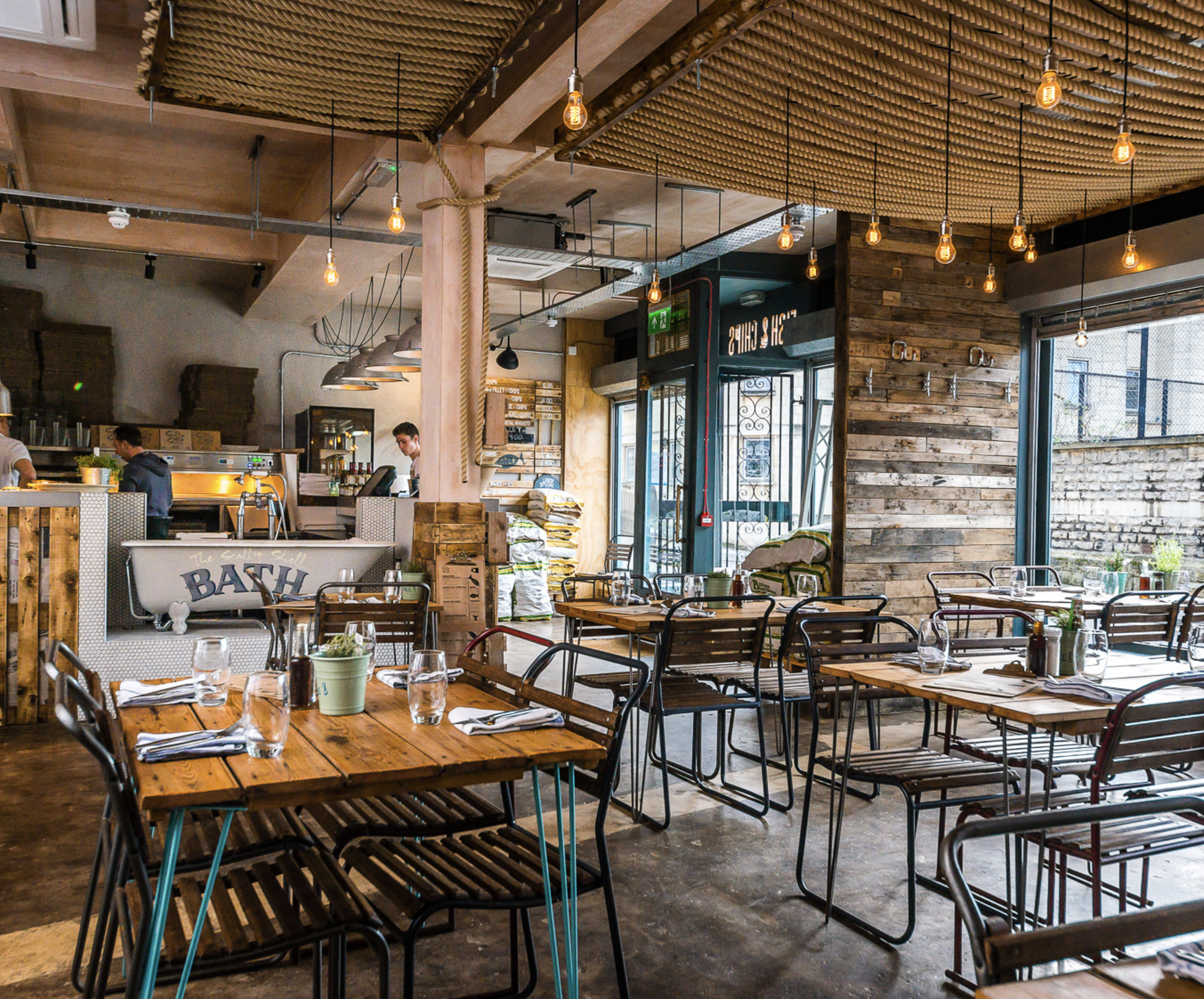 This buzzy, beach-style restaurant serves sustainably sourced seafood from local fisheries, with potatoes chipped and fried separately – keeping them gluten-free. Newly opened and already crowned winners of the UK's Independent Fish & Chip Restaurant award, they cater confidently for their GF customers. A gluten-free batter is available for fried fish, but it is cooked with 'normal' fried fish.
20 Monmouth Place, Bath, BA1 2AY
The Whole Bagel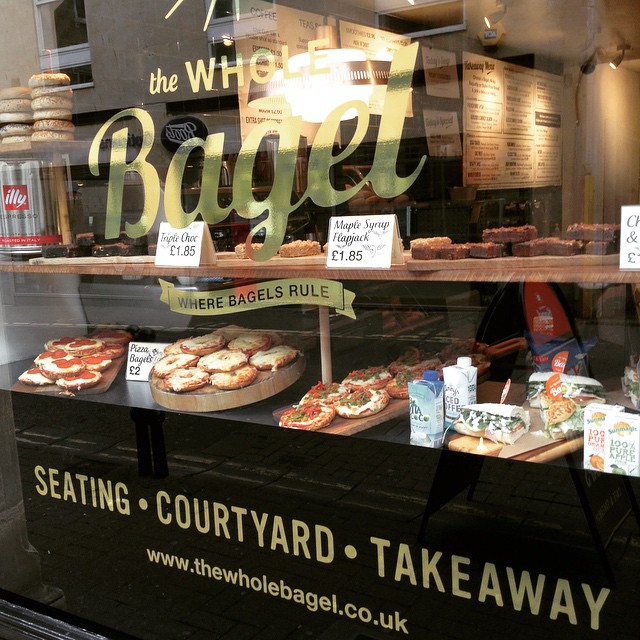 The simplicity of entering a town centre sandwich shop and being able to eat cannot be underestimated – especially when your lunch is made fresh to order and there is a choice of all the fillings on gluten-free bread. Soups and salads are available too.
8 Upper Borough Walls, Bath, BA1 1RG
Wild Food Café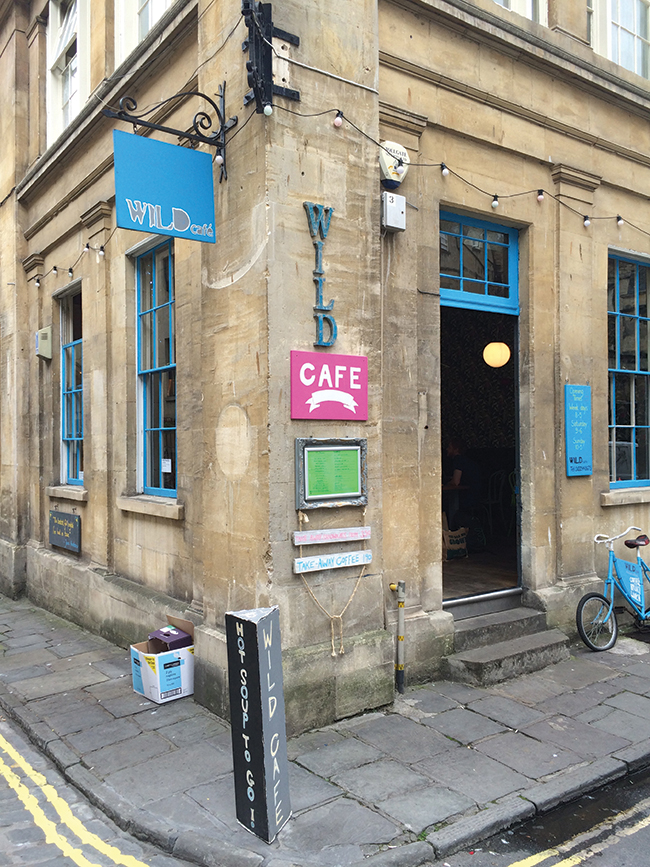 A Bath brunch institution, this little café on the cobbled city centre streets makes everything from scratch. Stocking gluten-free bread opens up the brunch menu and their awareness means you can easily navigate the lunch too. Champions of natural and local ingredients, they use Somerset free-range eggs and bacon and meat from the local butchers. But be sure to sample their own homemade hollandaise with free-range eggs and English butter on a hearty plate of Eggs Benedict.
10a Queen Street, Bath, BA1 1HE
Stable Pizza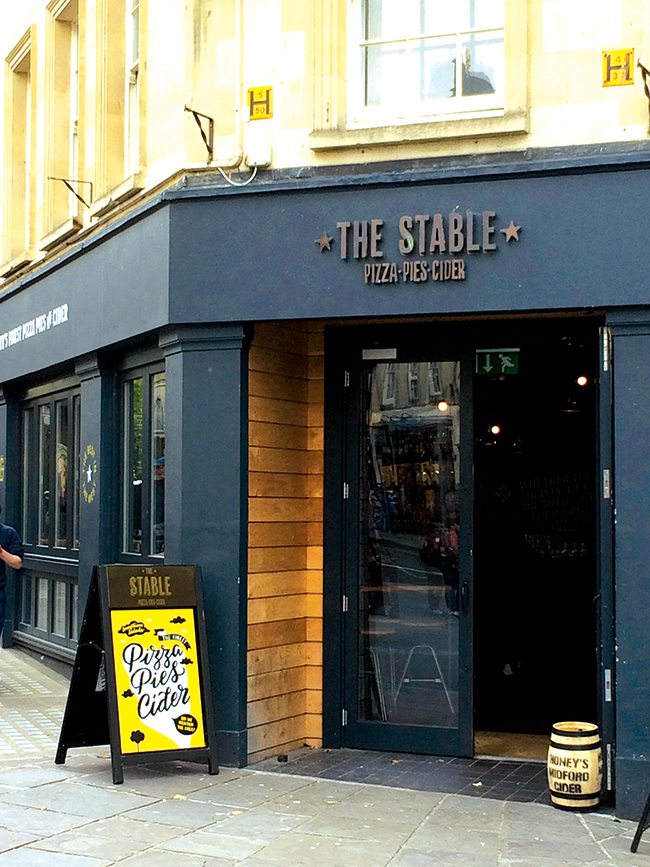 Stocking the widest range of local, naturally gluten-free cider (over 80), this is the place for a taste of the West Country. Selecting one of the best gluten-free bases made from non-gluten containing ingredients, means any pizza or garlic bread can be eaten as it's kept separate in the oven on special trays. Enjoy a great regional meal with all desserts, except the cheesecake, GF too.
1-3 Westgate Building, Kingsmead Square, Bath, BA1 2AE
Cascara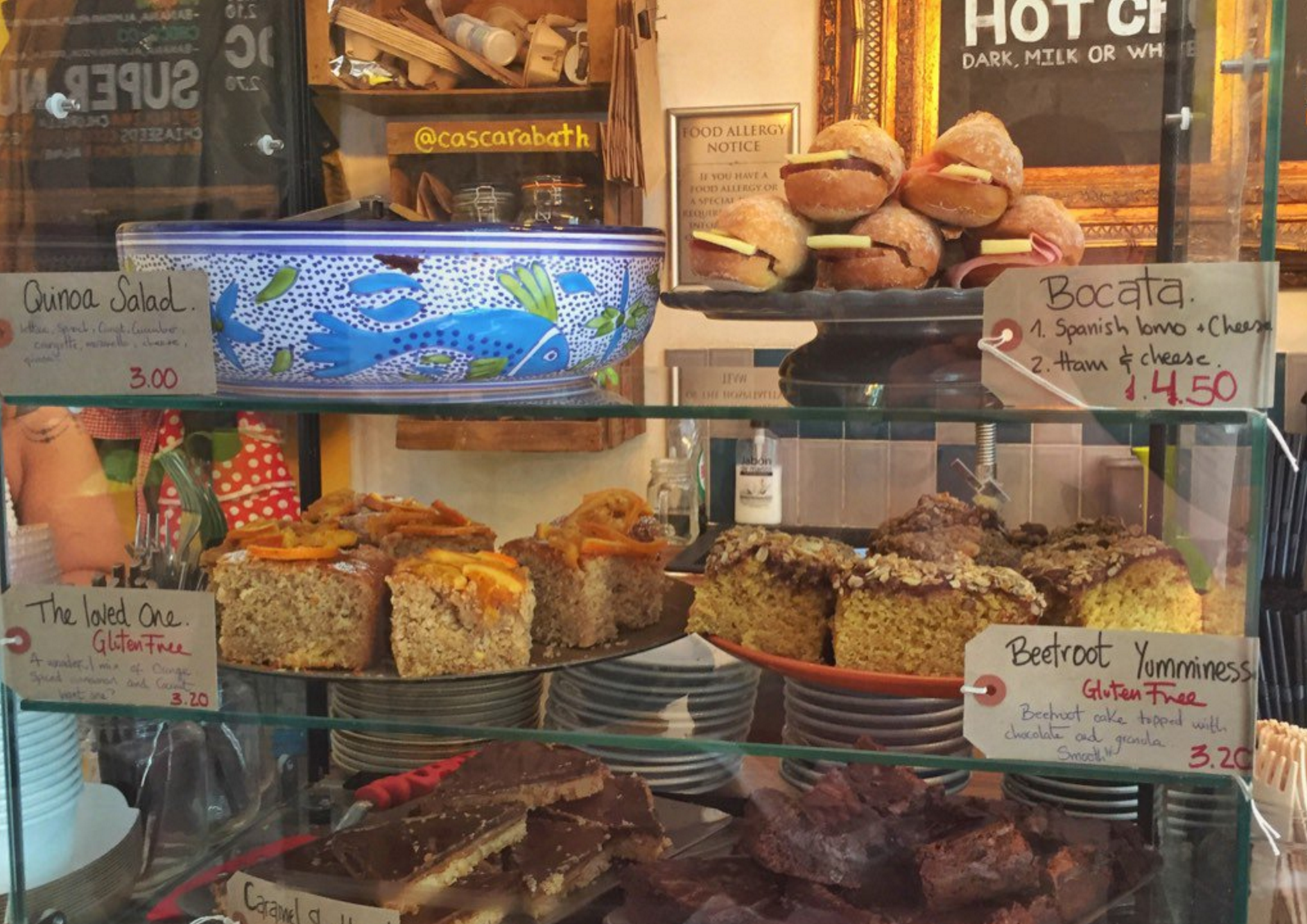 A lovely new little café making speciality coffee using beans from a rotation of small, artisan roasters. Complement the drinks range with a slice of homemade gluten-free cake including orange and chocolate, apple and vanilla and sometimes even cookies and GF granola.
3 Upper Borough Walls, Bath, BA1 1RG
Society Café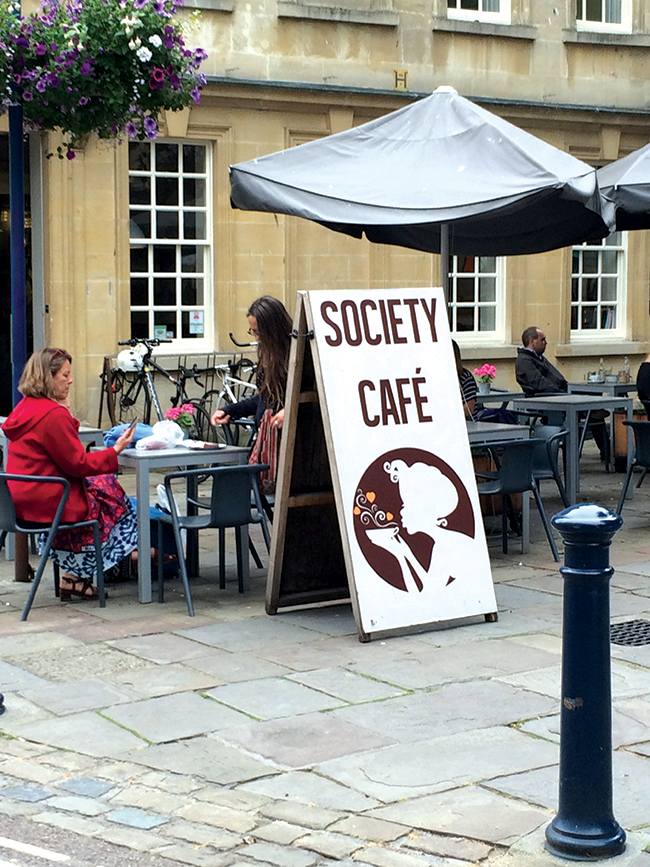 An integral part of the Bath coffee scene, with two central locations, this friendly and colourful café has some of the best gluten-free cake in town. Layered salted caramel cake, lemon polenta and millionaire shortbread are just a few options that are always available; supplied by The Bath Cake Company and perfect alongside Origin and guest roastery coffees and loose leaf tea.
Kingmead Square, Bath BA1 2AB
19 High St, Bath, BA1 5AJ
Rosario's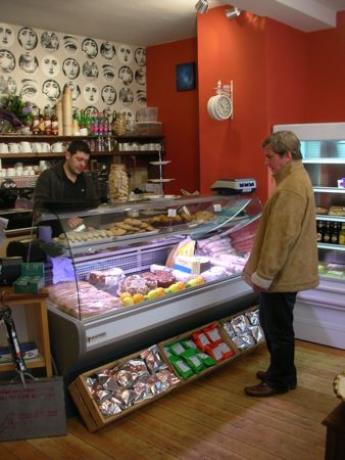 This little Sicilian café and deli is becoming more and more GF friendly, just recently redeveloping their homemade cheesecakes to be free-from gluten. Stop by for a slice, or maybe a brownie, Sicilian lemon cake or coffee & walnut cake. Alternatively, start the day with homemade potato cakes, Italian cured ham and poached eggs, or a lunch of freshly made sandwiches on GF bread, or choose their daily pasta dish, available GF too.
16 Northumberland Place, Bath, BA1 5AR
Dough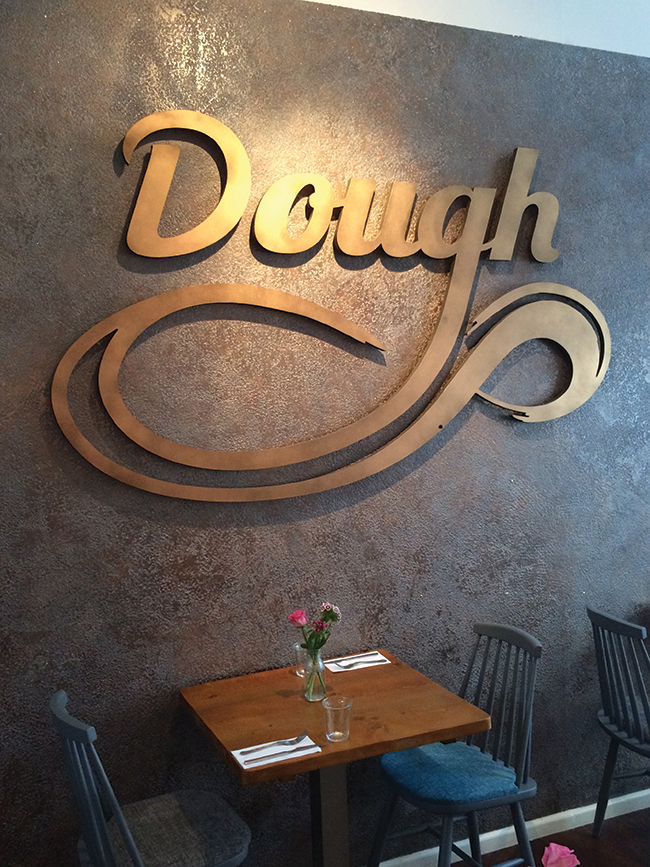 Brand new to The Corridor, an historic shopping arcade, this unique pizza restaurant is reinventing the idea of choice with a wide range of alternative pizza bases, including gluten-free. Owned by chefs with decades of experience making pizza, their menu is traditional Italian with a great range of antipasti, should you want more than just pizza. Brilliantly aware of the issues, they use rice flour to work all the different doughs, keeping floury, cross-contamination to a minimum.
Dough, 14-16 The Corridor, Bath, BA1 5AP
www.facebook.com/Dough-573776302782576
Green Rocket Café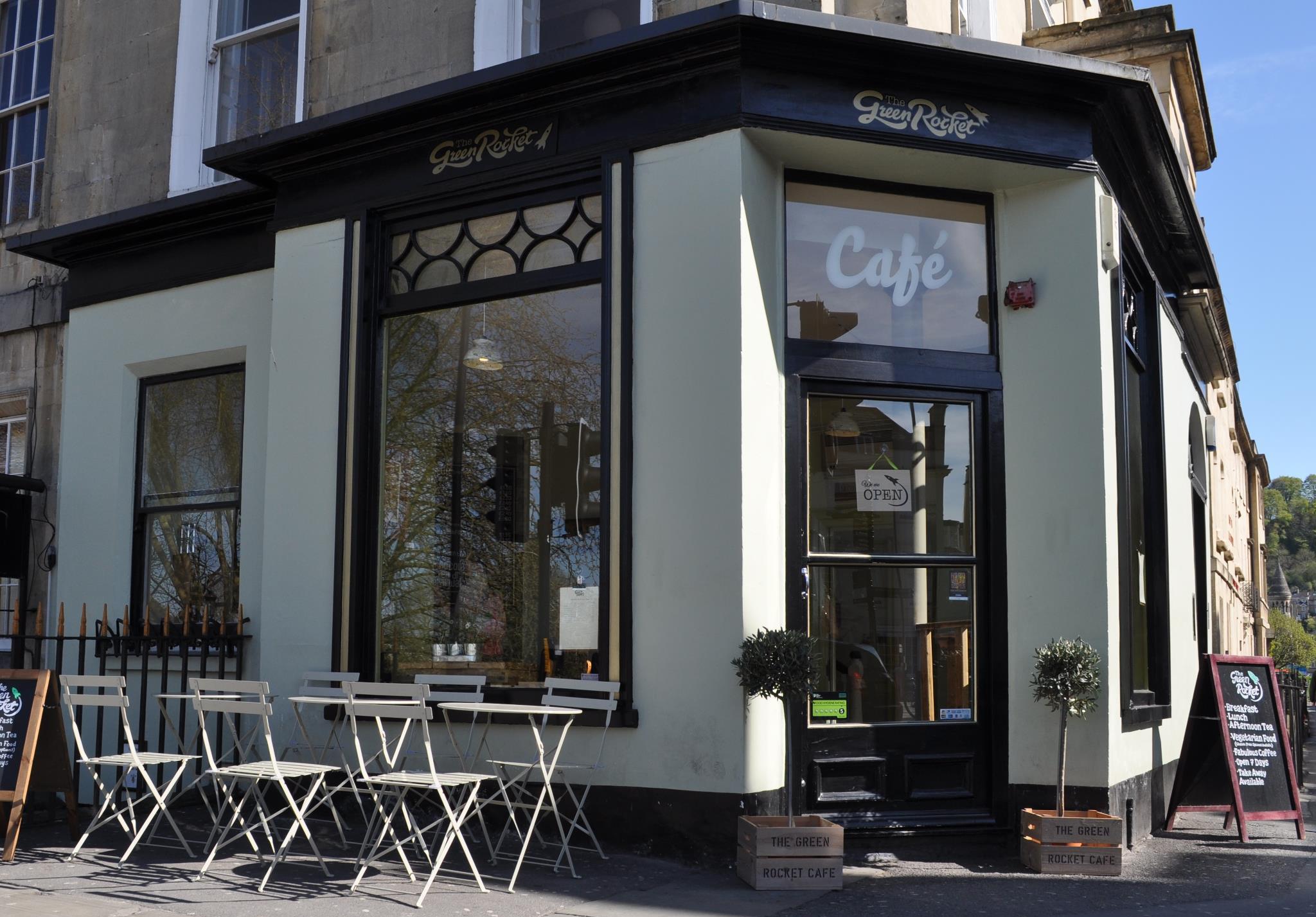 This legendary vegetarian and vegan, award-winning restaurant is fantastic for gluten-free folk. Supporting a host of local food businesses using seasonal produce you can enjoy breakfast, lunch and dinner (Weds-Sat) with views of the magnificent Bath Abbey. A clearly labelled menu where gluten is rarely present, you will be spoilt for choice and presented with beautiful and delicious meals.
1 Pierrepont St, Bath, BA1 1LB
For more information, visit www.gluten-freegathering.com
Comments
Tags:
Eating Out
,
Features
,
Gluten-Free
,
Gluten-Free Diet