Leading nutritionists offer top tips put a spring in your step and #getmoregood
Good4U, has partnered with leading nutritionist Fiona Hunter and Registered Dietitian Juliette Kellow to encourage Brits to shop seasonally to help protect the planet, save money and enjoy food when it's at its peak of freshness.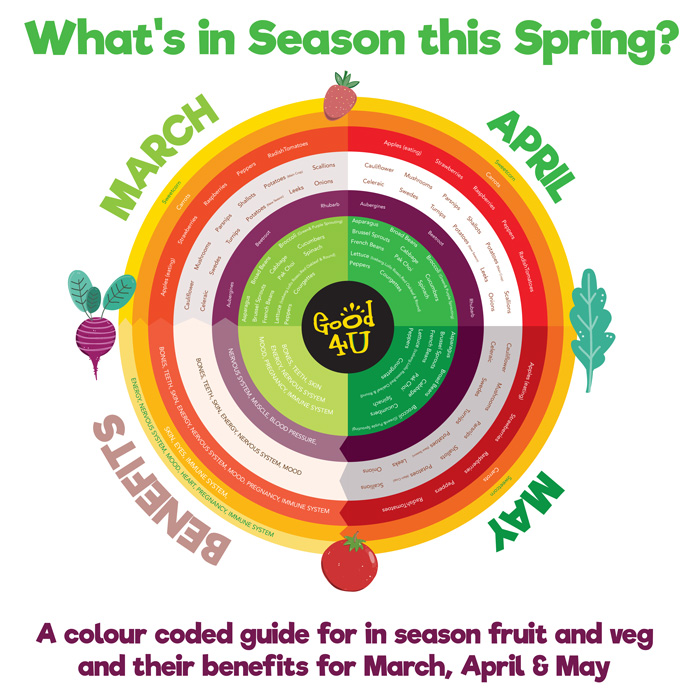 After months of hibernating, it's time to shed those winter woollies and feel more optimistic for warmer weather and sunnier days ahead. And it couldn't be easier to put a spring in your step by eating a nutritious and seasonal diet.
However, recent research has revealed that less than half (44%) of Brits know when some of the UK's most well-known fruit and vegetables are in season.
Eating seasonally means enjoying foods that are grown locally and are naturally ready to harvest at the same time of year that you are eating them.
Good4U, has partnered with leading nutritionist Fiona Hunter and Registered Dietitian Juliette Kellow to remind Brits that shopping seasonally helps to protect the planet, saves money and means enjoying food when it's at its peak of freshness.
As well as reducing our carbon footprint, eating produce grown closer to home means consumers can support local businesses and suppliers in the process.
According to the British Dietetic Association's One Blue Dot report, which looks at eating patterns for health and environmental sustainability, consuming fruit and vegetables out of season has a higher impact on greenhouse gas emissions.
In the UK, food miles account for about a tenth of the total greenhouse gas emissions within the food system (other emissions come from producing and processing food).
For example, research has revealed that produce such as out-of-season berries, account for around 11 per cent of the UK's food-transport emissions.
But eating seasonally isn't only a more environmentally friendly option. Seasonal produce is often at its nutritional best – the nutritional value of fruit and veg is at its highest just after they've been harvested. Plus, seasonal produce is brimming with flavour and is evidently fresher and of higher quality.
Good4U's range of sprouted seeds are grown hydroponically – a very sustainable growing process. They use 85% less water than their mature counterparts and are packed with essential nutrients, making them good for the planet and for your health.
In fact, these nutrition powerhouses can be eaten all year round as they are grown in controlled environments with just light and water. These raw living sprouted seeds provide protein, fibre, vitamins, minerals and naturally occurring phytochemicals (plant compounds), unique to each variety that are fantastic for overall health and wellbeing.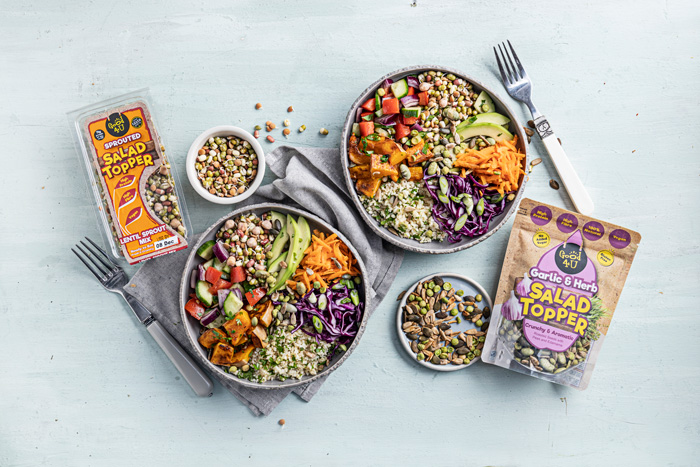 By supporting local producers, moving to a more sustainable diet, and wasting less food, Brits will create an increasingly sustainable food system that benefits all involved.
Michelle Butler, Good4U Dietitian and Innovation Director adds: "Eating with the seasons is something we can all do to help protect the environment, support local businesses and even save pennies on the weekly food bill.
"Choosing local produce helps to ensure that what we put on our plate is as fresh as it can be and hasn't travelled countless food miles to get from farm to fork."
Butler adds; "Produce which is grown in season often tastes better too, as it's allowed to ripen naturally leaving it bursting with flavour. Produce sourced locally, such as sprouts, are at their peak of nutritional value and are more sustainable in comparison to their imported counterparts."
To help put a spring back in your step, Hunter and Kellow have developed some seasonal hints and tips to help you #Getmoregood in your life as we step into a new season and enjoy spring:
Source food locally – shop from your local fishmonger, butcher, greengrocer and farmer's market when possible. Foods will more likely be in season and locally produced which is better for the environment, as air miles are kept to a minimum and packaging is limited
Check where your food comes from – if you're buying from the supermarket, check the label to find out the country of origin and choose products produced as close to home as possible
Get label savvy – check the ingredients list and, when possible, choose products that only contain foods you recognise and would stock in your own kitchen
Incorporate more plant-based foods – eating more fruit and veg is a great start. We should all have five portions a day. Beat diet boredom by going for more variety. Good4U Sprouted Seeds are a great choice for adding to meals like salads, soup and jacket potato toppings
Grow your own food – even if it's just a pot of herbs on the windowsill. It's a great start to eating as nature intended
Get cooking with natural ingredients – making your own meals means you know exactly what ingredients have been incorporated, meaning you can control the amount of fat, sugar, and salt you add, while boosting vegetables and wholegrains. Good4U Sprouted Seeds are perfect for upping the vegetable and nutritional intake in our diet
Swap low-nutrient snacks for more nutritious ones – try air-popped popcorn, homemade hummus, guacamole or tzatziki with vegetable crudités or plain yogurt mixed with fresh fruit. Dried fruit and seeds are also a great snacking choice. Good4U offers a range of sweet and savoury snack products incorporating a variety of beans and seeds. There's something to appeal to everyone such as the Smoky BBQ Super Snacks mix and Cocoa & Orange Energy Balls
Drink tap water – water is the best drink for our health, and we need to drink plenty of it to stay hydrated throughout the day. Why not invest in a BRITA water filter to turn your tap water into freshly filtered water, to minimise the use of plastic water bottles?
Get kids involved – if you have children, get them involved in shopping and preparing food. Talk to them about where food comes from and what's involved to get it from the farm to our fork
Spring clean your kitchen – empty out your food cupboards, fridge and freezer and make the most of all those ingredients you find. Remember, food that's past its 'best before' date can still be eaten – it may not be at its best for quality but it's still safe. Food past its 'use by' date should be thrown away though as it's might not be safe
Keep a food waste dairy – every year in the UK we throw away 4.5 million tonnes of perfectly edible food, enough to fill 38 million wheelie bins. That's money and nutrients that end up in the trash rather than our bodies. But it's also bad for the environment – bacteria break down the food that ends up in landfill, producing climate-changing methane on the side. If you find fresh ingredients with a short shelf life often end up in the bin, opting for nutritious foods with a longer shelf life can provide one solution. Good4U Salad Toppers – a tasty and nutritious combo of roasted seeds and pulses – are a great store cupboard choice with a long shelf life
Make the most of the longer days – the clocks change on the 27th of March so take advantage of lighter evenings and go for a walk or bike ride after work
To help stay on the healthy path in the new year, Good4U has developed an array of nutritious and delicious recipes to inspire more home-cooking and help us #GetMoreGood. To find out more, visit https://good4u.co.uk
Tags:
feature
,
Features
,
Gluten-Free News
,
Lifestyle
,
News