It's time for a gluten-free chocolate taste test!
See what we at Gluten-Free Heaven HQ thought of a selection of chocolates to hit the shelves….
Conscious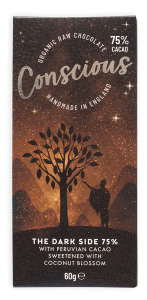 Product: The Dark Side Raw Chocolate
There is a delicious chocolatey aroma that gives a hint of the pleasure to come. The texture is smooth and silky and there are complex layers of flavour that begin with dark chocolate bitterness and then mellow into soft sweetness with notes of vanilla and just a hint of coconut.
Verdict: ★★★★☆
Moo Free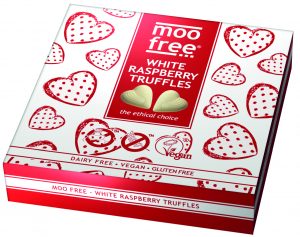 Product: White Raspberry Truffles
The white chocolate casing of these truffles is lovely and crunchy, but also very sweet, which ties in perfectly which the gooey and slightly tart raspberry centre. A lovely gift for Valentine's Day complete with decorated heart shape!
Verdict: ★★★★☆
Booja-Booja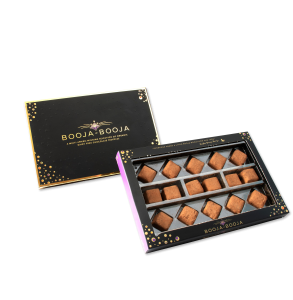 Product: Selection Box
With 16 truffles in the box and 5 different flavours, there really is something for everyone. But, unlike the selection boxes of yesteryear, there are no flavours that are distinctly unpopular! These are all delicious as you'd come to expect from Booja-Booja – take your pick!
Verdict: ★★★★★
Buttermilk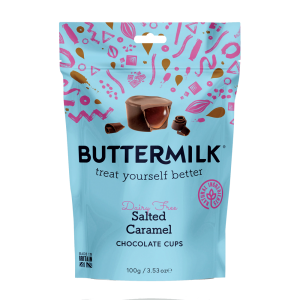 Product: Salted Caramel Chocolate Cups
These dairy-free little beauties make a great on-the-go snack, although you'll have trouble just sticking to a couple. They are creamy, chocolatey and you really get that salted caramel note to finish the experience.
Verdict: ★★★★☆
Food Thoughts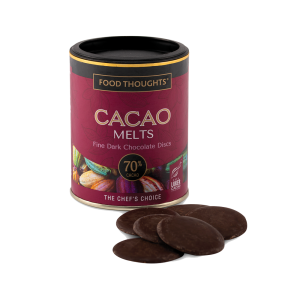 Product: Dark Chocolate Cacao Melts
The disc shapes mean that they can be quickly and easily melted to be beautifully glossy with an indulgent silky texture and not a hint of graininess. The flavour is well-balanced, smooth and rich, but without being overly intense, perfect for baking!
Verdict: ★★★★★
Ombar Centres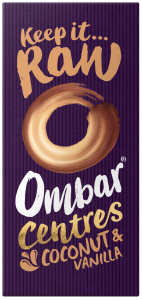 Product: Coconut & Vanilla Chocolate Bar
£17.90 for 10 bars from Amazon
If you are a fan of coconut, then this bar is for you. The chocolate itself is smooth, creamy and with a lovely bite, while the filling is what is really going to get you going. The hint of vanilla brings out the delicate coconut to give you a taste sensation!
Verdict: ★★★★☆
Prodigy

Product: Chocolate Orange Baobab Bar
The chunky bar is deeply satisfying with a creamy texture and all the feel-good flavours of a Terry's chocolate orange. But instead of refined sugars, they use coconut sugar and lucuma (a low GI natural sweetener) to deliver a hit of sweetness.
Verdict: ★★★★☆
As featured in the February 2020 issue of Gluten-Free Heaven magazine
Follow us on Facebook, Twitter and Instagram for all the latest recipes, news and features from Gluten-Free Heaven.