The Gluten-Free Instagrammers you need to follow in 2019
Instagram. The world of influencers seems to only grow and grow, and as the gluten-free community, so do the number of gluten-free Instagrammers!
There are so many incredible accounts out there, so we've decided to focus on the UK for our list. We've managed to whittle down the list to these 13 gluten-free Instagrammers, who can hopefully pump some new life into your Instagram feed!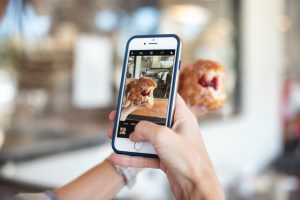 Feel free to share your favourite gluten-free bloggers with us, we're always on the lookout for our new fave!
The big ones
Why you should follow: We don't know how she does it, but Becky always seems to spot the latest gluten-free goodies on the shelves before anyone else. Her stunning recipes and exciting finds make Becky a must-follow!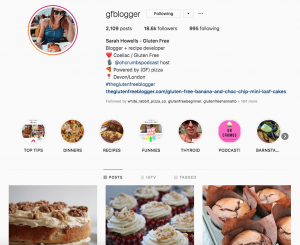 Why you should follow: Sarah's food shots are interspersed with new product finds and portraits. One half of Oh Crumbs, Sarah's personal touch keeps you going back for more.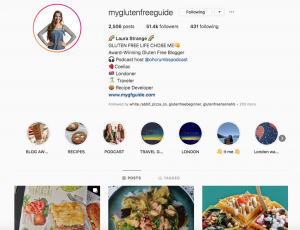 Why you should follow: Award-winning blogger Laura is the other half of the Oh Crumbs podcast team. Her recipes and travel shots coupled with her personal captions bring joy and warmth to the gluten-free community.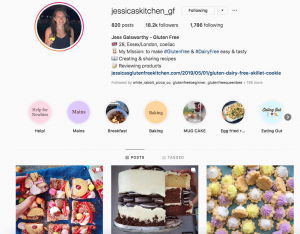 Why you should follow: A healthy mix of amazing recipes and product reviews, Jess is a gluten and dairy-free blogger – so handy for those with multiple intolerances.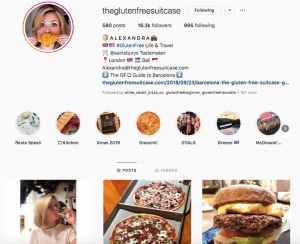 Why you should follow: A gluten-free travel blogger who makes travelling seem much less daunting! Showcasing the latest gfree treats out and about, Alexandra's Instagram is handy and fun to read.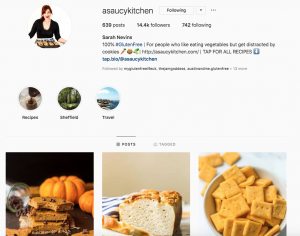 Why you should follow: Super blogger Sarah provides simple healthy recipes with beautiful photos to boot.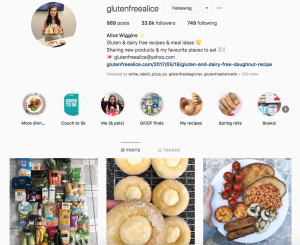 Why you should follow: Gluten and dairy-free, Alice knows what she's talking about, sharing hard-to-find GF/DF products and delicious recipes.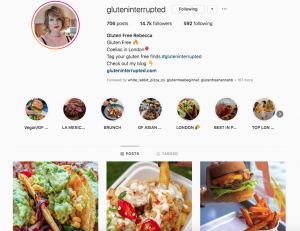 Why you should follow: Londoner Rebecca gives us the low down of what's on offer in London, as well as product reviews and travel guides.
Up and coming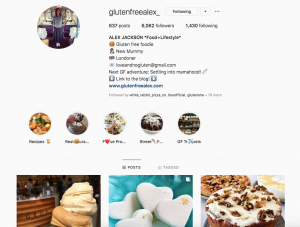 Why you should follow: Gluten-free foodie Alex shares recipes, finds and her travels as she navigates life as a new mum.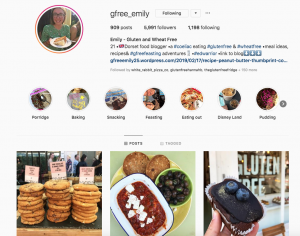 Why you should follow: Meal ideas and gluten-free adventures, Emily's feed is colourful and fun and full of delicious treats we can't help but drool over.
Why you should follow: Hannah takes us along with her on her gluten-free travels, as well as reviewing coeliac-friendly food.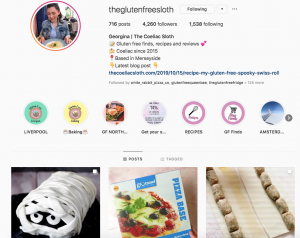 Why you should follow: Liverpudlian Georgina shares her gluten-free finds, recipes and reviews.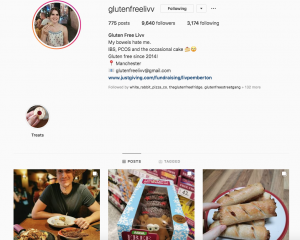 Why you should follow: Following Liv's gut health journey, she shares her ups and downs with IBS and PCOS, as well as excellent GF finds out and about.
All stats correct at the time of publication.
Follow us on Facebook, Twitter and Instagram for all the latest recipes, news and features from Gluten-Free Heaven.
Comments
Tags:
Features
,
Fun
,
Gluten-Free Lifestyle