Lindsey Erlick, from The Gluten Free Travelers, shares her must-try gluten-free places to eat in New York!
Are you planning a trip to the Big Apple? Get ready – New York has a reputation for Big attitudes, Big bagels, and even Bigger pizza! So, how do you get the most out of your New York vacation? A trip to New York isn't complete without lots of walking, lots of drinking, and LOTS OF EATING! With this guide, your holiday will be full of (GF) food and fun!
While there are seemingly infinite types of cuisines from all over the world, let's focus on the top three New York staples at the top three spots across the City that will make your visit the best – Bagels, Pizza and Pie!
Bagels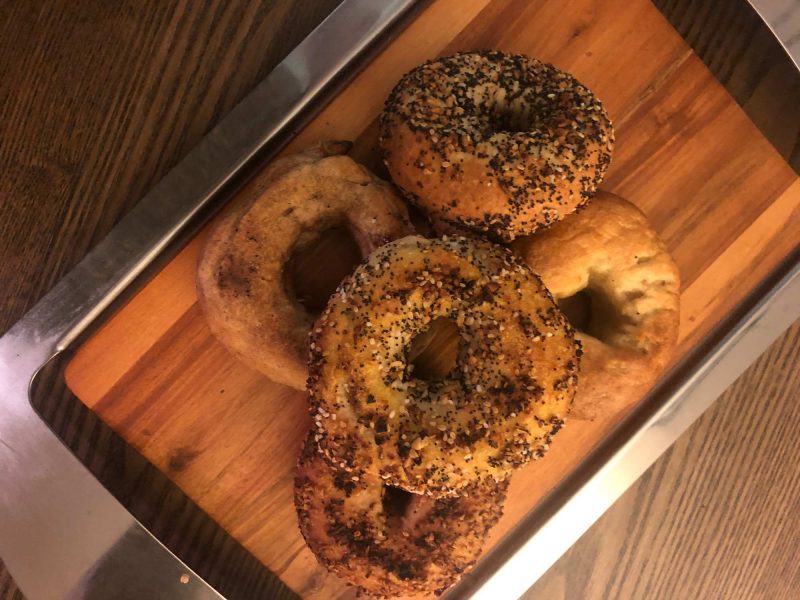 Modern Bread and Bagel, Upper West Side, NYC
472 Columbus Ave, New York, NY 10024
The most delicious and fresh gluten free bagels I've had are at Modern Bread and Bagel, a new 100% gluten free bakery on the Upper West Side. Modern Bread and Bagel was started by Orly Gottesman and just opened in 2019! I was personally super excited because I have been enjoying Orly's gluten free goodies from my hometown bakery in Scottsdale, Arizona for a few years now (the only GF options were ones by Orly). I'm so gastronomically pumped that I found more of Orly's delicious gluten free bagels in New York! You shouldn't leave New York without treating yourself to one of her Everything Bagels with cream cheese!
New York is famous for super soft and delicious bagels. What's the secret behind the soft bagels? Some people say that the bagels are soooo good because NYC water has high concentrations of calcium and magnesium making it softer than water in other cities which doesn't harden the gluten in the bagels as much as bagels made with water in other cities. I'm not sure if this is the same with gluten free bagels, but you can always impress your friends with your NYC bagel trivia knowledge.
Bonus: It's conveniently only a few blocks away from Central Park if you need a place to sit and enjoy and then walk off your bagel.
Pizza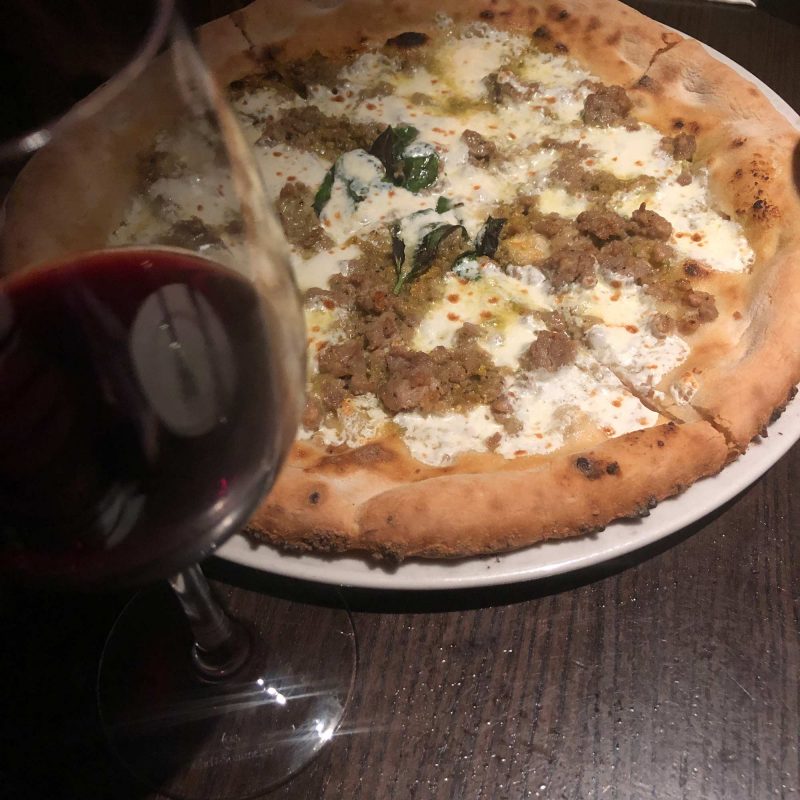 Keste, West Village & Financial District, NYC
271 Bleecker St, New York, NY 10014 & 77 Fulton St, New York, NY 10038
At this point, you've got to be thinking – where's the pizza? New York is justifiably famous for pizza with an endless amount of pizza varieties across town. While I haven't found any inexpensive late-night gluten free pizzas yet (you can find lots of gluten-filled cheap pizza at 3 am after a night out drinking), there are still great options before 10 pm.
The absolute BEST Neapolitan style gluten free pizza is at Keste. The dough is amazing – I love eating the crust, which is not always the case for gluten free pizza!, My favourite pizza is the Diavola Rose with hot soppressata salami, giving it a little spice. In addition to gluten free pizza, there's a whole gluten free menu including fresh mozzarella arancini rice balls. While Keste isn't 100% gluten free, they bake our kind of pies in separate ovens and take a lot of care to make sure that everything is separate so it's celiac safe. There are two locations in Manhattan, one in the West Village (near Washington Square Park) and one in the Financial District (near the Seaport and Battery Park), so you're nearby to a park for a walk and some post-pizza digestion.
Pie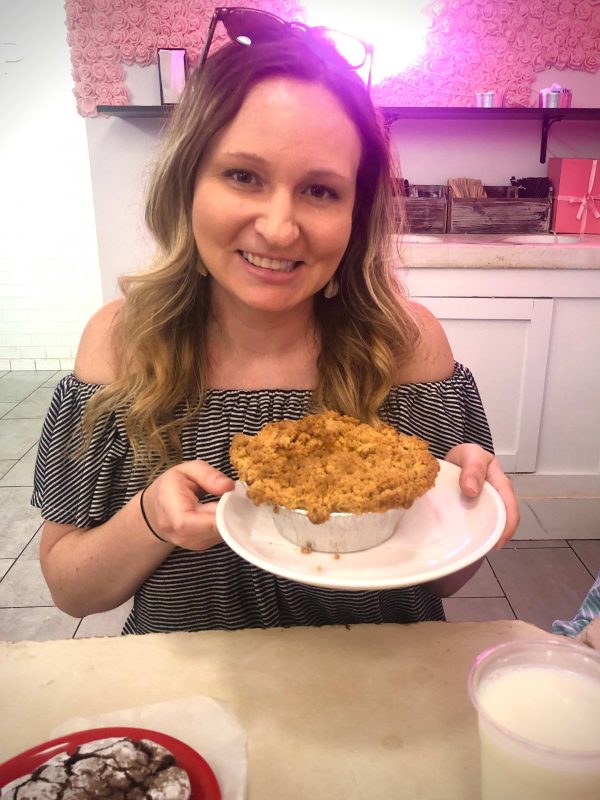 Posh Pop Bakeshop, West Village, NYC
192 Bleecker St, New York, NY 10012
Last, and far from least, you have to try that American classic: Apple Pie! Now be careful, because if you ask a true New Yorker where the best pie in the city is, they may point you back to a pizza shop. New York is one of the only places where people refer to whole pizzas as pies. So be sure to clarify that you're looking for the best dessert pie, or specify what kind of pie you're looking for – like my favourite, an apple pie.
Where do you find the perfect apple pie with a delicious crumble-top? You must try Posh Pop Bakeshop in the West Village just south of Washington Square Park. When they warm the apple pie right there for you, it's completely and deliciously mouthwatering! They also have an overwhelming amount of yummy cakes, cookies, and other treats in this 100% gluten free bakery.
Good gluten free (dessert) pie can be hard to find because there's so much crust in pies, and if the crust is too bitter or sweet then the whole pie can be ruined. The traditional American pie is apple pie and is found on holiday tables across the country! Frequently accompanied by a scoop of yummy vanilla ice cream, American apple pie can be a dessert staple throughout the year.
---
After you've tried bagels, pizza, and pie you'll be ready for lots of walks around New York City. Luckily each of these locations is near a park, so you can walk around to digest all this food. This list is just a starting point. Whenever you're at a restaurant or bakery, always let them know of your food restrictions and allergies. If you're looking for other New York City recommendations, check out my website www.theglutenfreetravelers.com for NYC restaurant reviews, an interactive global GF food map, and blogs.
Do you have other recommendations on NYC restaurants that you found and enjoy? I'd love to hear about your favourites!
Follow Lindsey on Instagram @theglutenfreetravelers and check out her website www.theglutenfreetravelers.com!
Follow us on Facebook, Twitter and Instagram for all the latest recipes, news and features from Gluten-Free Heaven.