Baked Sweet Potato Gnocchi with Shropshire Blue
Did you know that the 1st to the 13th April is International Sweet Potato Week, which is an initiative run by the American Sweet Potato Marketing Institute to celebrate all things sweet potato, and encourage everyone to get creative in the kitchen and rustle up tasty sweet potato recipes with this versatile veggie!
Sweet potatoes are absolutely packed full of goodness, with a 200g serving being a good source of:
Vitamin A which is essential for good health, and

promotes growth, the immune system, and vision.

Vitamin C which is needed for the growth and repair of tissues in all parts of your body, healing wounds, and for repairing and maintaining bones and teeth.
Manganese which is essential for normal brain and nerve function.
Copper which helps your body make red blood cells and keeps nerve cells and your immune system healthy.
Potassium which works alongside sodium to maintain a normal blood pressure. 
Fibre which is needed for digestive health.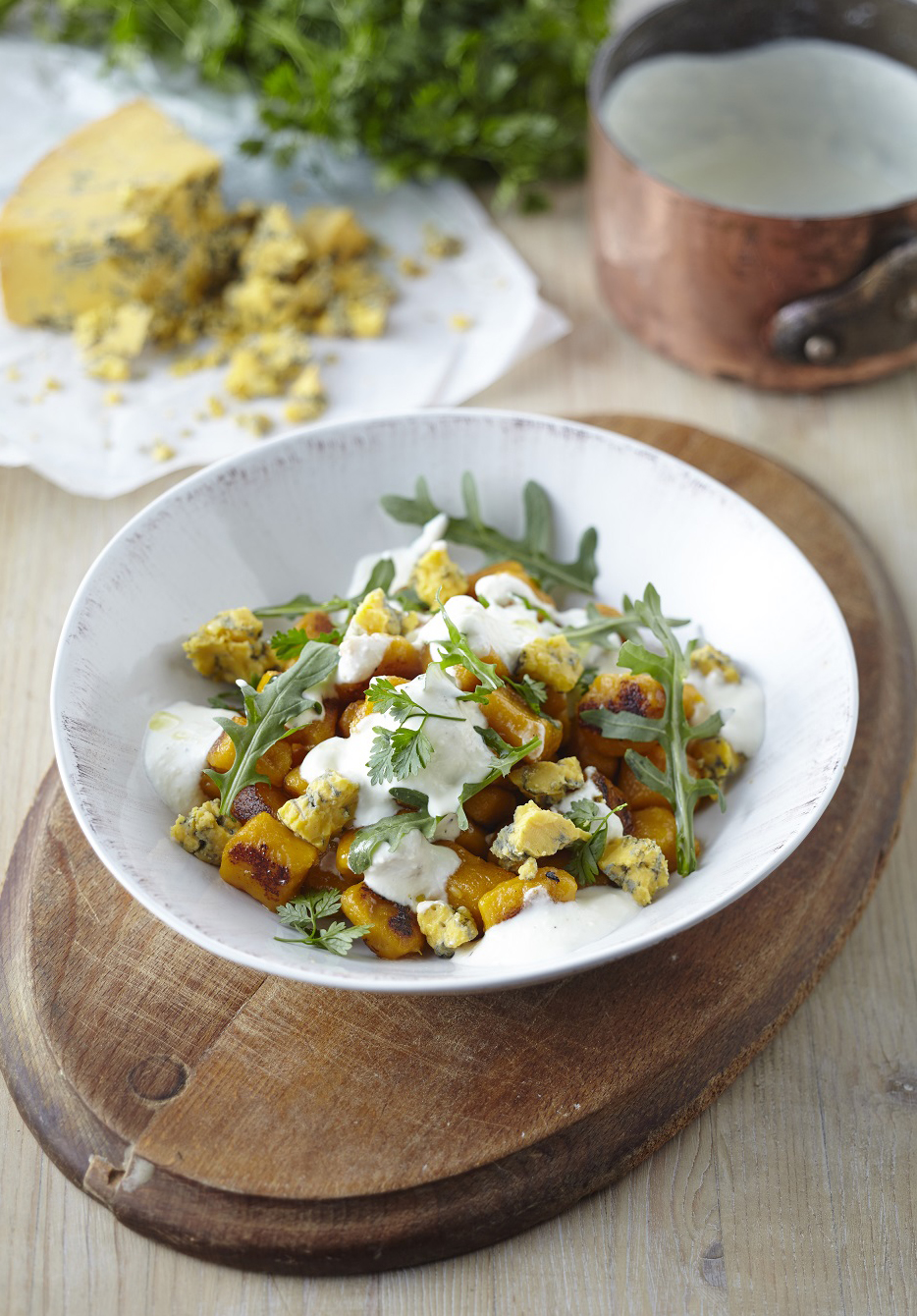 Baked Sweet Potato Gnocchi with Shropshire Blue 
Serves: 4 | Prep time: 60 mins
GF SF EF V MF
 Ingredients
1 kg American sweet potatoes
3 tbsp olive oil
1 head of garlic
Salt and pepper, to taste
350 grams gluten-free flour, plus a little extra for dusting
50 grams butter
250 grams crème fraîche
150 grams Shropshire Blue cheese, crumbled
100 grams rocket
Fresh herbs such as chives, parsley or basil, finely chopped
Method 
Preheat the oven to 200°C.
Wash and dry the sweet potatoes, prick all over with a fork, then brush them all over with olive oil. Cut the top off the garlic.
Bake for 50 minutes, or until the sweet potatoes are soft, then remove the sweet potato skin immediately.
Mash the sweet potato into a dry puree using a fork or potato masher. If the sweet potatoes are very damp, leave to evaporate thoroughly.
Squeeze the garlic cloves out of their skins and mix them through the sweet potato puree, then season with salt and pepper to taste.
Sieve the flour into the puree and knead into a firm but supple dough; don't knead for too long or this will make the dough tough.
Divide the dough into quarters and roll into balls on a flour-covered work surface, then roll into thin cylinders approx. 1.5cm thick.
Cut the cylinders into 2cm lengths and press grooves onto one side of each gnocchi using the back of a fork.
Boil the gnocchi in a large pan of salted water for 2½ minutes, then drain using a colander.
Next, melt the butter in a frying pan and brown the gnocchi along with a pinch of salt.
Place the rocket onto four large plates, top with the gnocchi, the crumbled cheese, and the herbs. Add a dollop of crème fraiche to serve.
Tags:
Egg-Free
,
Gluten-Free
,
Gluten-Free Dinner
,
Gluten-Free Lunch
,
Gluten-Free Recipes
,
Recipes
,
Sugar-Free Dinner
,
Sugar-Free Lunch
,
Sugar-Free Recipes
,
Sweet Potato
,
Vegetarian
,
Vegetarian Dinner
,
vegetarian lunch
,
Vegetarian recipes