Banana and Chocolate Tea Bread
Dotted with dried banana chips, and a generous helping of chocolate, this banana and chocolate tea bread serves as a wonderful pick me up with a cup of tea mid afternoon, or anytime of day for that matter!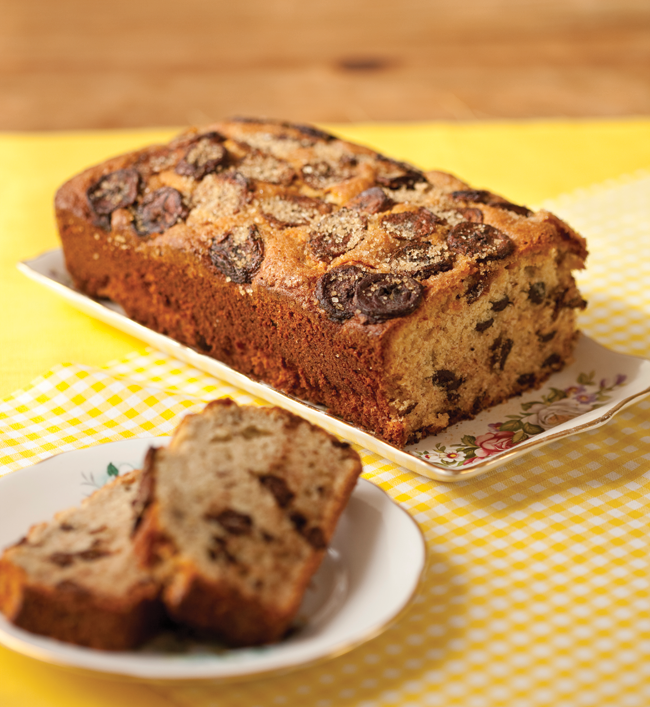 Banana and Chocolate Tea Bread
Makes 10 thick slices | Preparation time 15 mins | Baking time 1 hour
GF MF
Ingredients
3 large ripe bananas
225g gluten-free self raising flour
Pinch of salt
175g golden caster sugar
125g unsalted butter at room temperature
2 large eggs
2 tbsp golden syrup
100g coarsely chopped milk chocolate
1tbsp Demerara sugar
50g dried banana chips
Method
Preheat oven to 160˚C/140˚C fan/gas mark 3. Line the base of a 2lb standard loaf tin with silicone baking parchment and lightly grease the sides with butter.
Peel and mash the bananas in a bowl. Beat together the mashed banana, butter, caster sugar, flour, eggs and salt until well combined. Gently stir in the chocolate chips until evenly distributed throughout the mixture. Transfer the mixture into the prepared tin and spread until level. Carefully arrange the chewy dried banana chips over the top and sprinkle with the Demerara sugar.
Bake in the preheated oven for 1 hour until the loaf is well risen and firm to the touch. For extra peace of mind you can insert a skewer and if it comes out clean the cake is cooked.
Leave to rest in the tin for 10-15 mins and then turn out onto a wire rack to finish cooling.
Serve sliced on its own or lightly toasted with good butter.
TIP:
* For extra indulgence you can serve this loaf spread with cinnamon butter or nutella.
Tags:
Chocolate
,
Gluten-Free Baking
,
Gluten-Free Bread
,
Gluten-Free Dessert
,
Gluten-Free Diet
,
Gluten-Free Recipes