Coconut Flour Set to be 2016's Hottest Health Food
An influx of supermarket listings for coconut flour suggests it could become the next coconut product to achieve widespread popularity, after sales of coconut water have grown by 73% in recent years.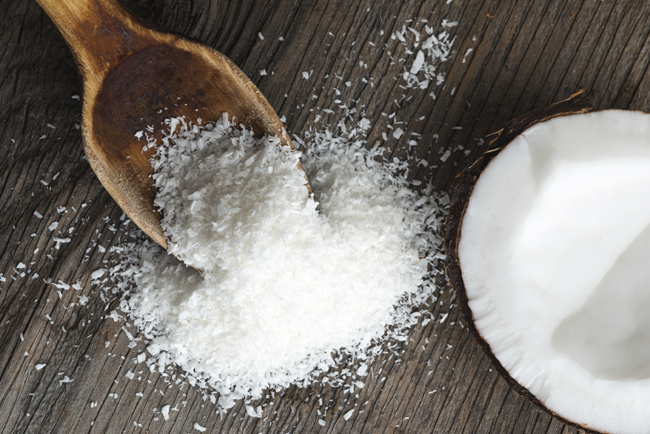 An organic coconut flour from The Groovy Food Company launched in Tesco yesterday, whilst a similar product from Biona went on sale in Asda last week. The Groovy Food Company said that the launch aimed to take advantage of the rising enthusiasm for alternative baking ingredients, which has led to a 134% increase since 2010 in the launch of bakery products with non-grain flours.
According to The Groovy Food Company's founder, Rosie Hayward, "Coconut flour is set to be the ultimate 2016 'go to' kitchen staple as it can be switched in many flour-based recipes. The high fibre content of the product makes it very absorbent, meaning smaller and more economical quantities are required in recipes".
There are many benefits to using coconut flour in baking, as it is:
Gluten and wheat free: Coconut flour lets you bake your favorite treats without the serious side effects that may come from ingesting wheat. However, this flour does act differently in batters than traditional grain flours, so you'll need to find recipes that specifically use coconut flour in order to make some tasty bakes!
High in fiber: With 5 grams of fiber per tablespoon, it has far more of this indigestible carbohydrate than whole-grain flour. Much of this fiber is the insoluble type, which helps you feel full and enhances colon health.
Moderate effect on blood sugar: Due to the high-fiber content, it doesn't spike your blood sugar as quickly as grain-based flours.
Higher protein and healthy fats: It contains a large amount of protein, especially when compared to wheat flour. A 100-gram serving of coconut flour has 19 grams of protein, whilst wheat flour has just 10. Although this protein doesn't contain all the essential amino acids, it does contribute to your total daily protein intake to help with cell repair and growth.
If you're wondering how to use coconut flour in your baking, here's a delicious blueberry pancake recipe to help get you started!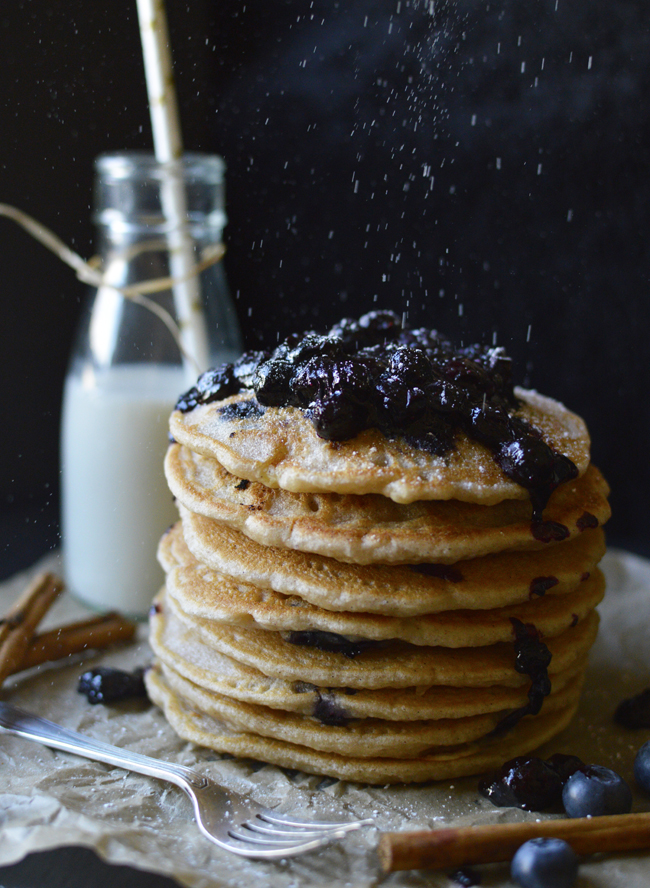 Coconut Flour Blueberry Pancakes
Makes 6 Large pancakes
For the pancakes
¼ cup coconut flour
¼ teaspoon baking soda
½ tsp cinnamon
2 Tbsp almond butter
2 large eggs (lightly beaten)
½ tablespoon maple syrup
½ ripe banana (mashed)
¼ cup almond milk
¼ cup blueberries (fresh or frozen)
For The Sauce
1 cup blueberries (fresh or frozen)
2 Tbsp coconut sugar
1 tsp vanilla bean paste
½ tsp cinnamon powder
1 tsp coconut flour
INSTRUCTIONS
Pancakes
Gently whisk together the coconut flour, cinnamon and baking soda in a large bowl and leave to one side.
Beat the almond butter, eggs, maple syrup, banana and almond milk together in a separate medium bowl until well combined.
Slowly add the wet ingredients to the dry, gently stirring to combine. If the mixture is too thick, add a tablespoon or two of almond milk. However, if it is too wet the pancakes will crumble. Then add the blueberries.
Lightly coat a non-stick pan with a drop of coconut oil (repeat for each new pancake) and place over medium low heat.
Place roughly 3 tablespoons of pancake mix into the pan and smooth out with a spoon, and cook until bubbles appear in the centre of the pancake before flipping. Cook for a further 2 minutes before serving.
Blueberry Sauce
Place blueberries, coconut sugar, vanilla and cinnamon in a small saucepan over medium heat. Cover and mix every couple of minutes.
Once the blueberries soften and the juice starts to ooze out, add the coconut flour and mix together. Cover again and reduce to low heat for a couple of minutes to
Notes
If your pancakes are turning brown too quickly then you need to turn down the heat!
You must cook the pancakes until bubbles appear in the centre or they will be uncooked inside.
Smaller pancakes cook better and are easier to flip.
If the pancake mixture is too wet the pancakes will crumble and fall apart.
Tags:
Flour
,
Gluten-Free Diet
,
News