Double Chocolate Protein Muffins
These deliciously filling double chocolate protein muffins are packed full of healthy ingredients, and would be the perfect breakfast to keep you feeling full until lunch.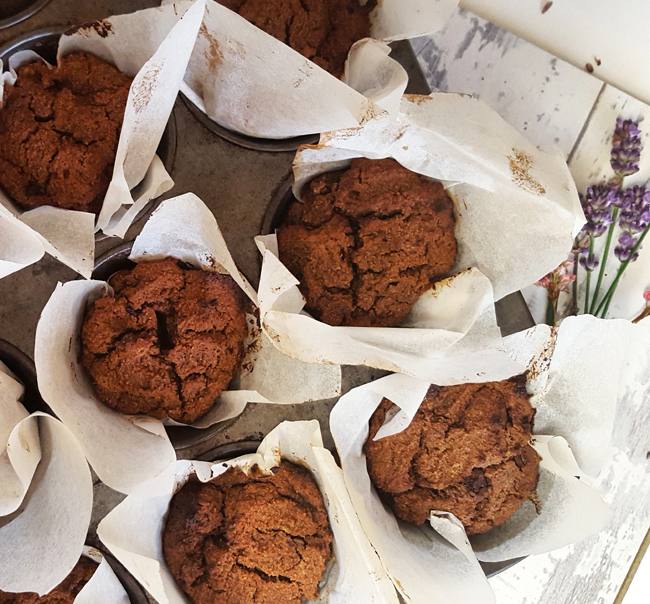 Double Chocolate Protein Muffins
By Mel Short (www.instagram.com/the_healthykitchen)
Serves 6 | Prep 15 mins | Cook 30 mins |
GF SF DF MF 
Ingredients:

1 cup ground almonds

1/2 cup coconut flour

1/4 cup of ground flaxseed




1/4 cup of raw cacao powder

1 tbsp of vanilla powder

1 tsp baking powder

1 tsp cider vinegar

2 large eggs or 3 small

1 cup of almond milk

3 tbsp of raw honey

4 tbsp coconut oil

A handful of dark organic chocolate chips (optional )



Method:

Mix all the dry ingredients together in a bowl except for the chocolate chips, and set aside whilst you prepare the wet ingredients.

Gently melt together the coconut oil and honey and leave to cool.

Whisk together the eggs and milk, then add in oil , honey and lastly add the apple cider vinegar.

Fold in all the dry ingredients and the chocolate chips. You can add a little extra milk to loosen the mixture if you feel at this point it's too thick.

Spoon the mixture into cupcake moulds.

Bake on 170° for around 30 min, before removing from the oven and leaving to cool on a wire rack. 
Comments
Tags:
Chocolate
,
Dairy-Free Breakfast
,
Dairy-Free Dessert
,
Dairy-Free Recipes
,
Gluten-Free Breakfast
,
Gluten-Free Dessert
,
Gluten-Free Diet
,
Gluten-Free Recipes
,
Muffins
,
Sugar-Free Breakfast
,
Sugar-Free Dessert