Mandarin mulled wine
You cannot beat a hot mug of mulled wine at this time of year, and this wonderfully spiced mandarin mulled wine is so good you'll want to drink it all year round!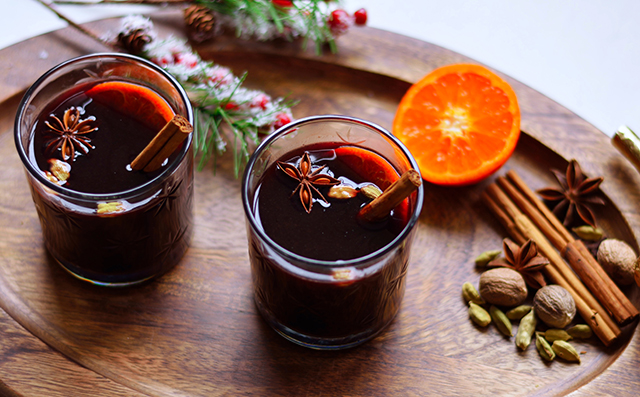 Mandarin mulled wine
By Georgina Young (www.greensofthestoneage.com)    
Serves: 5
GF DF EF V MF
Ingredients
For the mulled wine:
75-100g coconut sugar (or roughly 1 cup)
Juice and peel of 1 mandarin
Peel of 1 lemon
Peel of 1 lime
1/2 vanilla pod (halved lengthways)
1 star anise
6 crushed green cardamom pods
1/2 cinnamon stick
1 large bay leaf
1″ piece fresh root ginger (peeled and sliced)
3 cloves
20 gratings fresh nutmeg
Bottle of Argentinian red such as Malbec/Merlot
75ml spiced ginger wine or 50ml spiced rum such as Kraken
For decoration:
2 mandarins (sliced)
1 cinnamon stick per glass
Method
Place the coconut sugar in a large heavy-bottomed saucepan over a low heat. Next add the mandarin, lemon, and lime peels, and the mandarin juice.
Add the vanilla pod, star anise, cardamom pods, cinnamon stick, bay leaf, fresh root ginger, cloves, and your 20 gratings of fresh nutmeg. Stir in just enough red wine to cover the sugar and spices.
Give a quick stir and leave to simmer until the coconut sugar has completely dissolved, then bring to a gentle boil. Keep boiling for about 4 minutes, or until the wine resembles a slightly thicker sugar syrup. Take care to not burn your coconut sugar in the process!
Next turn the heat down to low and add the rest of your red wine and ginger wine/rum. Gently heat for roughly 5 minutes, just to warm it through – do not boil! Ladle the mulled wine into heatproof glasses or some big chunky mugs and serve with a slice of mandarin and a cinnamon stick. If not serving immediately, you can allow the syrup to cool, then strain the spices and pour it into a sterilised bottle for use at a later date.
About the author: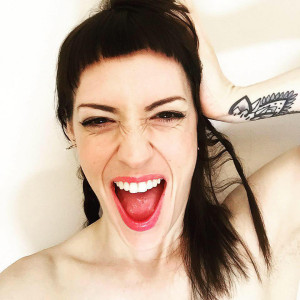 Georgie is a fresh faced, freelance writer and recipe developer who specialises in nutrition, fitness, and health and well-being. She enjoys sharing her passion for cooking, Paleofying food, and exploring Veganism within the Paleo diet on her blog, Greens of the Stone Age, and along the way has helped many friends to take a more holistic approach to their hectic lifestyles. She have further expanded upon her love of the Paleo way of living by setting up Primal Eye Magazine – the UK's 1st online Paleo lifestyle magazine!
Tags:
Christmas
,
Dairy-Free Christmas
,
Dairy-Free Drinks
,
Gluten-Free Christmas
,
Gluten-Free Drinks
,
Vegan Christmas
,
Vegan Drinks