Jane Devonshire is calling on animal lovers to whip up one of her tasty recipes in support of national pet charity Blue Cross and come together with family and friends over a virtual cuppa and cake to raise money for needy animals.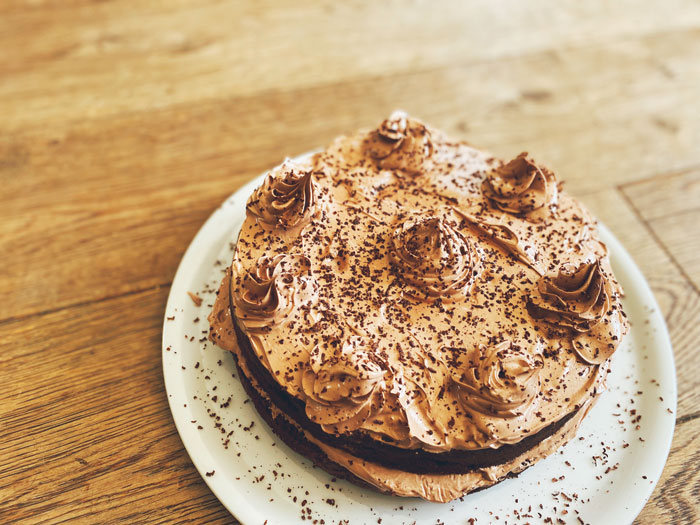 Jane is supporting the charity's annual Paws for Tea campaign, which encourages animal lovers to host tea parties with family, friends, neighbours and work colleagues, and raise money to help animals in Blue Cross care.
She has shared a recipe for gluten-free chocolate cake with the charity for supporters to whip up at their fundraising parties.
Blue Cross has lots of tips on how people can host a virtual or socially distanced tea party fundraiser this year and raise vital funds to help the pet charity care for more sick, injured and abandoned animals.
People are also urged to share pictures and video of their bakes and parties on social media, using #PawsForTea to inspire others to follow suit and hold their own event.
Last year Blue Cross helped 40,000 animals through its rehoming centres and animal hospitals across the country.
Chef, writer and presenter Jane Devonshire won Masterchef in 2016, and is the owner of three dogs, Alfie, Lottie and Bryon, and also three cats.
Jane said: "I adore my cats and dogs – pets are truly wonderful, which is why it is so important to me to support Blue Cross. My chocolate cake is a rich, indulgent sponge recipe that friends and family can enjoy at their Paws for Tea party, whether at home, socially-distanced or virtually. I'd encourage pet-lovers to get baking and enjoy some delicious treats, made all the more sweeter in the knowledge that you are fundraising to help pets in need."
Five ideas for a safe and socially distanced tea party:
The Driveway / Over the Garden Fence Tea Party – Invite your neighbours to join in on a mini street Paws for Tea party raising a cuppa together whilst social distancing. Will you all be out the front on your drives or make it a bit different and take your parties to the back garden and chat 'old' style over the garden fence?
The Teddy Bears Picnic Tea Party – Get the little ones involved in organising a tea party, inviting all their favourite cuddly friends. Ask friends from schools or youth groups to all join in on the same day and make donation to take part – they could even take their party online and hold it as one.
Across the Miles Tea Party – A different twist on the Driveway / Over the Fence tea party – have each of the family's households to hold a Paws for Tea on the same day at the same time and connect online so it's like you're there with them. How many miles can you cover between you – will you take Paws for Tea to a different country even?
The Blue Cross 'Bake Off' – Set your friends and family the challenge of baking something new and showcase their creations either live or submit a photograph to you to judge – each person makes a donation to enter.
Donate your cuppa – We appreciate that times are very different at the moment and you may just not feel in the tea party mood – That's ok, why not just donate the cost of your cuppa and cake instead to help us continue helping sick, injured and homeless pets.
To sign up for a free Blue Cross Paws for Tea fundraising pack, full of ideas and recipes for hosting a tea party, visit www.bluecross.org.uk/paws-tea or call 0300 790 9903.
Jane Devonshire's gluten free chocolate cake
Sometimes we need a little indulgence and this chocolate cake is certainly that.  Its a very easy sponge recipe and I have used a very rich buttery icing.  You can use whatever icing you prefer the shop bought stuff is great too.
Ingredients
250

g

butter

250

g

golden caster sugar

4

large

free-range eggs

175

g

gluten-free plain flour

75

g

cocoa powder

1.5

tsp

gluten free baking powder

1/2

tsp

xantham gum
For the chocolate butter icing
200

g

unsalted butter

100

g

chocolate (70%)

a little extra grated for decorating, optional

75

g

icing sugar

sifted

a

pinch of sea salt

optional
Instructions
Preheat the oven to 180°C/Gas Mark 4.

Whisk the butter and sugar together until very light and fluffy.

Sieve in a separate bowl the flour, cocoa powder, baking powder and xanthan gum.Add the eggs one at a time to the whipped butter and sugar mixture, making sure each one is completely combined before adding another.  If your mixture starts to split a little add a dessertspoon of the flour mixture and continue to add the eggs.

Once the eggs have all been incorporated, add the flour a spoon at a time.

Once all the flour is mixed in you should have a lovely thick shiny cake batter. Carefully pour into your prepared tin and place in preheated oven. Cook for about 30 minutes until risen. Test in the middle with a toothpick if you are unsure it should come away clean.
For the chocolate butter icing
Break your chocolate into small pieces and place into a bowl over a saucepan of boiling water, making sure your bowl does not touch the water. Slowly add the melted chocolate and continue whisking until its all mixed in.

Melt the chocolate, stirring occasionally until its glossy. Don't take it too far or it will be grainy. Leave to cool while you whisk the butter.

Whisk the butter for a a good 3-5 minutes until pale cream and really light and airy. Slowly add the sifted icing sugar, whisking all the time.

Place in fridge for at least 15 minutes to cool before decorating

To decorate, I cut the cake in half and put one-third of the mixture in the middle. I put a further one-third on top and pipe the remaining third around the edge and in the middle. I didn't have any mini eggs etc so I just grated a little extra chocolate over the top.

TIP: I always use unsalted butter for cooking  and add a little salt as needed but salted is absolutely fine if I run out I happily use it.