Millionaire Shortbread
Crumbly, buttery shortbread, topped with a thick layer of chewy caramel and rich dark chocolate, this Millionaire Shortbread recipe is free-from baking at it's finest!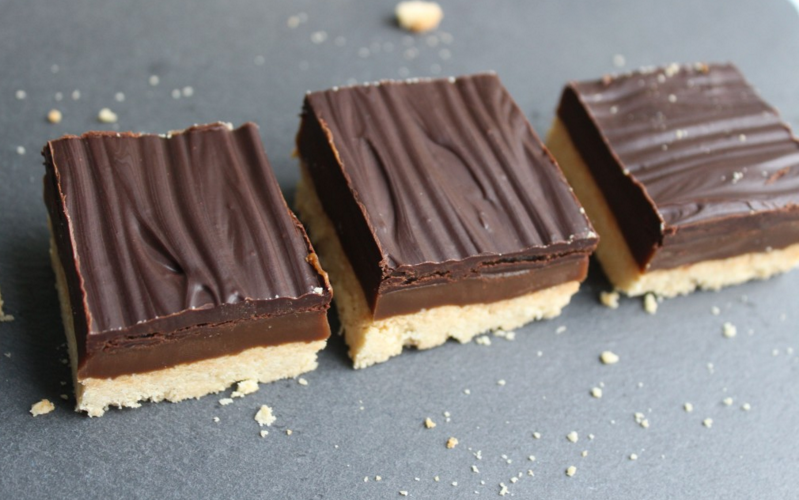 Millionaire Shortbread
By Vicki Montague (The Free From Fairy)
Serves 15 
GF DF EF V MF
Ingredients
For the shortbread:
250g gluten-free plain flour (I used Doves Farm)
175g dairy-free spread, or if you like the taste of coconut, 100g dairy-free spread and 75g softened virgin coconut oil
60g white sugar
For the caramel:
225g white sugar
230g golden syrup
100g dairy-free spread
1-2tsp vanilla extract
250ml soya cream (I used 'fresh' but I don't think it would matter if longlife)
For the chocolate:
100g gluten and dairy-free dark chocolate, melted
100g gluten and dairy-free 'milk' chocolate, melted
Method
To make the shortbread, base place all the ingredients into a food processor and process until a breadcrumb texture. Alternatively, rub the fat into the flour with your fingers and then add the sugar.
Press the mixture firmly into the base of a greased 20cm square tin. Prick with a fork and cook in a pre-heated oven at 160 degrees (140 fan) for 35 – 40 mins until firm to touch and golden.
Remove from the oven to cool while you make the caramel. Make sure the shortbread is cool before adding the caramel or it will seep into the shortbread!
To make the caramel place the sugar, syrup and fat into a large saucepan over a low heat. Stir frequently until the sugar has all dissolved…if you use caster sugar it will take a bit less time than granulated!
Once the sugar has dissolved, turn the heat up to medium and add the soya cream and vanilla extract.
Stir continually once boiling, ensuring it doesn't stick on the bottom of the pan. Catch up with some TV you missed on the iplayer at the same time!!
Boil for about 20 minutes. By this time the caramel should look like it does in the video on my website.
Remove from the heat and immediately pour onto the shortbread.
Ensure the caramel is completely cool before melting the chocolate, either in a bowl over boiling water, or in the microwave, checking and stirring every 30 seconds until melted.
Pour the chocolate over the caramel and gently shake the pan to get an even covering. You can leave it smooth, or when partly set, run a fork over the surface to give it a 'roughled' look.
---
Vicki writes the successful Free-from Fairy blog, which offers advice for those who are cooking free-from food for the first time or who have been diagnosed with an allergy. With recipes for all ages, including lots of ideas for kids, it's a great online resource for those with a gluten-free, dairy-free or sugar-free diet.
Tags:
Chocolate
,
Dairy-Free Dessert
,
Gluten-Free
,
Gluten-Free Dessert
,
Gluten-Free Diet
,
Gluten-Free Recipes
,
Vegan and Gluten Free
,
Vegan Dessert