So simple and so tasty, this Ouefs En Cocotte is a lovely light supper dish that you can get creative with. This is eggs and soldiers with a makeover!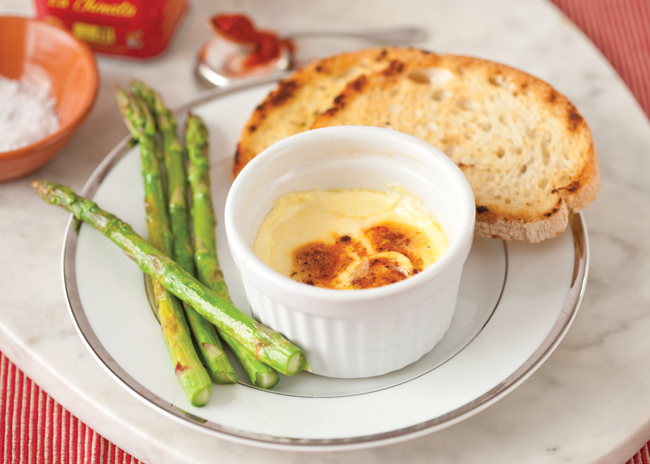 Ouefs En Cocotte
Serves 6 | Preparation time 15 mins | Baking time 15 mins
GF SF MF
Ingredients
Butter for greasing
6 organic eggs
1 ½ tbsp sea salt
6 tbsp double cream
Smoked paprika
Method
Preheat the oven to 190˚C/170˚C fan/gas mark 5 and fill a kettle and boil for the bain marie.
Using a pastry brush, grease the ramekins with softened butter and place into the deep baking tin or oven proof dish you are going to cook them in. We used a large lasagne dish.
Crack an egg into each ramekin, then sprinkle each with a of teaspoon of sea salt, then 1 tablespoon of double cream and finishing with a sprinkle of paprika, a pinch or two on top.
Pour boiling water into your tin/dish around the ramekins until the water comes half way up. Place in the oven and bake for 15 mins, serve and enjoy immediately.
Variations:
Of course, you can add your own stamp to this dish. What do you like to eat with eggs? Chopped ham, sautéed mushrooms, fresh herbs, would all work well in the base before you add the egg.
To serve we have accompanied our ouefs with griddled asparagus spears and Tuscan toasting bread which has also been griddled. Delicious, but you could also serve with a slice of gluten-free bread, and top with grated truffle, a little truffle oil or a really crispy shard of streaky bacon would be wonderful.