Herbed Quinoa White Bean Salad
This gluten-free and vegan quinoa and white bean salad is full of flavour. We reckon it would be perfect as part of a summer BBQ.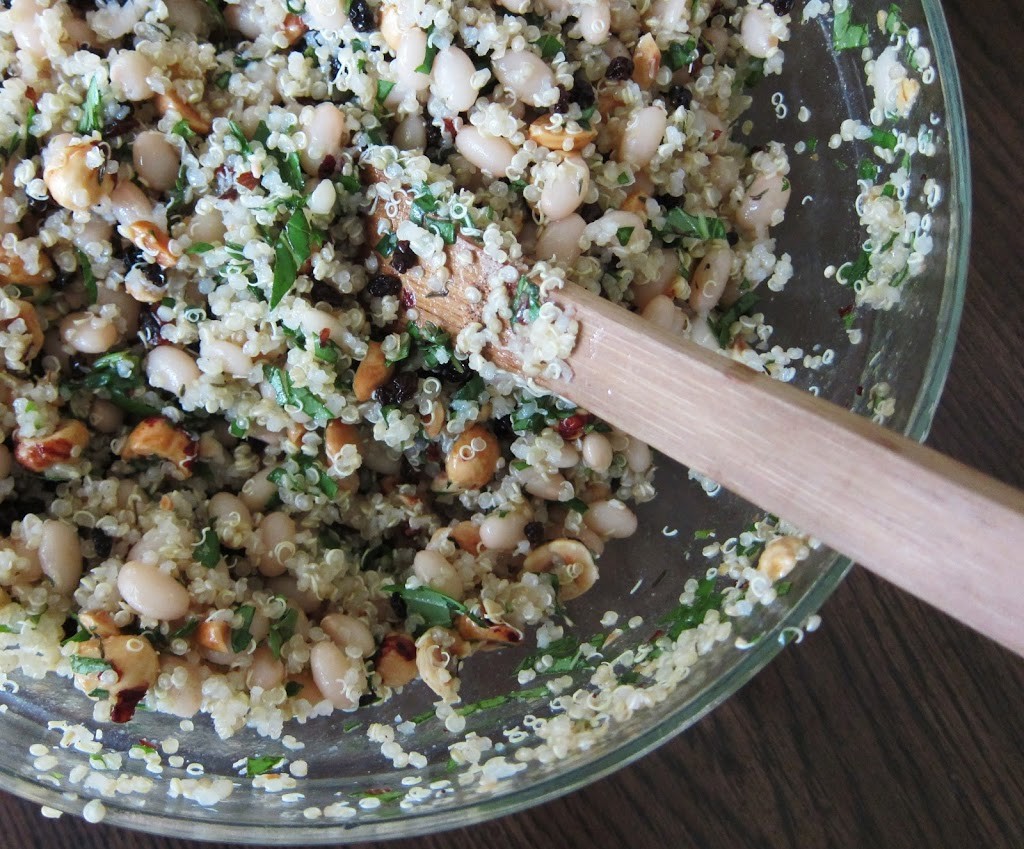 By Amy of Fragrant Vanilla Cake.
I made a salad last night when I got home using the fabulous white beans, combined with quinoa for a substantial supper.  I added some toasted hazelnuts for crunch, and some currants for a little sweetness. But it needed some green and since I had finally managed to plant my herbs this week, I thought they would be wonderful in it as well!  So basil and thyme joined the party!
This recipe is: gluten-free, dairy-free, egg-free, meat-free, suitable for vegetarian and vegan diets. 
Ingredients:
Serves 4
2 cups water
1 cup quinoa, rinsed
1 cup dried white beans
1 cup toasted hazelnuts, coarsely chopped
1/3 cup chopped fresh basil, packed
2 Tbsp fresh thyme leaves
1/2 cup dried currants
1/3 cup lemon juice
zest of one large organic lemon
1/4 cup plus 2 Tbsp olive oil
sea salt and freshly ground pepper to taste
Method:
Place quinoa and water in a medium saucepan and bring to a boil. Reduce to a simmer, cover and cook until all the water is absorbed about 15 minutes, or when all the grains have turned from white to transparent, and the spiral-like germ has separated. Drain, and let cool.
Place beans in a medium pot and cover with water by about 4 inches.  Bring to a boil and lower to a simmer. Cook until beans are tender, about an hour to an hour and a half depending on the freshness of the beans.  Drain and let cool completely.
If you wish to skip the previous step, you can use 2 oz 15 cans of white beans drained and rinsed.
In a large bowl, combine quinoa, beans, hazelnuts, herbs, currants, olive oil, lemon juice and zest along with sea salt and pepper to taste.
Toss well, and serve at room temperature.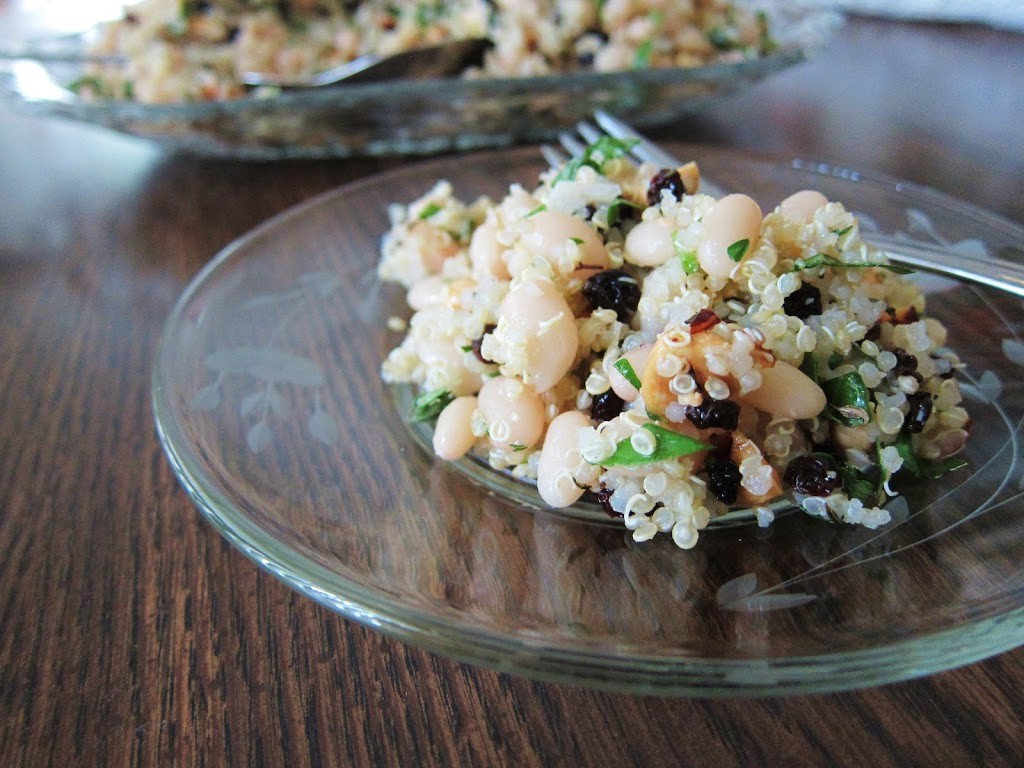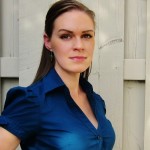 About the author: Amy lives in Minnesota and runs her blog Fragrant Vanilla Cake, which features mostly raw, vegan recipes. She especially likes creating cakes and desserts, but you'll find the occasional savoury dish too. Aside from her passion for creating new and delicious recipes, Amy also loves running and has a degree in studio art – her artistic mind is clear in the beautiful food creations she makes. You can visit her Facebook page, and follow her on Twitter.
Check out more of our vegan recipe inspiration, refined sugar-free recipes and gluten-free recipe ideas. Fore even more free-from recipes, grab a copy of the magazine!
Tags:
Dairy-Free
,
Dairy-Free Lunch
,
Egg-Free
,
Gluten-Free
,
Gluten-Free Lunch
,
Meat-Free
,
Paleo Lunch
,
Recipes
,
Salad
,
Sugar-Free Lunch
,
Vegan
,
Vegan Lunch
,
Vegetarian