Salmon rainbow salad bowl
Bursting with vitamins and minerals as well as flavour, this healthy rainbow-coloured salmon salad bowl packs a substantial punch.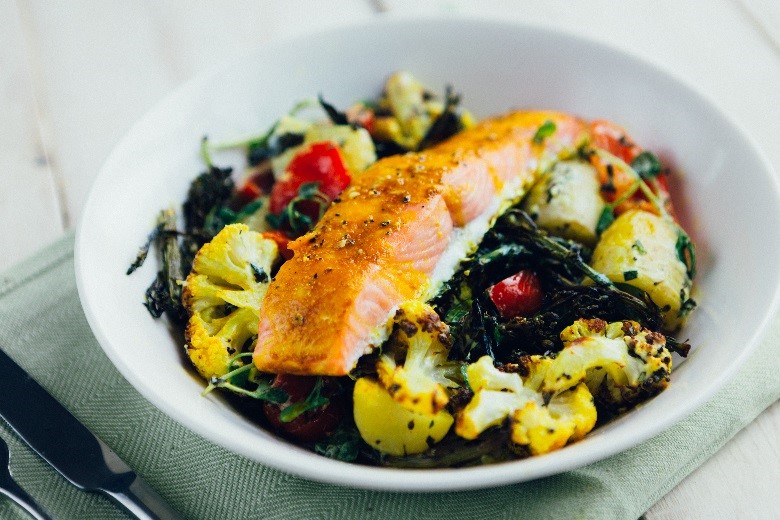 Salmon rainbow salad bowl
By Seasonal Spuds (www.seasonalspuds.com)
Serves 2 | Prep 15 mins | Cook 20-25 mins | Calories 586 (per serving)
Ingredients
8 cauliflower florets
8 stems of purple sprouting broccoli
2 tbsp rapeseed oil
2 tbsp turmeric
2 salmon fillets
2 red peppers, sliced
8 new potatoes
2 handfuls of watercress or rocket
For the dressing
3 tbsp low-fat yoghurt
2 tsp rapeseed oil
2 tsp lemon juice
grated zest of 1 lemon
1 tbsp fresh tarragon, finely chopped
salt and freshly ground black pepper
Method
Preheat the oven to 200

º

C/Gas Mark 6.
Mix the turmeric and oil together.
Place the broccoli and cauliflower onto a roasting tray, drizzle with 1 tbsp turmeric oil and roast for 20-25 minutes until tender.
Wash the potatoes and simmer gently in salted water for 10-15 minutes, until they are tender and cooked through. Remove from heat, drain and cut into bite-sized chunks.
Meanwhile, place the salmon fillets onto a roasting tray, spread with the remaining turmeric mix, season and roast for 15 minutes until cooked through.
Mix all the dressing ingredients together in a large bowl. Once the potatoes, broccoli and cauliflower have cooled, place them into the bowl with the dressing along with the watercress.
Tags:
Fish
,
Gluten-Free
,
Gluten-Free Diet
,
Gluten-Free Dinner
,
Gluten-Free Lunch
,
Gluten-Free Recipes
,
Recipes
,
Salad