Gluten-free biscuit specialist Prewett's launches indulgent Enrobed range
PREWETT'S has launched a new 'Enrobed' range to help retailers meet the growing demand from consumers looking for more indulgent gluten-free biscuits.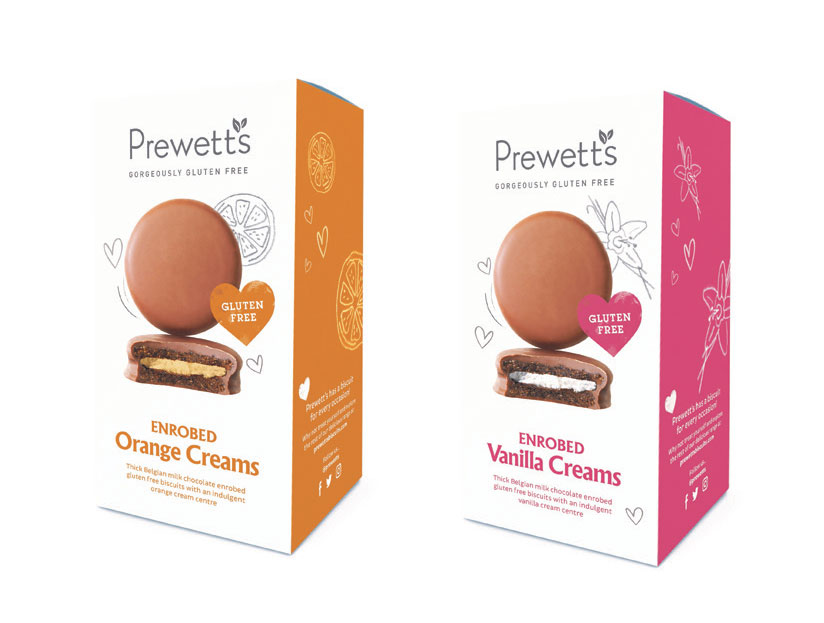 Two flavours have launched initially, 'Enrobed Vanilla Creams' and 'Enrobed Orange Creams'. All about indulgence, two chocolate biscuits are enrobed in thick Belgian milk chocolate, with a flavoured cream centre.
The new range will fill a gap for gluten-free sandwich biscuits, giving us a wider choice of free from alternatives to popular sweet treats.
Waitrose will be the first major retailer to stock Enrobed Vanilla Creams (RRP £2.29). Within the 192g pack includes six biscuits, and the range will be available in 123 stores from Monday 23 November 2020.
Waitrose will be expanding its range of Prewett's products further by adding 'Cookie & Cream' sandwich biscuits (142g pack which includes eight biscuits) to its free-from range. These new products will be on the shelvesalongside other Prewett's items in Waitrose; Jammy Wheels, Dark Chocolate & Ginger cookies, Chocoful and Milk Choc Digestives.
The Vegan by Prewett's range is available now to be stocked by retailers in time for Veganuary.
Tags:
Gluten-Free Diet
,
News
,
Products