A wonderful early summer barbecue dish, this baked trout is best served with asparagus, homemade rocket aioli, and Jersey new potatoes cooked in mint.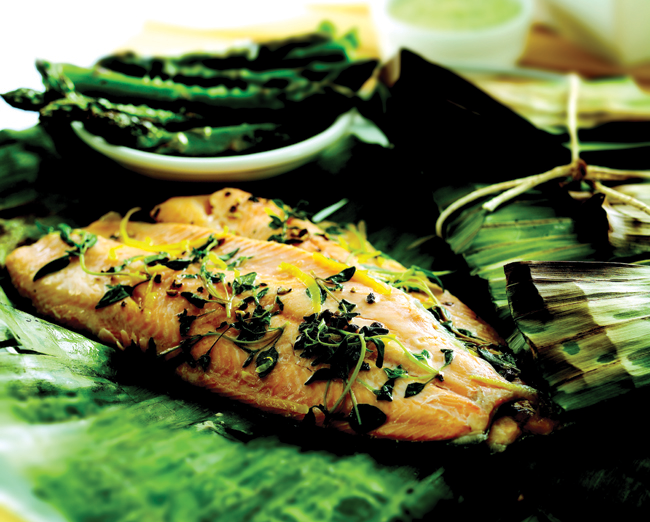 BBQ Baked Trout with Asparagus and Rocket Aioli
Serves 4 | Preparation time 20 mins | Baking time 10 mins on the BBQ
Ingredients
For the marinated trout:
4 trout fillets each weighing approx 175g
3 tbsp dry white wine
2 tbsp olive oil
Grated zest and juice of 1 lemon
4 sprigs of thyme
Lemon wedges to serve
For the asparagus:
275g asparagus
Olive oil for brushing
For the rocket aioli:
75g rocket
5 tbsp mayonnaise
1 small garlic clove, crushed
1/2 tsp wholegrain mustard
200ml crème fraîche
Salt and ground black pepper
Method
To prepare the rocket aioli, blitz the rocket, mayonnaise, garlic and mustard together in a food mixer until smooth. Transfer to a bowl, stir in the crème fraîche then season to taste.
For the marinated trout, rub four large squares of foil with a little oil. Lay a trout fillet in the centre of each square and sprinkle with dry white wine, olive oil and lemon juice and zest. Top with sprigs of thyme, fold the foil over the fish and bring in the sides. Cook on the BBQ for 10 mins.
For the asparagus, lightly brush the spears with olive oil and barbecue until lightly charred all over for approx. 1-2 mins.
Serve the trout in parcels letting your guests release them! When unwrapped, spoon over a generous amount of rocket aioli and serve with the barbecue asparagus and lemon wedges. Accompany with Jersey new potatoes cooked in mint and tossed in plenty of melted butter.
TIP:
* The rocket aioli can be used as a dip and is also delicious served with BBQ garlic prawns too!
* We love this seasonal and nutritious recipe from the British Trout Association, a stunning party dish to impress your guests. You could also bake the parcels in a hot oven at 200˚C/180˚C fan/ gas mark 6 for 15 mins. To check the fish is cooked, the flesh should be opaque and will flake easily when tested with a fork. For more ideas visit www.britishtrout.co.uk.