Paleo-friendly caramel pecan brownies
Ooey, gooey brownies topped with crunchy caramel and pecans – these brownies are dangerously moreish!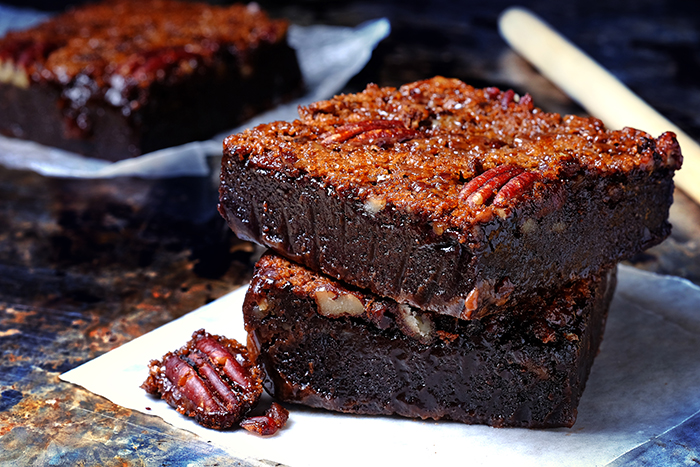 Paleo-friendly caramel pecan brownies
By Stacey Hogan (www.mynutricounter.com)
Serves 9-12 | Prep 20 mins | Cook 25 mins | Calories 333 (per serving)
GF V
Ingredients 
For the brownies:
125ml (4½fl oz) coconut oil, melted
60g (2oz) cocoa powder
60g (2oz) unsweetened gluten-free chocolate
180ml (6fl oz) honey
2 free-range eggs
1 tsp vanilla extract
30g (1oz) coconut flour
a pinch of salt
a pinch of espresso powder
For the topping:
50g (1¾oz) pecans
250ml (9fl oz) honey
125ml (4½fl oz) coconut cream
30ml (1fl oz) coconut oil
1 tsp vanilla extract
a pinch of salt
Method
For the topping, heat the coconut oil, honey, salt and vanilla in a saucepan. Stir until fully incorporated. Add the cream, then bring to a boil, continuously whisking, for 3 minutes. Set aside to cool.
Line a 23cm (9in) square baking tin with parchment paper. Brush lightly with coconut oil, then set aside.
Preheat the oven to 180°C/Gas Mark 4.
For the brownies, in a saucepan, combine the coconut oil, cocoa powder and chocolate. Whisk over a medium heat, until smooth and free of lumps. Remove from the heat and add the honey. Continue whisking. Add the eggs and vanilla and whisk until smooth.
Mix the remaining dry ingredients in a separate bowl, then fold into the wet ingredients. Pour the mixture into the baking tin and top with pecan pieces.
Pour the caramel on top, then bake in the oven for 20-25 minutes.
Tags:
Brownies
,
Chocolate
,
Gluten-Free
,
Gluten-Free Dessert
,
Gluten-Free Recipes
,
Paleo Dessert
,
Vegetarian
,
vegetarian dessert
,
Vegetarian recipes