Nut, Seed, Apple and Fig Loaf
This paleo, gluten-free and dairy-free apple and fig loaf recipe makes a filling and nutritious addition to your breakfast or lunch. Perfect on its own or with a smooth layer of homemade chocolate spread.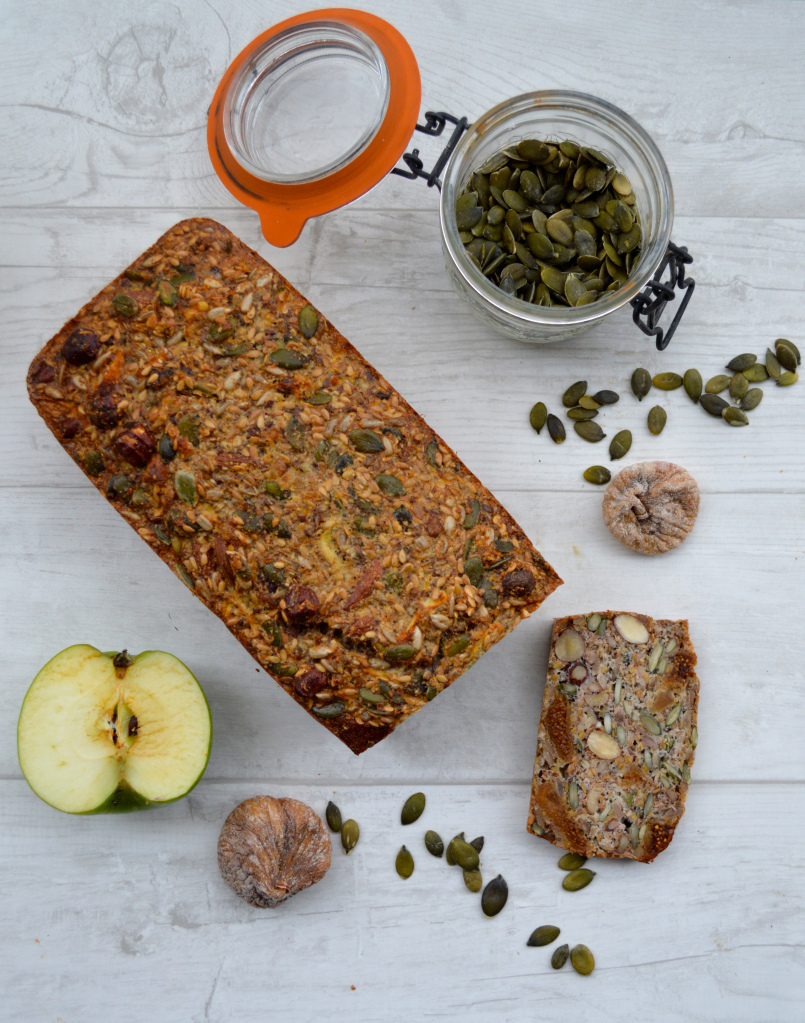 This nutty recipe is from Emma of Paleo With Mrs P.
There is nothing more comforting than a slice of bread with a thick slathering of chocolate spread. It is the ultimate comfort food. I have worked hard on this recipe over the last few months, perfecting the texture and flavour combination and trialling it out on my trusty guinea pig (hungry husband). Free from grains, gluten, dairy and refined sugar this recipe will fill your body with nourishing goodness and help satisfy any carb craving. Whether for breakfast with eggs, as a side with soup, as toast with jam or even as a tuna and lettuce sandwich, this bread is certain to go down a storm in any household, what ever the occasion!
This recipe is Gluten-Free, Dairy-Free, Sugar-Free, Meat-Free. Suitable for a paleo diet.
Ingredients
First off, you'll need a loaf pan: 27cm x 14cm x 6cm (I use Asda's silicone loaf pan)
50g Almonds
50g Hazelnuts
100g Linseed (or sesame seeds)
25g Dried Cranberries (OPTIONAL)
100g Pumpkin seeds
100g Sunflower seeds
1 tbsp Chia seeds
50g Walnuts
50g Dried figs, chopped
2 tbsp Milled flaxseed
50g Ground almond
1/2 Apple (Grated)
1 tsp Orange zest (Optional)
Pinch of sea salt
5 Eggs
1/4 cup Coconut oil (melted) *or any other nut oil
Method
Preheat oven to 180°c
In to a food processor (or by hand) pulse almonds until roughly chopped (still chunky though)
In to a large mixing bowl place all your mixed nuts, seeds, almond flour, figs, grated apple, orange zest and sea salt, mix until fully combined
Add in 1/4 cup coconut oil (melted) and 5 eggs and beat until combined and batter has formed
Pour in to a greased loaf pan
Please in to the oven for 40-45 minutes until the top has turned golden brown and a cake tester / knife comes out clean
Allow to cool and then store in an airtight tin for up to 8 days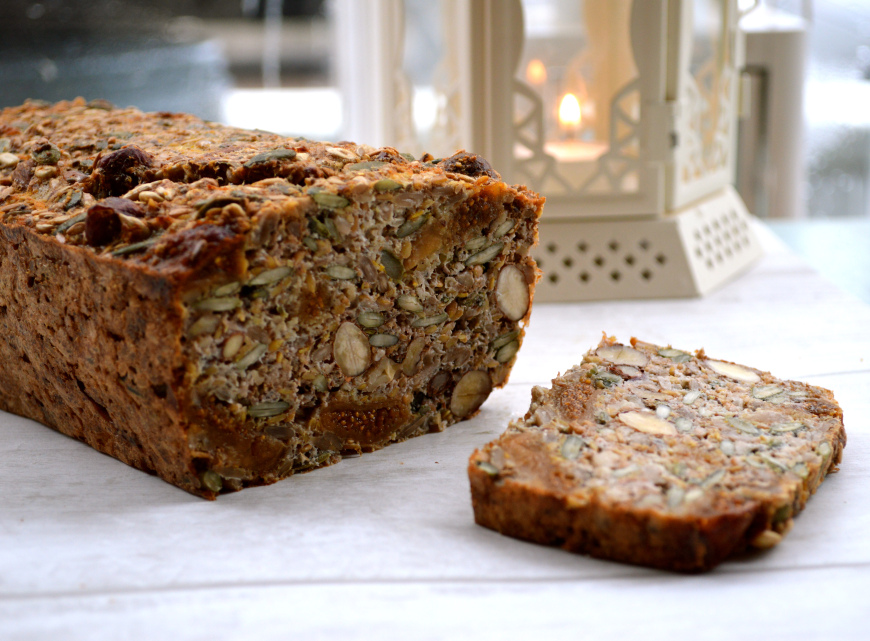 ---
About the author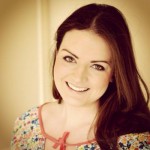 Emma is the writer of Paleo With Mrs P, a website dedicated to creating simple, healthy, nutritious recipes which are free from dairy, gluten, grains and refined sugar. Diagnosed with diabetes just before her eighteenth birthday, Emma later fell in love with the Paleo diet and how it calmed her symptoms, as well as making her feel happy and healthy.
You can find her on Facebook, and Twitter.
Check out more of our delicious paleo recipes. You can also see more of our online gluten-free recipes, and of course grab a copy of the magazine.
Tags:
Dairy-Free
,
Dairy-Free Breakfast
,
Dairy-Free Dessert
,
Gluten-Free
,
Gluten-Free Bread
,
Gluten-Free Breakfast
,
Gluten-Free Dessert
,
Paleo Breakfast
,
Paleo Dessert
,
Recipes
,
Sugar-Free Breakfast
,
Sugar-Free Dessert