Pear & Hazelnut Muffins
Pear and hazelnuts make the perfect pairing in these moist and fruity muffins.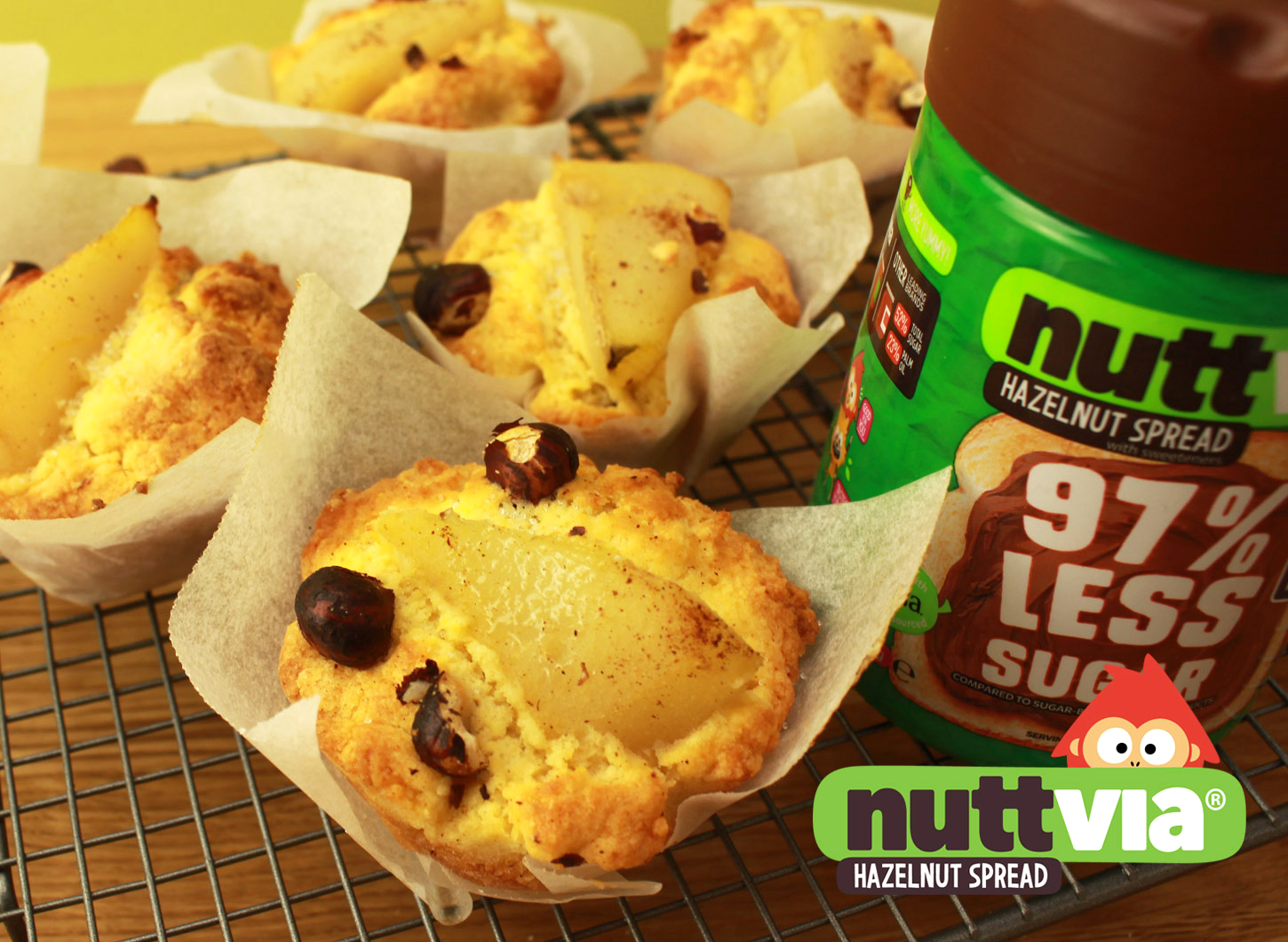 Pear & Hazelnut Muffins
Recipe by Nuttiva (www.nuttvia.com)
Serves: 12 | Prep: 15 minutes | Cooking: 30 minutes
 SF V
Ingredients
2 Pears, firm
1 teaspoon cinnamon
2 ½ cups (184g) self raising flour
½ teaspoon salt
½ cup (100g) Natvia sugar-free sweetener
3 eggs
½ cup (118ml) vegetable oil
125g butter, unsalted, melted
1 teaspoon vanilla essence
½ cup (75g) hazelnuts
Method
Preheat the oven to 180C
Peel, core and slice the pears. Place in a small saucepan with 1 cup of water and a pinch of cinnamon. Bring to boil and then lower to simmer before placing on the lid. Simmer for 5-8 minutes until the pears are softened. Drain and set aside.
In a bowl mix the flour, salt and 1/2 cup of Natvia sweetener.
In a separate bowl beat the eggs, vegetable oil, vanilla essence and butter until combined.
Continue to beat the wet ingredients as you slowly pour in small amounts of the flour mixture. Continue to pour in small amounts of the flour mixture until combined and smooth.
Line a muffin tray with squares of baking paper and spoon batter into each pan, filling only 1/3 of each muffin tray.
Dollop in 1 heaped teaspoon of Nuttvia hazelnut spread in the middle of the batter for each muffin and then cover with the remaining batter, ensuring no Nutvia is visible.
Place 1 piece of pear on top of each muffin, sprinkle on some hazelnuts and bake for 25-30 minutes, or until golden and cooked through.
Remove from the oven and cool for 1 minute before removing to a wire rack.

Recipes
,
Sugar-Free Dessert
,
Sugar-Free Diet
,
Sugar-Free Recipes
,
Vegetarian
,
vegetarian dessert
,
Vegetarian recipes