Hazelnut caramel squares
Chewy hazelnut caramel on a crunchy biscuit base, all topped off with a thick layer of raw chocolate – these sweet treats are pure indulgence!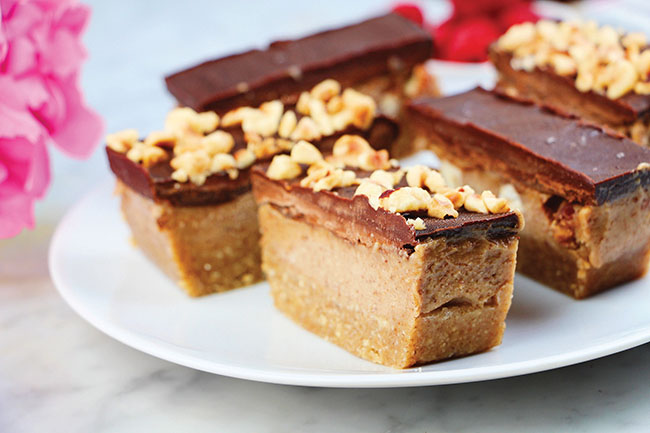 Hazelnut caramel squares
By Aoife Howard (www.thegoodfoodgoddess.com)     
Serves 8 | Prep 25 mins plus chilling | Calories 575 (per serving)
GF DF EF V (option) MF
Ingredients
For the base:
150g (5½oz) hazelnuts or almonds
225g (8oz) Medjool dates
1 tbsp raw honey or maple syrup
1 tbsp unsweetened almond milk
For the caramel:
350g (12oz) Medjool dates, soaked in water overnight
150ml (5fl oz) unsweetened almond milk
2 tsp vanilla extract
3 tbsp hazelnut butter
generous pinch of sea salt
For the chocolate topping:
75g (2¾oz) cacao powder
60g (2oz) + 3 tbsp honey or maple syrup
60g (2oz) + 3 tbsp coconut oil
Method
Place the hazelnuts, dates, almond milk and honey or maple syrup in a blender or food processor and pulse until you have a doughy mixture.
Spread this evenly into your prepared tin.
Place in the fridge (or freezer if you are in a hurry) to chill.
Meanwhile drain the dates that have been soaking.
Place these dates, almond milk, vanilla, hazelnut butter and sea salt in the food processor and blend on high until you have a smooth caramel.
Remove the tin from the fridge and smooth the caramel over the base layer.
Return to the fridge.
To make the chocolate layer, gently melt the coconut oil.
Gently heat the honey or maple syrup.
Place the cacao powder in a bowl and gradually add the coconut oil and honey, whisking to ensure a smooth consistency.
Remove the caramel slices from the fridge and pour the chocolate layer over the caramel.
Place in the fridge for 10-15 minutes to allow the chocolate to harden.
Remove from the fridge to serve, and enjoy.
About the author: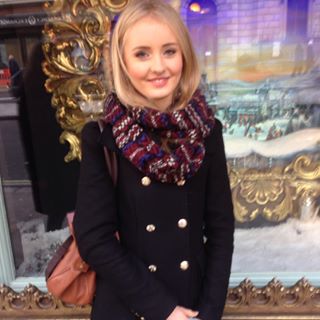 Aoife is a 20 year old medical student advocating the health benefits of eating more plants and less sugar. After overhauling her diet Aoife created her blog, The Goodfood Goddess, to share her newfound passion for healthy eating with the world. All the recipes are free from many common allergies such as dairy, gluten and wheat as well as refined sugar because she wants to create recipes that everyone could use!
Tags:
Chocolate
,
Dairy-Free Dessert
,
Dairy-Free Diet
,
Dairy-Free Recipes
,
Gluten-Free Baking
,
Gluten-Free Dessert
,
Gluten-Free Diet
,
Gluten-Free Recipes
,
Paleo Dessert
,
Paleo Recipes
,
paleo-diet
,
Vegan
,
Vegan and Gluten Free
,
Vegan Dessert
,
Vegan Diet
,
Vegan Recipes