Summer Strawberries Pot
Here's a brilliant way to use the date and pumpkin seed granola from our previous post. Another delicious and nutritious breakfast with yummy summer strawberries!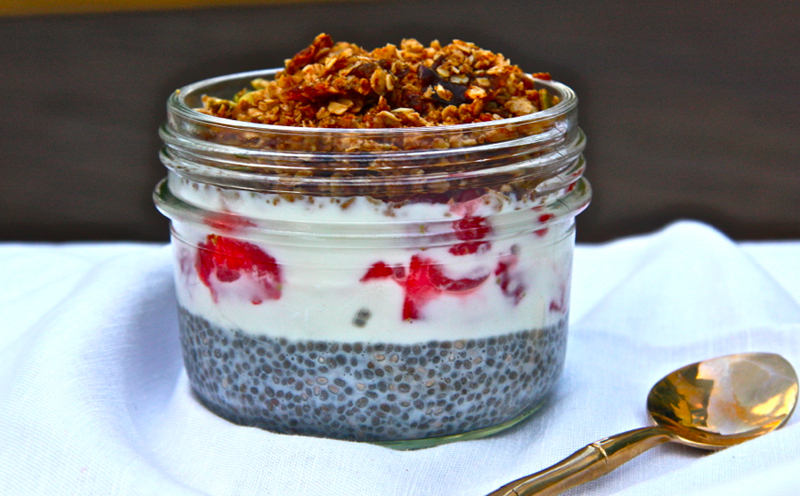 By Mira Manek.
I've just realised, looking at my most recent recipes, that I've been focusing rather a lot on sweet things! Creating new breakfast options that are healthy, light, that look and taste delicious and can be eaten any time of day – well nothing makes me happier. And so of course, here's yet another – this one is super simple. I decided to use coconut yoghurt for this pot and in-season strawberries. And I'd just baked my date and pumpkin seed granola, so just added that on top – to give that crunch and sweetness. It's prefect as a mid-morning or mid-afternoon snack, if you fancy something sweet, you can carry it with you and have it after a yoga class or workout – or simply have it for breakfast.
This recipe is dairy-free, refined sugar-free, gluten-free and vegan.
Ingredients | Serves 1
15g chia
60ml almond milk
4-5 tablespoons coconut yoghurt
5 strawberries, chopped or sliced
2 tablespoons homemade granola
Method:
Place the chia into the pot first, pour almond milk over the top and stir well until the chia expand and become a gel-like consistency (around 5 minutes).
Leave this in freezer for 5 minutes if you can, so that it can set and the yoghurt can be layered properly – this step is not necessary.
Now layer with some of the coconut yoghurt, then strawberries, more yoghurt, more strawberries and finally the last spoon of yoghurt.
Add the granola and it's read to eat!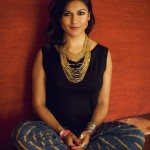 About the author: Mira Manek is a journalist, writer and healthy Indian cook with a passion for health and wellbeing. Indian food is not something we would usually associate with being healthy and is often perceived as being a very heavy and oily cuisine. Author, journalist and healthy cook Mira Manek has her heart set on changing that perception with her handmade food products, colourful blog and debut cookbook Green Daal Stories, out later this year. With her expanding range of products, menu collaborations with restaurants and wellness events and supper clubs Mira is bringing a new healthy concept of Indian food to the table. For more recipes, info on the release of Mira's book and upcoming events and product news go to: www.miramanek.com or @miramanek on Twitter.
Check out more delicious gluten-free recipes and vegan recipes! For even more, grab a copy of the magazine.
Tags:
Dairy-Free
,
Dairy-Free Breakfast
,
Egg-Free
,
Gluten-Free
,
Gluten-Free Breakfast
,
Meat-Free
,
Paleo Breakfast
,
Recipes
,
Sugar-Free Breakfast
,
Vegan
,
Vegan and Gluten Free
,
Vegan Breakfast
,
Vegetarian