Vegan chocolate cherry trifle
This rich, decadent dairy-free pudding is perfect for getting you in the festive spirit!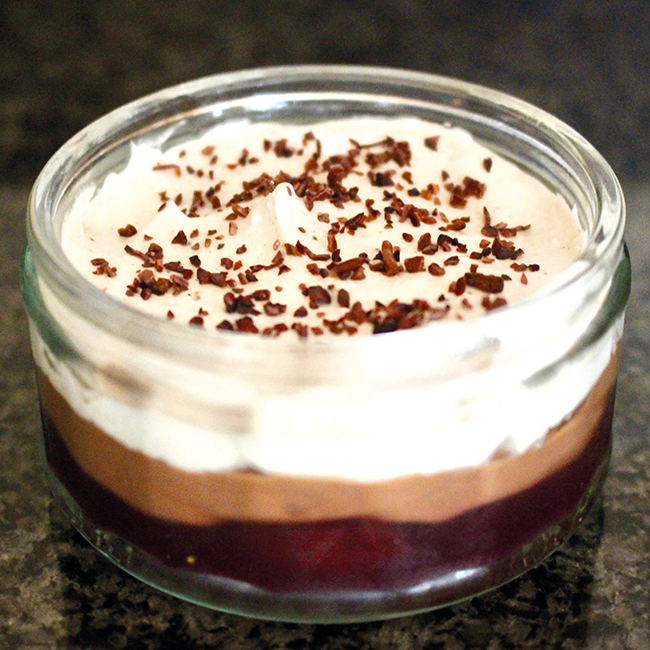 Vegan chocolate cherry trifle
By Rhian Williams (www.rhiansrecipes.com)    
Serves 8 | Prep 30 mins plus chilling | Cook 10-15 mins | Calories 320 (per serving)
GF DF EF V MF
Ingredients
For the jelly:
400g (14oz) tinned cherries in syrup
a splash of sherry, to taste
1 tsp agar powder
For the chocolate custard:
2 tbsp cocoa powder
20g (¾oz) gluten-free, dairy-free dark chocolate
2 tbsp maple syrup (or any other sweetener)
500ml (18fl oz) unsweetened cashew milk (or sub any other milk)
5 tbsp cornflour
For the coconut whipped cream:
400g (14oz) full fat coconut milk, chilled overnight
¼ tsp vanilla extract
2 tbsp maple syrup (or any other sweetener), to taste
1 tbsp cacao nibs, to decorate
Method
Place the cherries (and the syrup) in a saucepan and bring to a simmer. Once simmering, add the agar powder and mix well.
Pour the jelly mixture into either one large serving bowl or eight smaller individual ramekins and leave to cool and set.
Add the custard ingredients to a saucepan and mix well before heating. Cook on a low heat for 7 minutes, stirring constantly, until a thick custard has formed.
Once the jelly has set completely, pour the custard mixture on top, then leave to cool and set.
Open the chilled coconut milk tin upside down – the coconut cream will be at the bottom and you can just pour away the watery liquid.
Place the thick, creamy part into a bowl with 3 tbsp water. Add the maple syrup and vanilla extract.
Use an electric whisk (or a manual one and some elbow grease) to whip up the coconut cream until light and fluffy.
Once the custard has cooled down and set completely, pour the coconut whipped cream on top of the trifle.
Sprinkle with cacao nibs to decorate.
This trifle is best served after having been kept in the fridge for a few hours. Keep covered in the fridge for a few days.
---
About the author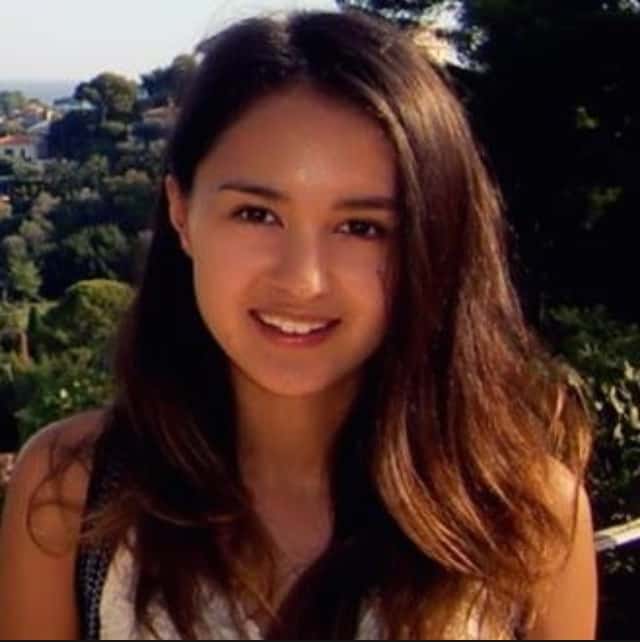 Rhian specialises in creating easy, undetectably vegan + gluten-free recipes with lots of Japanese inspiration! You can find her recipes on her website www.rhiansrecipes.com.
Facebook | Instagram | Twitter
Tags:
Chocolate
,
Christmas
,
Dairy-Free
,
Dairy-Free Christmas
,
Dairy-Free Dessert
,
Dairy-Free Diet
,
Dairy-Free Recipes
,
Gluten-Free
,
Gluten-Free Dessert
,
Gluten-Free Recipes
,
Recipes
,
Vegan
,
Vegan and Gluten Free
,
Vegan Christmas
,
Vegan Dessert
,
Vegan Recipes