GLORIOUS! Team Up with Waitrose for 'Create a GLORIOUS! Flavour' Competition
GLORIOUS! team up with Waitrose for a 'Create a GLORIOUS! Flavour' Competition. The winner will see their GLORIOUS! soup creation launch onto the shelves of Waitrose and also win £250 Waitrose vouchers. Deadline for entry: 29 February 2016.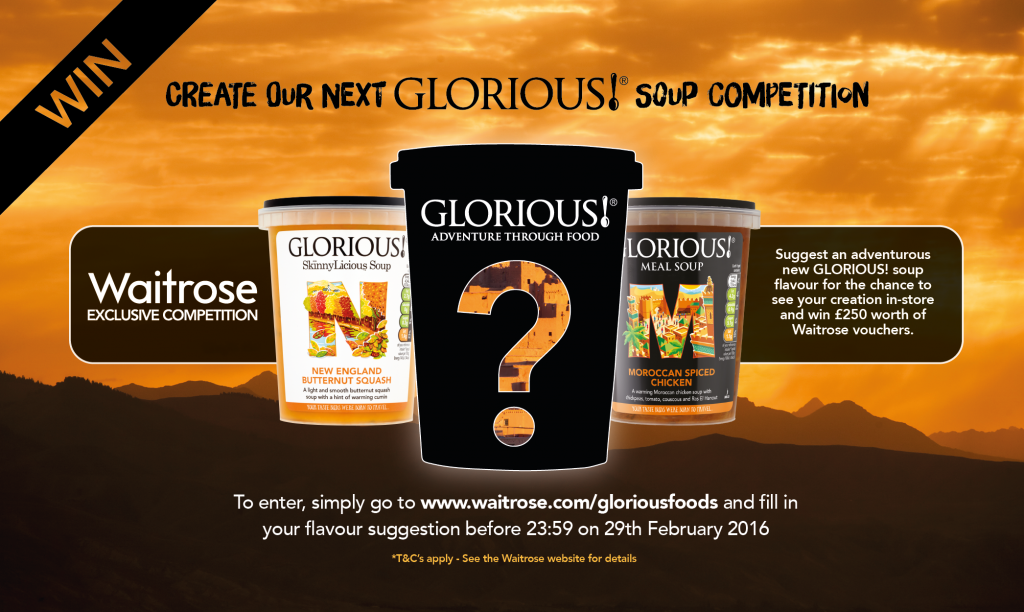 GLORIOUS! have joined forces with Waitrose to give Waitrose shoppers the opportunity to enter a competition for the chance to see their idea for a new exciting GLORIOUS! soup become a reality. Entrants can submit their suggestions for a new GLORIOUS! soup flavour via the Waitrose website (http://www.waitrose.com/gloriousfoods), with the chosen winner getting the chance to see their soup flavour suggestion created in the GLORIOUS! kitchen, and placed on sale in Waitrose stores around the country. In addition to this unique opportunity, the winner will also collect £250 worth of Waitrose vouchers.
Claire Roper, Brand Innovation Manager at GLORIOUS!, said: "We are encouraging entrants to use their imagination and come up with a tasty addition to the GLORIOUS! range, inspired by global flavours. If people entering look to our existing range of soups for inspiration, they will see that our sense of adventure is prevalent in every soup that we make. The winner must adopt our adventurous nature to be in with a chance to win!"
Simon Gamble, Head Development Chef at GLORIOUS!, added: "We are always exploring new and exciting global flavours here at GLORIOUS! and we're eager to see what innovative suggestions the nation has to offer. Whether it's a soup inspired by the Spanish tomato-throwing festival or a Brazilian carnival, our chefs are open to all ideas!"
The new soup flavour will join a number of other GLORIOUS! soup flavours from around the world on the shelves of Waitrose, including the newly-launched 'Vietnamese Supergreen', a healthy and nutritious fusion of petit pois, green lentils and spinach with kaffir lime leaves, ginger and lemongrass. With only 144 calories and less than 2% fat per portion, the Vietnamese soup has proven to be a January-favourite amongst consumers seeking a healthier option to kick-start their healthy new year's resolutions.
Entries in the 'Create a GLORIOUS! Flavour' competition can be submitted via the Waitrose website at www.waitrose.com/gloriousfoods. The competition runs until 29 February 2016. Full terms and conditions can be found at the same web address.
Tags:
Gluten-Free Diet
,
News