Gluten-free and vegan takeaway opens in Wales
About 23 miles north of Cardiff, new gluten-free and vegan takeaway place opens
Merthyr Tydfil welcomes new gluten-free and vegan takeaway 'Plantbased Natural Foods'. Located in St Tydfil Shopping Centre Indoor Market, it is the towns first plant-based eatery.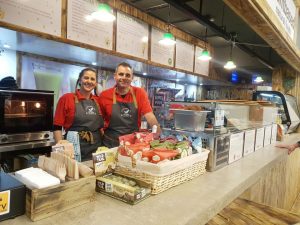 Owners and couple Mark Evan Oakley and Natalia De Celis were joined by renowned Welsh actor William Thomas, who has had starring roles in Gavin & Stacey, Doctor Who and Torchwood, to officially open their new venture on Monday 28th October.
Mark and Natalia are looking forward to bringing something new to the town and educating customers about the benefits of a plant-based diet.
The menu includes falafel wraps, pittas, flatbreads and freshly prepared salad boxes, as well as freshly made rolls, vegan-friendly and gluten-free cakes, snacks and drinks.
Having previously battled alcohol and drug addiction and suffered from bipolar, anxiety and depression, Mark decided to make extensive changes to his lifestyle and embarked on a plant-based diet three years ago. Not only has his mental health improved, but he has also shed six stone in weight.
"I am a walking advert for the benefits of changing to a plant-based diet. We have vegan and gluten-free options and everyone assumes it's going to be boring and tasteless, but we'd like to encourage people to stop by and give it a try." Mark commented.
Julie Calderbank, Operations Manager at St Tydfil Shopping Centre, added: "Our Indoor Market is full of independent traders and unique businesses and we're delighted to welcome Plantbased Natural Foods. It's brought something brand new to the town and we're certain it's going to become extremely popular."
Plantbased Natural Foods is located in St Tydfil Shopping Centre's Indoor Market and is open Monday to Saturday between 9am to 5.15pm.
Further information about Plantbased Natural Foods can be found on its Facebook page.
Follow us on Facebook, Twitter and Instagram for all the latest recipes, news and features from Gluten-Free Heaven.
Comments
Tags:
Gluten-Free Lifestyle
,
News
,
Vegan and Gluten Free