Hard Rock Cafe Introduces New Gluten-Free Menu
Hard Rock Cafe, home of the UK's original American menu has achieved gluten-free (GF) accreditation from Coeliac UK for its special Gluten-Free Menu, for fans requiring a gluten-free diet.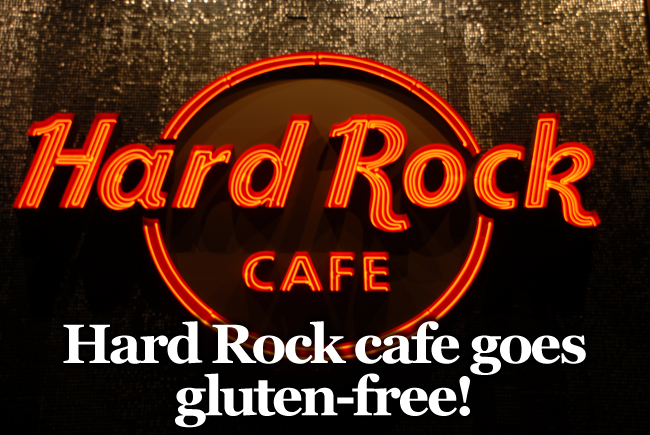 After over a year of research and testing gluten-free products, Hard Rock has created a mouth watering Gluten-Free Menu that now offers some of its most loved, non gluten-free dishes as gluten-free options – such as the classic Original Legendary Burger, Jumbo Wings and a variety of its salads. The Hard Rock team has worked closely with suppliers to develop gluten-free versions of as many of its core menu items as possible, aiming to replace gluten-containing ingredients with gluten-free alternatives.
Hard Rock is proud to now offer over 16 dishes on its infamous menu as gluten-free at all four if its UK cafes, including delectable deserts such as a special gluten-free crème brulee.  Not forgetting its bar, gluten-free beer is now also on offer.
Marc Carey, European Marketing Director at Hard Rock said: "We are thrilled to finally be launching our Gluten-Free Menu.  This has been a year in the making and stems from our 'Love All, Serve All' attitude that we adopt throughout the business. After a lot of hard work, the gluten-free journey at any of our UK cafes starts as soon as produce containing gluten comes in the back door. Our kitchen and serving processes have been overhauled and additional training given to staff to accommodate this new step in our business. Only at Hard Rock can fans indulge in the original American classics and in a music-inspired, one of a kind atmosphere, that now also caters to gluten-free needs"
Hard Rock has worked closely with Coeliac UK to ensure its new Gluten-Free Menu is safe for those with the condition without losing Hard Rocks signature flavours and quality.
1 in 100 people in the UK has coeliac disease, an autoimmune disease caused by a reaction to gluten and Coeliac UK is the national charity supporting these people. The charity works to improve people's experience of healthcare, ensure their gluten-free diet is easy to manage and drive research.
Coeliac UK Chief Executive, Sarah Sleet, comments: "We know eating out safely is a top concern for people with coeliac disease, who must follow a strict gluten-free diet for life. We are working with the catering industry to help them deliver good quality menu choices for people with coeliac disease and we are delighted Hard Rock Cafe is recognising the importance of catering for this market by gaining accreditation from Coeliac UK."
The Hard Rock Cafe new Gluten Free Menu features:
Potato Skins
Classic Nachos
Wings
Cobb Salad
Grilled Chicken and Arugula Salad
Grilled Norwegian Salmon
Cowboy Rib Eye
New York Strip Steak
Hickory Smoked Ribs
Original Legendary Burger
Classic Burger
Fresh Vegetable Sandwich
The Big Cheeseburger
Mushroom & Swiss Burger
Honey Mustard Grilled Chicken Sandwich
Sides
Ice Cream
Hot Fudge Brownie / Sinful Fudge Sundae
Mini Crème Brulee
The Gluten-Free Menu is available now in all four UK restaurants – London, Manchester, Glasgow and Edinburgh.
For more information, or to view the menu, visit the website www.hardrock.com.
Tags:
Gluten-Free Diet
,
News